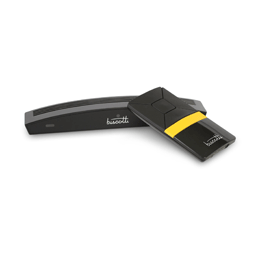 Office Space: October, 2011
Point Counterpoint: Raising the Question
In today's economic times where many businesses may find themselves struggling to offer raises to employees, an important thing to consider in the process would be whether to reward individual workers for going above and beyond, or to reward the collective. We asked Christine Mazza Schaefer, owner of CEM HR Strategies in Maple Shade, for her thoughts. Here's what she had to say.
"I'm a big supporter of merit-based raises."
"I tie merit increases to performance, and I believe that is one of the motivators. Employees who use a merit increase system are more empowered to be productive with their work. Training your managers and supervisors (is important), too. The key to that is to make sure your supervisors and managers are properly trained on how to do performance evaluations."
Crunching the numbers
$40.8 billion — The amount A.C. Moore, the Berlin-based arts and crafts store, was sold for in October to supplier Sbar.
$1 million — The number of pre-orders for the new iPhone 4S, setting a record for Apple.
43% — The amount of smartphone owners who use an Android device.
28% — Apple iOS follows with 28 percent of all smartphone users.
63 — The number of Friendly's locations, out of 424, that have closed as the company files for bankruptcy. Only one in New Jersey, in Trenton, shut its doors.
$380 billion — amount estimated that citizens across the country wager, mostly illegally, every year in sports betting.
$200 million to $1 billion — The amount that could be generated annually in New Jersey if the Nov. 8 state referendum to allow sports betting at casinos and racetracks passes.
30% — The price hike beginning this November for peanut butter brand Jif.
78% — Amount of New Jersey voters who want offshore wind farms and are willing to pay an additional $2 a month in electric costs to have them. (According to a survey paid for by Atlantic Wind Connection, a major wind project.)
$80 million — Tax credit offered to Goya to move to Jersey City.
491 — Number of employees who would work at the proposed new Goya headquarters.
70 million — Number of Blackberry users worldwide, millions of which were affected by a three-day service outage in October on at least four continents.
$33.8 million — Extra federal funding recently allotted to New Jersey's Economic Development Authority to assist small businesses with loans, credit guarantees, loan participations and venture capital investments.
92 — Percent of businesses surveyed by a business advocacy group that reported all their credit needs were met or they did not want to borrow money at this time.
Published (and copyrighted) in South Jersey Biz, Volume 1, Issue 10 (October, 2011).
For more info on South Jersey Biz, click here.
To subscribe to South Jersey Biz, click here.
To advertise in South Jersey Biz, click here.