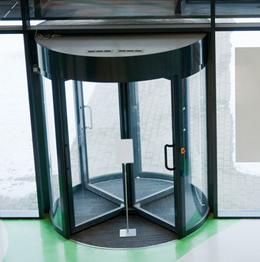 Revolving Door: June, 2011
Comings, goings, hirings and retirings in South Jersey.
Comings and Goings. Kennedy Health System chief executive Martin Bieber has been named chairman of the board of trustees for Bancroft in Haddonfield. As well, the board of the Woodbury-based Underwood-Memorial Hospital Foundation has elected a new chairwoman, Kathleen A. Schultes. They have named Bollinger Insurance's Jack C. Sheppard Jr. vice chairman, McGuinness Funeral Home owner William J. McGuinness treasurer and Louise M. Heritage secretary. Joining the board are contractor Raymond Angelini and Underwood-Memorial emergency physician Dr. Nicholas Dalsey. Meanwhile, at the technology consulting firm Conigent, Inc., based in Haddonfield, John Hannan has been hired as cloud services director. Hannan was previously operations engineer for Oldcastle, Inc. Churchill Casualty, which is among the largest captive insurance firms in the world, has named Ed Hutchinson to its executive board of directors. He is principal and president of Hutchinson Mechanical Services in Cherry Hill. Symphony in C, based in Camden, has appointed Joseph Hart as its director of education and community engagement, and Karen Serfass as vice president of development. Flaster/Greenberg P.C. has brought on veteran attorney Harry Giacometti as a shareholder in Cherry Hill and Philadelphia, working in its Litigation and Bankruptcy, Financial Restructuring and Risk Management departments. And Brenda Goins, the executive director of Salem Health and Wellness Foundation, has been named to the Community Foundation of New Jersey board of directors. Hammonton-based Univers Workplace Solutions, the benefit communications and enrollment provider, has appointed Evan Rudolph of Mount Laurel as lead consultant for Indiana, Michigan, Tennessee, Delaware and West Virginia.
Duly noted. Harry Hayman III, chief financial officer and vice chairman of Moorestown's CareKinesis Inc., is a finalist for the New Jersey Technology Council 2011 CFO Hall of Fame. Rutgers School of Business-Camden marketing professor Robert Schindler, who has studied 99-cent price endings and other marketing phenomena, has been named one of the world's top pricing researchers by the Journal of Business Research. Cherry Hill's iCueTV is partnering with deal-a-day provider Groupon to bring its deals to television. Advanced Computer Repair, a new computer shop, has opened in Moorestown. The owner is Matt Dariano. Cherry Hill-based First Impression Advertising won the 2011 Communicator Award for print for a campaign for Hutch?inson Plumbing Heating Cooling. Mount Laurel- and Iselin-based AmeriHealth has launched the Value Network, a new affordable health coverage alternative to its standard insurance options. Cherry Hill direct marketing firm KJ Innovations Inc. has rolled out a new website, KJInno?va?tions.com. Mount Laurel-based Marlin Business Services Corp., which provides financing for commercial equipment, has launched MarlinNet, a client management portal for its equipment dealers and resellers. Office Furniture Outlet, formerly of Maple Shade, has moved and expanded into a new 27,000-square-foot facility on Springdale Road in Cherry Hill. In other news, Georgia-based National Vision Inc. will shutter its Pennsauken eyeglasses lab in July, eliminating 213 jobs. Also in town, LiDestri Foods Inc., based in New York, cut 146 jobs from its local plant but indicated that the jobs could be restored; the company purchased apple cider producer M.H. Zeigler & Sons Inc. in April and could add more beverage production at the plant.
Development. Total Turf Experience is ready to break ground on a $6.8 million redevelopment project in Mantua, Gloucester County, expected to create more than 50 jobs. The 42,000-square-foot facility will include six lighted indoor turf fields, plus outdoor fields and parking, accommodating soccer, baseball, arena football, field hockey and lacrosse. There will also be a 30,000 square-foot operations building with a bistro and sporting goods shop. The former Inn at Cherry Hill is set to reopen following renovations as Spring Hills Senior Communities, a 140-unit assisted living facility.
Education. Cooper Medical School of Rowan University received approval from the Liaison Committee on Medical Education to begin recruiting its first medical school class for fall 2012. The Camden County Improvement Authority, which is managing the construction project, will also invite Camden City residents to learn as the $130 million project is built, through a new Community Outreach Pre-Apprentice Training Program. Rutgers-Camden has announced that it will launch a School of Nursing this summer, pending approval from the New Jersey Commission on Higher Education and the New Jersey Presidents' Council. As well, brothers and Rutgers-Camden alumni George and Washington Hill have gifted the college with $200,000 to create the Hill Family Center for College Access, serving Camden families. And, Rutgers-Camden's Small Business Development Center is offering a lineup of free small business workshops open to entrepreneurs: A Credit Clinic is July 7; Developing Business Capacity runs July 21; Strategies for Accumulating Capital is on Aug. 4; and Real Estate Ownership and Your Business is Aug. 18. Call (856) 225-6221 to register.
Share your company news: Email updates and photos to samantha@SouthJersey.com
Published (and copyrighted) in South Jersey Biz, Volume 1, Issue 6 (June, 2011).
For more info on South Jersey Biz, click here.
To subscribe to South Jersey Biz, click here.
To advertise in South Jersey Biz, click here.