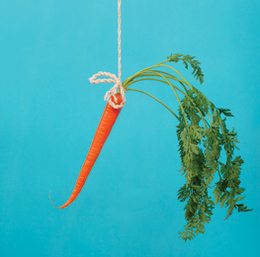 Beyond the Bonus
While pay raises aren't always viable, employers are getting creative with new ways to keep employees motivated and engaged.
A paycheck. It's why we all go to work.
Yet many employees have reasons for showing up every day that go beyond those biweekly trips to the bank. In an economy where financial bonuses and annual raises—not to mention jobs themselves—are hard to come by, many businesses are finding new and creative ways to motivate their workers.
"Companies have just not had the money to do more traditional rewards," says Gayle Porter, professor of management at the Rutgers School of Business in Camden. "When a company decides to say, 'We'll do things to recognize people [for work] that we used to give rewards for—such as money, bonuses or changing a position—now we're going to do it in another way,' some get away with that just fine and some do not. It depends on the existing culture in the organization."
Those who have been successful have found ways to combine traditional motivators—solid benefits packages, retirement plans and advancement opportunities—with less obvious perks, from on-the-job training and flexible work hours, to more subtle tactics that help employees feel that they're being heard.
Employers have been forced to adapt their methods of motivating employees over time. While employers' goals are always the same—maximizing productivity—what workers want has evolved over the last half-century, says Kathleen Pereles, associate professor at Rowan University's Rohrer College of Business.
"Thirty-plus years of American education focused on civic participation and freedom of choice had created a workforce which wanted more than money," Pereles says. "They wanted respect from management. They wanted input into organizational policies. They wanted acceptance from their co-workers. Since management couldn't or wouldn't give the workers the things they wanted, they gave them more money."
But what happens when there's no money to give? Pereles says some managers will often assume, "'If we can't give money, we can't motivate, and so we must turn to punishment if workers don't meet productivity standards.' The problem with punishment is that workers then only work to meet the minimum standards, and the organizations are not getting the workers' best work."
In today's heterogeneous workplace, Porter says the best strategy is to identify which motivators matter to workers, on an individualized basis. "The same reward is not meaningful to each person," Porter notes. A better title, more flexible work hours or even something as simple as public recognition—a nice "Atta-boy!"—could be enough to bolster a worker's morale.
Kennedy Health System—which employs about 4,000 workers at hospitals and facilities across South Jersey—is still able to offer salaries in line with industry standards. But vice president of human resources Anneliese McMenamin says they've also had to consider new ways to keep workers happy.
"We all go to work because we need to get paid and, in these economic times, raising people's salaries and giving big bonuses are a challenge," McMenamin says. A solution? They've found other ways to recognize employees' hard work. They take advantage of occasions like "Nurses' Week" or "Administrative Assistants' Day" to organize department-wide celebrations. They also run a customer satisfaction program, through which co-workers and patients can write to management when they witness someone going above and be­yond to provide outstanding care.
Such success is rewarded in simple but meaningful ways: with a gift card, movie tickets, a free meal or a blurb in the company newsletter.
"People feel good about that," McMenamin says. "Can I say that people are always looking to be monetarily rewarded? That's a driving force. But people like to see their names in print, and like to be recognized."
Pereles suggests asking employees for a list of rewards—other than money—that would inspire them to work harder. Those could include flexible benefits, flexible work hours, work-from-home opportunities or a designated parking space. These rewards could be organizational, such as a chance to change jobs in the organization without a pay raise; an opportunity to discuss the restructuring of work processes; or a job rotation with four other employees. They could be out of the ordinary, like access to a cleaning service. Or, they could be straightforward, like additional vacation days if a project is completed effectively and ahead of schedule.
Another way to help workers excel is to make sure they have the tools to get the job done. That focus on nurturing employee growth has helped Paulsboro's NuStar Energy asphalt refinery make repeat appearances in Fortune's "100 Best Companies to Work For," moving from No. 44 in 2009 to No. 21 in 2010.
Company spokeswoman Claire Riggs says the company sets high standards for workers. But, she adds, it's just as vital to "put your resources where your mouth is" to help employees reach those goals.
"We provide everything they need to be successful as far as job performance, training opportunities to improve their skills, and also the opportunities to give back to the community," Riggs says. "I think most people don't just want their paycheck. Most people want a career, want to feel valued, want to feel appreciated. They want to feel a part of something bigger."
Published (and copyrighted) in South Jersey Biz, Volume 1, Issue 2 (February, 2011).
For more info on South Jersey Biz, click here.
To subscribe to South Jersey Biz, click here.
To advertise in South Jersey Biz, click here.