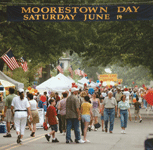 (Spotlight On) Moorestown
…From the pages of Burlington the Beautiful…
Old-fashioned charm and big-city neighbors make this town a top contender.
The Philadelphia suburbs are a colorful mix of posh towns and sleepy hamlets, each with its own charm and history. So when a national publication like Money magazine deems one of them "the best place to live" in the entire country, it's no wonder that area residents take notice.
Moorestown was given that honor by the magazine in 2005. From the moment the news hit, the town has been enjoying the limelight that it has always deserved. "It was one of those things that everyone who lives here kind of already knew," says Jake Der Hagopian, chair of the Moorestown Economic Development Advisory Committee. "It's just a nice feeling to get that kind of recognition."
Money bases its picks on a variety of metrics, measuring everything from median income and home value to the number of theaters and restaurants within the town's borders. Just a short commute outside Philadelphia and close to freeways that can deliver you to the mountains, shore, or lights of downtown Manhattan within a couple of hours, Moorestown's location is prime. An award-winning school district and employers like Lockheed Martin and Computer Sciences Corporation draw residents in, but it's Moorestown's seemingly perfect balance of old-fashioned quaintness and cosmopolitan delights that really hits the mark.
The town's unpretentious appeal comes from its deep-rooted history. Originally called Chester Township when it was founded in 1682, it was a simple village of landowners and farms. While the town grew, it gained steam when Thomas and Elizabeth Moore settled in 1722. Their property ran along King's Highway, and, in time, they owned so much land that the town adopted Moorestown as its name.
While times have changed, Moorestown still retains much of the architecture that was built in its early days. The Moores' Hotel on King's Highway and Union Street is now a bank. One of the town's earliest taverns, located on Main Street, is now the headquarters of the New Jersey Bell Telephone Company. Historical homes include the dwelling of Joshua Bispham at Main and Schooley streets, which was commandeered by Hessian soldiers in 1778. A house at King's Highway and Lenola Road, constructed in 1742 by John Cowperthwaite, is considered an excellent example of a typical 18th century home and is recorded in the Library of Congress.
A stop into the township's proud historic society in the Smith-Cadbury Mansion on High Street or a self-guided walking tour offers a peek at the town's incredible heritage for those hoping to delve a little more into the area's past. "You can walk past many of the old homes and buildings and see what role they played in the history of the country," says Der Hagopian.
Moorestown continues to have a bustling town center, which fills every few months for a variety of family-friendly festivals like outdoor street fairs, including October's Autumn in Moorestown and June's Moorestown Day; Candlelight Night, a November event that finds businesses and restaurants open late by the glow of -- you guessed it -- candlelight; and Family Fun Day, a huge celebration for all ages on Strawbridge Lake. Parades clamor down Main Street for Halloween and Christmas, and an annual Easter egg hunt is held on the nearby Moorestown Community House grounds.
While Der Hagopian admits that many have likened the town to a Norman Rockwell painting, those looking for something a little more hip won't be disappointed. Window shop at your favorite stores like Lord & Taylor and Macy's at nearby Moorestown Mall, then head back to the same charming town center, which is undergoing what Der Hagopian calls a "restaurant renaissance," with options for all tastes. Stop into Akira Sushi & Steak House or Thomas' Italian Seafood for an upscale bite. Drop in to Pie Lady Café for a slice of apple crumb or cherry almond pie that's been noticed by The Philadelphia Inquirer and a mug of expertly-roasted La Columbe brew. For those searching for that old town vibe, head into Nellie Bly's Old Tyme Ice Cream Parlour for a banana split with all the fixings.
When it's time to work off the calories, take a stroll through the town's tempting boutiques and shops. Browse artsy women's wear at Crescent Moon Clothing or throwback novelties like Slinkys and train sets at Happy Hippo Toys. Upgrade your trainers at Moorestown Running Company or discover the perfect hostess gift at T R Bell Gifts. If you're a do-it-yourselfer, go to Moorestown Hardware and Retail (named "Best of Philadelphia") and peruse the aisles while watching The Honeymooners and eating popcorn.
"[The town center] can make for a really nice leisurely afternoon," says Der Hagopian. "Since a lot of the restaurants have café-style seating, you can sit outside and just enjoy the energy of it all."
Come evening, head to the Perkins Center for the Arts for a Chamber music concert or art exhibition, see a show by the Moorestown-based Philharmonic of Southern New Jersey or see a live theatrical production by the Moorestown Theater Company. If you visit in the fall, catch one of Moorestown Arts Association's popular Art Walks, where galleries, restaurants and street booths display area artists' works.
When You Go
For more information on the town and its events, visit
www.moorestown.nj.us
.
Published (and copyrighted) in
Burlington the Beautiful; County of Opportunities
, Spring/Summer 2009.
For more info on Burlington the Beautiful; County of Opportunities, please contact Marketing Through Publishing, PO Box 2838, Cherry Hill, NJ 08034, or call 856-983-5667 begin_of_the_skype_highlighting 856-983-5667 end_of_the_skype_highlighting.
To advertise in Burlington the Beautiful; County of Opportunities, please call 856-983-5667.