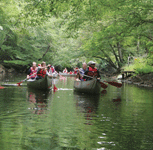 Great Getaways in Burlington County
…From the pages of Burlington the Beautiful…

Craving a vacation with nature, culture and fabulous food? We've got it all right here.

The term "staycation" describes a vacation that's close to home, but too many people seem to think that's a bad thing -- that they're missing out on fun by not traveling further away from the everyday grind. The truth is, most people get so caught up in expensive out-of-town opportunities that they completely forget there's just as much fun to be had near home.

"We tend to overlook what is right in our own backyards," says Tina Yerkes of the South Jersey Tourism Corporation. In the case of Burlington County, that's an understatement -- as the area is filled with a bevy of surprising activities, exciting historical attractions and cost-friendly indulgences that can put out-of-town trips to shame. That's why we're not giving you tips for a great staycation -- we're giving you tips for having a great vacation that just happens to be right outside your door.

Here's the History
From the Revolutionary War to the Underground Railroad, from famous criminals to celebrated heroes, Burlington County is steeped in American history. Start by visiting Batsto Village in Washington Township, a restored historic village that dates back to 1766. Or get active by taking advantage of the county's many historical walking tours. There are walking tours in Delanco Township, the City of Burlington (which has maps for seven different walking tours at www.tourburlington.org), and Bordentown, where you can catch a free guided tour about Thomas Paine on the first Saturday of each month. For those with an interest in the darker side of the county, check out the Burlington County Prison Museum in Mount Holly, where you'll learn about prison history as well as about the building's paranormal occurrences.

Mount Holly Hobbies
Vacation can be a time to relax in a traditional way, like on a lounge chair in front of a pool. But it can also be an opportunity to enjoy the hobbies you don't have time for when you're focused on the other responsibilities in your life. Master the fine art of creating stained glass pieces by signing up for a class at Liberty Belle Glassworks in Mount Holly. Let everyone in the family get their kicks doing Tang Soo Do, a Korean martial art at Anderson's Martial Arts, also in Mount Holly. For something a little more romantic, grab your loved one and spend the afternoon in a couples' cooking class at the Kitchen Kapers Culinary Academy in Moorestown. There you can take a trip around the world with classes on Italian, Korean and Thai cuisines and learn a new set of skills you can bring to the table. If you aren't sure what to wash it all down with, visit the wine sampling events at Red, White, and Brew in Mount Holly on the third Thursdays of each month. Under the guidance of staff wine expert Stacy Blocker -- it's like taking a mini-visit to wine country.

Fun with Food
Don't have the budget to get away to a place like Canyon Ranch for some spa cuisine? Make it yourself after taking a family trip to Johnson's Corner Farm in Medford, where you can pick your own fruits and vegetables. While you're there, let the kids learn about farm life by playing in the farm's discovery barn and animal farm. Another place to take local food to the next level is at the Burlington County Farmer's Market in Moorestown, where you can shop for Jersey-fresh food from local farmers.

The (Really) Great Outdoors
Want to get out of the house for more than just a day? Go camping at Wharton State Forest, part of the New Jersey state park system, which offers tent sites with access to bathrooms for $20 a night. If that sounds a little too rustic, rent a cabin at Wading Pines Campground, which also offers kayak rentals, a game room, a general store and other amenities. Prefer to get your outdoor fix while still sleeping at home? There are plenty of day-trip opportunities in the Burlington County Parks System. Try Smith's Woods in Easthampton for a woodland walk, Palmyra Cove Nature Park in Palmyra or Boundary Creek in Moorestown for birdwatching, or Pennington Park in Delanco for running, rollerblading and kite-flying.

Get Exotic
Your ultimate vacation might consist of eating dhal in Delhi or sipping sake in Japan, but that doesn't mean you can't have exotic, indulgent cuisine closer to home. Excite your palate with the ostrich burger and a finely crafted beer at the High Street Grill in Mount Holly, inventive American food (and the delicious lobster macaroni and cheese) at Bordentown's BYOB Oliver: A Bistro, or French-Asian small plates of duck leg confit with stuffed pears or edamame ravioli at Posh in Maple Shade. Finish the night at Cafe Madison's Martini Bar in Riverside, sipping a cocktail next to the built-in waterfall.

Ride the Rides
To some people, a vacation just doesn't feel like a vacation without a good, adrenaline-rushing ride. Enter CoCo Key, the brand-new indoor water park in Mount Laurel. The 55,000-square-foot facility features everything from exciting water slides to an interactive play area for young children to a relaxing spa for adults. Just make sure to buy your tickets in advance -- if you just show up and the park is full, you could be turned away. The good news? Once you buy tickets, you won't have to worry about the weather changing your plans.

Set the Stage for Fun
Get your fix of arts and culture along the Delaware at Burlington City's Summer Concert Series, a weekly riverfront event that features free pop concerts at the Promenade Park bandstand. Bring your blanket or lawn chair and a picnic dinner to enjoy while you listen to big band music, jazz and old time rock'n roll. If Broadway is more your style, The Great White Way comes to Marlton at the Lenape Regional Performing Arts Center with performances from Broadway divas like Linda Eder and Kate Shindle. Catch a performance from regional theater's brightest stars at Cinnaminson's Burlington County Footlighters, a critically acclaimed nonprofit theater company that has been delighting audiences since 1938. The county's Department of Arts, Culture and Tourism is also an excellent resource for finding things to do. Visit its Web site at www.co.burlington.nj.us.

Give Your Car a Vacation
What's the worst part about a traditional vacation? The traffic when you travel. What's one of the best parts about traveling in Burlington County? The RiverLINE. With 11 stops in Burlington County including Bordentown and Burlington City, this NJ Transit light rail line makes it easy to shop, eat, and explore without ever having to worry about finding a parking spot. On weekends and holidays, New Jersey Transit offers a special family fare where two children can ride for free with a paying adult, making it even more affordable to spend the day making your own great adventure.

Great Getaways: A Resource Guide

For History Buffs


Batsto Village
www.batstovillage.org

Burlington County Prison Museum
www.prisonmuseum.net

Walking Tours

Bordentown
www.downtownbordentown.com

City of Burlington
www.tourburlington.org

Delanco Township
www.delancotownship.com

Cool Classes

Anderson's Martial Arts
www.andersonfamilymartialarts.net

Kitchen Kapers Culinary Academy
www.kitchenkapers.com/cookingclasses.html

LibertyBelle Glassworks
www.libertybelleglassworks.com

Red White and Brew
www.redwhitebrew.net

Make-Your-Own Meals

Burlington County Farmer's Market
www.bcfarmersmarket.blogspot.com

Johnson's Corner Farm
www.johnsonsfarm.com

For Land Lovers

Burlington County Parks System
www.co.burlington.nj.us/parks

Wading Pines Campground
www.wadingpines.com

Wharton State Forest
www.state.nj.us/dep/parksandforests/parks/wharton.html

Culinary Adventurers

Café Madison
www.cafemadison.com

High Street Grill
www.highstreetgrill.net

Oliver: A Bistro
www.oliverabistro.com

Posh
www.posh38.com

For Thrill-seekers

CoCo Key Water Resort
www.cocokeywaterresort.com

For Explorers

NJ Transit RiverLINE
www.riverline.com

Arts & Culture Afficionados

Burlington County Department of Arts, Culture & Tourism
www.co.burlington.nj.us/departments/resourceconservation/cultural/index.htm

Burlington City Summer Concert Series
www.tourburlington.org

Burlington County Footlighters
www.bcfootlighters.com

Lenape Regional Performing Arts Center
www.sjtheater.com

General Travel Information

For more information on events and things to do in Burlington County, visit www.exploreburlingtoncounty.com.

Published (and copyrighted) in Burlington the Beautiful; County of Opportunities, Spring/Summer 2009.
For more info on Burlington the Beautiful; County of Opportunities, please contact Marketing Through Publishing, PO Box 2838, Cherry Hill, NJ 08034, or call 856-983-5667 begin_of_the_skype_highlighting 856-983-5667 end_of_the_skype_highlighting.
To advertise in Burlington the Beautiful; County of Opportunities, please call 856-983-5667.