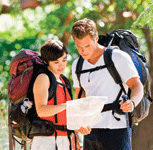 Very Important Places: GlouCo Parks
Very Important Places: The Gloucester County Parks System

…From the pages of Gloucester County: On the Move…

For nature and history lovers, a guide to the great outdoors.

Perhaps one of the best things about living in Gloucester County is that residents can be close to major metropolitan areas while still enjoying the beauty that nature has to offer. To experience it firsthand, come explore Gloucester's extensive county parks system. Whether you want to fish, hike, bike, boat or just enjoy a picnic, the county parks system offers it all. Bob Damminger, Deputy Freeholder Director, says no matter which park you visit, you'll find something to interest you and your family.

"A Gloucester County park is situated within 10 miles of most families in the county," he says. "The parks offer concerts, guided nature outings, birdwatching, historic sites, golfing, kayaking and horse riding competitions. Youngsters can learn to kayak, dad can go golfing, [and] seniors can birdwatch. All this and more is affordable or even free."

One such place to explore the great outdoors is Red Bank Battlefield Park, an area that combines the natural beauty of a riverside park with the county's rich history. Located along the shores of the Delaware River, the park is home to the James and Ann Whitall House, which served as a makeshift hospital during the American Revolution. Today, the house is open free of charge to the public and offers a variety of special events throughout the year. Heritage Day is offered on the third Sunday of each month and reveals a glimpse of life in 18th-century Gloucester County.

The expansive grounds are dotted with monuments (kids especially like the cannon balls on display near the parking lot) and illustrated signs so you can enjoy your own self-guided tour. Stroll along the river's edge or sit on a bench and watch the ships go by. The park also affords an impressive long-range view of Philadelphia International Airport, making it a popular spot for aviation lovers to watch planes taking off and landing. In addition to picnic areas with barbeque pits, Red Bank also offers several open pavilions that can be reserved for private events, as well as playgrounds and paved pathways.

Another outdoor space not to miss is Greenwich Lake Park, an area popular among fishing enthusiasts. The State Department of Fish and Game stocks its 40-acre lake with trout several times each season, and the lake is also a great spot for recreational boating. Playground areas and picnic sites with barbecue grills make Greenwich Lake Park an ideal place to spend some family fun time.

Music lovers and fitness enthusiasts should take a ride over to James G. Atkinson Memorial Park, site of the county's free annual summer concert series. But the park is home to more than just great music. Playgrounds, picnic areas and extensive lighted sports facilities--including basketball and tennis courts, and soccer, baseball, softball and football fields--make this a hotspot for active county residents. The park features more than a mile of paved jogging and biking trails, and is bordered by a gently flowing stream.

At over 1,000 acres, Gloucester County's Scotland Run Park is the largest of the county's four main parks, and features the 80-acre Wilson Lake, which offers idyllic opportunities for fishing, canoeing and kayaking. The lake is surrounded by wooded paths, as well as a picnic area and playground. An interactive nature center offers a wide variety of educational programs for all ages.

Gloucester County Nature Club member Rich Dilks says that Scotland Run offers some of the most pristine preserved land in the area, where many species of animals can feel free to roam without feeling threatened by land development. Say Dilks: "These parks offer many great opportunities for county residents who are interested in enjoying nature close to home."

When you go…

James G. Atkinson Memorial Park
Delsea Drive and Bethel Mill Road, Hurffville
856.589.0047 begin_of_the_skype_highlighting 856.589.0047 end_of_the_skype_highlighting

Gloucester County's Scotland Run Park/Wilson Lake
980 Academy Street. Clayton
856.881.0845

Greenwich Lake Park
Tomlin Station Road, Gibbstown
856.251.6710

Red Bank Battlefield Park
100 Hessian Avenue, National Park
856.853.5120

For more information on the county's parks system, visit www.gloucestercountynj.gov.

Published (and copyrighted) in Gloucester County: On the Move, Spring/Summer 2009.


For more info on Gloucester County: On the Move, please contact Marketing Through Publishing, PO Box 2838, Cherry Hill, NJ 08034, or call 856-983-5667.
To advertise in Gloucester County: On the Move, please call 856-983-5667.