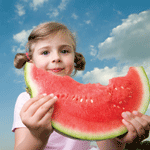 Camden County's Bounty
…From the pages of Camden County Advantage…
Area farmers' markets bring Jersey-Fresh food home to your table.
Come summertime, there isn't much that's better than biting into a juicy, pink piece of watermelon—unless it's eating a salad with crisp arugula. Or starting the day with fragrant, fresh-baked bread. Or grilling up a tender free-range steak and serving it with vibrant asparagus and blueberry pie for dessert.
Summer is the optimal time to eat fresh, healthy, locally grown foods. Thanks to Camden County's numerous farmers' markets, you have many ways to experience the region's home-grown bounty. But don't just visit the market closest to you. As you'll see below, every single Camden County farmers' market has its own unique character, events and vendors.
The Haddonfield Farmers' Market is only in its third year, but you wouldn't know that it's so young when looking at its varied vendors. Savoie Organic Farm serves up potatoes, beets and other certified organic produce; Davidson Exotic Mushrooms has fresh portabello, oyster and shiitake varieties; Natural Meadows offers meats and cheeses from heritage-breed animals; and that's not to mention the bakers, pastry sellers, and soap makers who also set up shop every week.
One unique thing about the Haddonfield market is that it's run entirely by volunteers who saw a need for the market in their community. One of them is Susan Baltake, who says that she and her fellow volunteers wanted to give residents an opportunity "to eat healthy, buy locally and support local farms and farmers." Baltake also loves that residents have access to produce that they couldn't find at the grocery store, like the out-of-the-ordinary beets she purchased at the beginning of the summer. "When we cooked them, they turned out to be candy-cane-striped inside," she says.
While the Haddonfield market is relatively new, one of the county's other markets has been around for nearly 70 years. The Berlin Farmers' Market was founded in 1940 as a livestock and produce auction. Housed in a massive building, this quirky year-round market not only features fresh produce and a butcher's shop, but also has stores that sell everything from shoes to candy to discount furniture. On Saturdays and Sundays there is a massive outdoor market as well, offering everything from yard-sale items to farm-fresh produce and flowers.
Moving from being a livestock auction to being a farmers' market might seem like a logical progression, but what about going from raising awareness about HIV to selling fruits and vegetables? In 1997, the Camden Area Health Education Center (Camden AHEC), a nonprofit dedicated to improving the health of under-served communities through programs such as needle exchanges, did just that. The goal? To improve nutrition in Camden.
"We have one big supermarket in Camden," says Carol Wolff, the organization's executive director. "We don't really have access to fresh produce."
Since offering fresh fruits and vegetables at its first market 12 years ago, Camden AHEC now runs four farmers' markets, including the Camden Farmers' Market in the center of town and the Farmers' Market at the Transportation Center, located at the Broadway Center station on the PATCO line. The markets not only feature fresh produce, but also crafts, prepared food and nutrition demonstrations. All of the Camden markets accept Women, Infants and Children (WIC), Electronic Benefit Transfer (EBT) and Department of Agriculture senior vouchers, making fresh, delicious food accessible to everyone.
Of course, fresh produce isn't just beneficial for the people buying it—it's good for the local farmers providing it as well. At the Collingswood Farmers' Market, farmers are as thrilled to meet with their customers as the customers are to meet with them.
"I absolutely love it, I really do," says John Hurff of Schrober Orchards, citing the numerous compliments he's received from shoppers about his fruit, fruit butters, ciders and salsas. It's quite a different response than he used to get when selling to the wholesale market. "The only thing you'd hear there is, 'Can you get it cheaper?'" he says.
Like many of the other markets, the one in Collingswood puts an emphasis on building community. In addition to holding cooking demonstrations, the market also features live music and two café areas where people can sit and enjoy fresh breakfast sandwiches, Belgian waffles and coffee. After all, what's the one thing that's better than eating that juicy watermelon, crunchy arugula or that tender steak? Sharing that food with others.
When You Go
Berlin Farmers' Market
41 Clementon Road
Berlin
856.767.1284 begin_of_the_skype_highlighting 856.767.1284 end_of_the_skype_highlighting
www.berlinmarket.com
Open year round
Hours: Thurs.-Sat. 10 a.m. - 9 p.m., Sundays 10 a.m. - 6 p.m.
Camden Community Farmers' Market
Broadway and Martin Luther King Boulevard
Camden
856.963.2432
Open from June 26 – November 6
Hours: Fridays 10 a.m. - 5 p.m.
Collingswood Farmers' Market
Between Collings Avenue and Irvin Avenue
Collingswood
856.559.0234
www.collingswoodmarket.com
Open from May 2 – November 21
Hours: Saturdays 8 a.m. – 12 p.m.
Farmers' Market at the Transportation Center
Broadway Avenue
Camden
856.963.2432
Open from June 23 – November 3
Hours: Tuesdays 10 a.m. – 3 p.m.
Haddonfield Farmers' Market
Kings Highway at Chestnut Street
Haddonfield
856.616.8311
www.haddonfieldfarmersmarket.org
Open from May 12 – October 31
Hours: Saturdays 8 a.m. - 12 p.m.
For a full list of Camden County farmers' markets, visit the Jersey Fresh Web site at
www.state.nj.us/jerseyfresh
.
Published (and copyrighted) in
Camden County Advantage
, Summer 2009.
For more info on Camden County Advantage, please contact Marketing Through Publishing, PO Box 2838, Cherry Hill, NJ 08034, or call 856-983-5667.
To advertise in Camden County Advantage, please call 856-983-5667.