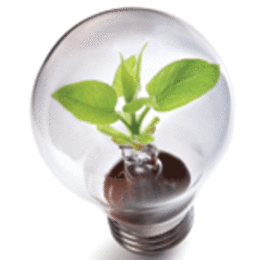 The Greening of Camden County
…From the pages of Camden County Advantage…

No longer content to sit on the sidelines of environmental issues, Camden County and its residents are building a greener future for us all.

In Cherry Hill, a 10-year-old girl convinces a city council to recognize an overlooked law banning engine idling.

In Lindenwold, a housing development for seniors is constructed using green building materials and energy-efficient utility systems.

In Haddonfield, a professional waterproofer fed up with constantly fighting moisture starts a rain barrel and rainwater management company.

And in Camden, work is underway to make the county's biggest contributor to the pollution problem, the Port of Camden, more environmentally friendly.

These residents and businesses in Camden County have pragmatically embraced eco-friendly living, proving that going green doesn't have to take over your life.

"There's sort of a quiet revolution going on that's different from traditional environmentalism," says Cherry Hill resident Lori Braunstein. "It's not about sacrificing. It's really just about redesigning everything. It's very exciting."

Braunstein knows about this revolution first-hand. Currently raising a family in the same neighborhood she was raised in, she never really considered herself an environmentalist. But concern about climate change started her on a long road of education.

"I became increasingly concerned with the fact that we're using up too much of our resources and putting out too much waste," she says. "And nobody was expressing great concern about it."

So Braunstein decided to act, starting Sustainable Cherry Hill, an independent nonprofit community group that works closely with local government, businesses, schools and community members to educate and engage not only people in Cherry Hill, but also people and municipalities across all of South Jersey about sustainability. As it turns out, people are listening to the message.

Putting the "Garden" Back in New Jersey
While it's officially known as the Garden State, New Jersey also has a reputation for harboring sulfurous factories, hazardous waste and pollution. That image is also slowly changing, thanks in part to state and local legislation aimed at cleaning up the environment. Today, programs such as the New Jersey Clean Communities Council and Sustainable Jersey are working toward changing attitudes about littering, recycling and energy consumption.

In Camden County, freeholders last year announced a wide-ranging plan to reduce greenhouse gas emissions and the county's carbon footprint by adopting renewable energy sources and conserving energy through new technology. Key points of the ambitious County Green Initiative 2008 Action Plan included enforcing land policies that reduce sprawl, retrofitting city facilities with energy-efficient lighting, promoting sustainable building practices using the U.S. Green Building Council's Leadership in Energy and Environmental Design (LEED) program, converting municipal diesel fleet vehicles to biodiesel and recovering wastewater treatment methane for energy production, among many others.

The plan would also increase recycling rates in Camden County, which have climbed about 9 percent from last year. In 2008, special collection days diverted 286,214 pounds of household special waste and 153,779 pounds of electronic waste. The county also holds twice-a-year shredding events, where, over the past three years, 94 tons of paper has been shredded. "These events are big reasons why we call Camden County 'the Green County,'" says freeholder Jeffrey L. Nash, liaison to the Camden County Division of Environmental Affairs. "To date we've saved the equivalent of 1,500 trees, kept hazardous materials out of landfills and have been able to reduce our carbon footprint in the process."

Moving forward, the Delaware River Port Authority, in conjunction with the South Jersey Port Corporation, has agreed to develop projects and programs to reduce environmental impacts at the Port of Camden. The Green Ports Initiative is designed to reduce energy consumption, employ cleaner energy sources, replace and modernize vehicles and equipment and develop sound planning and development processes. Some projects already underway include the installation of a new pier equipped with an electric-powered crane and conveyor system, which will eliminate 80,000 diesel-powered truck moves annually, and the development of green buffers between the port and a nearby residential community.

Building on a Green Future
When it comes to residential areas, developers concerned with their bottom line often resort to using the most affordable materials without giving any thought to their green factor. But thanks to new requirements by the New Jersey Housing and Mortgage Finance Agency, home builders must now meet specific sustainability requirements in order to receive financial assistance.

One such project is Linden Lake, an 82-unit affordable senior housing complex in Lindenwold. Developed by Mt. Laurel-based Conifer Realty, which owns and manages housing communities in New Jersey, Pennsylvania, New York and Maryland, Linden Lake was the first "eco-conscious" build for the company.

Built to LEED standards, the complex features an 84-kilowatt solar electric system that powers the common areas, two high-efficiency boilers and a solar hot water system. Each apartment was built using low-VOC (volatile organic compounds) paints and finishes.

Flooring materials include ceramic tile, linoleum (an organic, renewable material made from linseed oil) and green-label carpeting made from 25-percent recycled materials. All developer-installed appliances are Energy Star rated.

"In a lot of ways, you wouldn't even know it's green when you walk in the building," says Sam Leone, project coordinator for Conifer. "It makes you realize that being green doesn't have to be intrusive … you can do a lot without even noticing. And the more green building we do, the more green materials and building processes will be available to us."

Another concern for many county residents and developers is stormwater runoff. New Jersey has some of the most stringent stormwater regulations in the country, and its citizens and businesses are paying the price through stormwater impact fees tied into water bills. But Haddonfield resident Bill Hoffman thinks he has the answer.

Hoffman, a former professional waterproofer, is the owner of Rain Harvest, a company that specializes in rain barrels, irrigation systems and stormwater management. Rain barrels, storage tanks or cisterns can be used to collect rainwater off of your house, which can then be used for landscaping, washing your car, power washing and other non-potable uses. At $125 per 55-gallon barrel, Hoffman's rain barrels are a simple addition to any building or home.

"Instead of using city water to water your plants or wash your car, why not use free—literally free—rainwater that you collect?" asks Hoffman. "For every 1,000 square feet of roof area, one inch of rain is going to shed 600 gallons of rain water. So between the spring, summer and fall, I can collect 16,000 gallons of rainwater off my house that I'm not paying for. And that's our premise—reducing runoff, making New Jersey a little bit more sustainable, and conserving water by reusing it on your own property."

Making A Difference, One Child At TimeB In the spring of 2008, Shelby Robbins, then a fourth grader at Bret Harte School in Cherry Hill, was working on a school project on environmentalism. While searching for information on the Internet, she learned of a 20-year-old state law that prohibits idling by most vehicles. And so began her interest in "Idle Free."

Frustrated by the fact that few people even knew the law existed, Shelby, along with her friend Brooke Godovov from Girl Scout troop Juniors 30552, started a campaign to educate her friends, family and the Cherry Hill school board about the environmental and health dangers of idling vehicles. In July 2008, she and Brooke made their case before a Cherry Hill town council meeting.

"Small children are at tailpipe level," said Shelby during her presentation, which specifically focused on idling in school zones. "Idling is especially bad for children with asthma or other breathing diseases. It's also bad because it wastes gas. If you're idling for more than 30 seconds, that is expensive and a waste of nonrenewable resources. Finally, idling is bad for the environment because of pollution."

Swayed by the girls' presentation, the council voted unanimously for the Clean Air Community resolution, which prohibits idling for more than three minutes. Although the law against idling is not new, the township is now more apt to enforce it, with fines starting at $250 for a first offense. Because many violators may be traveling motorists who aren't aware of the ordinance, however, the focus remains more on educational efforts.

"I'm so proud of her for moving forward on this and understanding all the reasons," says Shelby's mom, Ruth Anne Robbins. "I had no idea about idling, the law or the harm it causes until she started talking about it." "It's the power of one person—one child," adds Braunstein. "People don't realize the power that children can have."

And it's a power that you, too, can have. Going green doesn't mean giving up the comforts of modern-day life. Simple changes can make a big difference. To get started, or to learn more about sustainability initiatives in Camden County, see our list of resources below.

Find Out More

Camden County Green Initiative
www.camdencounty.com/government/offices/ environment/greeninitiative.html

Mayors' Committee for a Green Future
www.njslom.org/Green_Future_committee.html

New Jersey Clean Communities
www.njclean.org

Recycling in Camden County
Camden County Division of Environmental Affairs
856.858.5241 begin_of_the_skype_highlighting 856.858.5241 end_of_the_skype_highlighting
www.camdencounty.com/community/recycle.html

Sustainable Cherry Hill
www.sustainablecherryhill.org
Blog: sustainable-cherryhill.blogspot.com

Sustainable Jersey
www.sustainablejersey.com

Published (and copyrighted) in Camden County Advantage, Summer 2009.
For more info on Camden County Advantage, please contact Marketing Through Publishing, PO Box 2838, Cherry Hill, NJ 08034, or call 856-983-5667.
To advertise in Camden County Advantage, please call 856-983-5667.