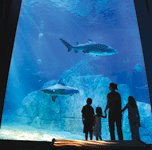 Good Neighbors
…From the pages of Camden County Advantage…
Camden's waterfront attractions foster community through outreach programs.
In the 15 years or so that the Camden waterfront has been in development, much attention has been paid to its wonderful tourist attractions. But the location of these venues can't be ignored, sitting on the edge of a city plagued with poverty, crime and so many people in need of opportunity. To help become part of the solution to some of the area's problems, the waterfront attractions have made a point of reaching out to local citizens not only with tourism dollars but also with educational opportunities.
"We've succeeded in [bringing positive attention to] the Camden waterfront, thanks to the great attractions and great experiences that are provided by our venues," says John Seitter, president of the South Jersey Tourism Corporation. "But most importantly, all of the different venues feel a direct responsibility to contribute to the community."
One such venue is Adventure Aquarium, which has been a fixture on the waterfront since 1992, gaining greater recognition following an extensive renovation and reopening in 2005. One way the Aquarium hopes to promote change is by reaching out to Camden's children. This year, it introduced an annual scholarship program benefiting Camden City elementary schools. The Aquarium's Camden Student Environmental Advocates (SEA) Stars Scholarship will provide one elementary school in Camden with up to $5,000 in needed materials and equipment to help inspire and challenge students through the exploration of science and nature. The winning school receives a live fish tank, and the entire student body gets a free trip to the Aquarium.
"If we can impress some cool stuff upon kids at a young age, hopefully it will be everlasting," says Greg Charbeneau, executive director of Adventure Aquarium. "Maybe we'll have future marine biologists, future animal caretakers or advocates for the environment or education."
But students don't have to attend a SEA Star-winning school to benefit from all the Aquarium has to offer. In addition to providing substantially reduced admission rates for Camden schools, the Aquarium gives all Camden fourth-grade classes free admission. This November, the Aquarium will hold a coat drive (donors will receive $2 off Adventure Aquarium tickets), with all new and gently used coats being given to Camden school kids in need.
Meeting Community Needs
In Camden's urban environment, access to fresh fruits and vegetables is limited. While farmers' markets are popping up all over the city, the Camden Children's Garden is also doing its part, building community gardens that not only beautify once-desolate areas, but also provide residents with healthy nutritious food.
"There's one grocery store in Camden, and it's very difficult for people in the city to get fresh produce," says Tracy Tomchik, events coordinator for the Camden Children's Garden. "We're not only teaching people how to garden, but we're talking to them about nutrition and we're feeding them as well."
The Garden has created 25 community gardens in Camden in 2009, adding to the approximately 30 that already existed. Most are part of the Faith-Based Community Gardening Program, which was started in 2008 with a grant from the Robert Wood Johnson Foundation to prevent childhood obesity.
Teaching children the importance of proper nutrition is also a main initiative of the Garden's Grow Lab. Established in 1989, the program takes gardening into elementary schools through the creation of miniature indoor greenhouses. In addition to gaining knowledge about the scientific aspects of gardening, such as soil properties and water and air pollution, the children learn about making better food choices. They even host a Salad Party featuring the ingredients they grow.
"We're definitely trying to do as much as we can for the community," says Tomchik. "We're not just about promoting gardening and getting outside. We're also about healthy living and nutrition and giving [the city's young people] a safe place to be."
History Lesson
A short walk south along the waterfront will bring you to the area's other popular attraction, the Battleship New Jersey. The ship is a memorial to the wars in which it participated (World War II and the Korean, Vietnam and Lebanese Civil Wars) and to those who have served in the U.S. armed forces, as well as being a museum offering educational programs that meet state Department of Education standards.
Once they board the ship, children get to view the bridge, and the captain's and admiral's cabins and officers' wardroom. They can examine the lockers that held sailors' personal belongings and sit on the enlisted men's bunks. They do it all while learning about the ship's role in various conflicts and participating in a scavenger hunt that teaches them facts about life aboard a battleship. Boy Scout and Girl Scout troops can even earn merit badges while spending the night aboard the ship as part of its overnight encampment program.
The Battleship New Jersey also plays an important role in the lives of local veterans, offering volunteer opportunities and serving as a venue for memorial events. "The battleship provides a ceremonial venue for both the veterans and for the local citizens to remember," says Seitter. "That in and of itself provides a great value as a community-based organization."
No matter what the approach to outreach, from in-school educational programs to providing clothes and food to area residents, the Camden waterfront attractions are more than just tourist draws. They're good neighbors, giving back to a community that has given them plenty in return.
Find Out More
Adventure Aquarium
1 Riverside Drive
(856) 365-3300 begin_of_the_skype_highlighting (856) 365-3300 end_of_the_skype_highlighting
www.adventureaquarium.com
Battleship New Jersey
62 Battleship Place
(856) 966-1652
www.battleshipnewjersey.org
Camden Children's Garden
3 Riverside Drive
(856) 365-8733
www.camdenchildrensgarden.org
Reaching Out Across the Spectrum
Camden isn't the only place in Camden County where outreach occurs. In Cherry Hill, the Garden State Discovery Museum knows how difficult it is for parents of special needs children to plan everyday family outings, so it's developed the Open Arms program. Four times a year, the museum hosts a special night strictly for families with children on the autism spectrum. The free event provides autistic children with the opportunity to play in a comfortable setting.
"The families have a great time," says Tamara Shattuck, education coordinator for the museum's Center for Learning. "They can be here without having to worry about whether their child is a little overwhelmed by the experience, because everybody is in the same boat."
All museum staffers have been trained to work with special needs children, and quiet rooms and areas are set aside in case a child becomes overstimulated or overwhelmed. The museum also sets up a resource center where parents can get information about autism and local organizations that work with autistic children.
The next Open Arms night is Sunday, August 9, from 6 p.m. to 8 p.m.
Garden State Discovery Museum
2040 Springdale Road, Suite 100
Cherry Hill
(856) 424-1233
www.discoverymuseum.com
Published (and copyrighted) in
Camden County Advantage
, Summer 2009.
For more info on Camden County Advantage, please contact Marketing Through Publishing, PO Box 2838, Cherry Hill, NJ 08034, or call 856-983-5667.
To advertise in Camden County Advantage, please call 856-983-5667.