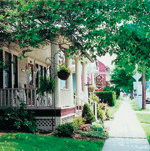 Spotlight On: Mullica Hill
…From the pages of Gloucester County: On the Move…

Modern-day shopping. Old-time charm.

In a world seemingly obsessed with HDTV, fast cars, and always being "connected," sometimes it's nice to find a place to enjoy fresh air, a casual stroll and a good meal. South Jersey residents don't need to pack their suitcase for such an escape, though -- they just need to visit the village of Mullica Hill in Harrison Township. Known as the antiquing capital of the area, the village, with a population of just over 10,000 people, offers a mix of quaint antiques shops and historical buildings that will whisk any curious visitor back in time with just a stroll down Main Street.

"I think of our town as a destination," says Judy Salvino, secretary of the Mullica Hill Merchants' Association and owner of The Front Porch Antiques. "It's a gem for Gloucester County." Salvino's shop, found within the ground floor of a seven-room farmhouse built in 1840, is just one of a group of independent antiques shops that are housed in some of the town's landmark buildings. The Yellow Garage antiques co-op used to be a bus station. The Warehouse, an indoor shopping arcade, was once the train station. The Old Mill antiques mall was, true to its name, a grist mill.

Many of the charming buildings in the 20-square-mile town are prime examples of Victorian architecture. "We're not only an antiques district, but a historical district with all the charm," says Salvino. "People come in to shop and appreciate the building and ask all sorts of questions."

If hunger strikes while they're shopping, visitors can don some white gloves and proper manners when they visit Amelia's Tea & Holly, a very popular teahouse located in what was once the old post office. While Amelia's often holds parties, showers and get-togethers for the Red Hat Ladies, small groups can also simply drop in for a spot of tea and some fresh-baked scones with cream and jam.

For a more casual nosh, the Stir It Up coffee house serves custom brews set to a soundtrack of live music in the evenings, while blueplate serves gourmet American cuisine and has been hailed by food critics as offering some of the region's best risotto. After eating, check out the area shops along Main Street, where evidence of the town's many beautification projects are on view. New trees, flowers and sidewalks have already been installed, and new Victorian-style gas lamps will soon join them.

For funky designer clothing and accessories from brands like Vera Bradley and Brighton, stop in Allanna's. Barbara Millar Jewelry, found inside The Warehouse, sells handmade artisan pieces in sterling silver alongside vintage options. The Mullica Hill Quilt Co. offers an ocean of fabric to browse through for your quilting project, along with classes for novice sewers. Or try Sisters for special home décor items or the perfect hostess gift.

With so many retailers packed within a few blocks, area merchants recently banded together to plan the first Antiques Street Fair. Held on April 26, Main Street was transformed into an outdoor parade of fine furniture, estate jewelry and accessories as Mullica Hill antiques shops displayed their wares alongside those of other Gloucester County shops. Wine and cheese were served up at the Heritage Station Wine Tasting Party, and musicians filled the air with tunes.

Salvino says the response by both the shops and the public was so great, the event is sure to return again soon. "I think we've finally found our niche," she says.

Those who missed the antiques fair can experience another popular event when the June Festival of the Antiques is held on June 13. This massive show highlights local vendors, as well as those from across New Jersey and out of state, as they set up shop at the Gloucester County 4-H Fairgrounds. Or mark your calendar for another of the village's many other annual events. Sidewalk sales offer bargains every spring and fall, while the Halloween season brings out the town's original residents during the Mullica Hill Ghost Walk.

Along with its shopping and festivals, Mullica Hill is also known for its sense of history. The village was placed on both the National and New Jersey Registers of Historical Places in 1991. Those looking to learn more about that charming past should stop by the Harrison Township Historical Society's building, which is the refurbished Old Town Hall. Besides the building being a beautiful attraction in itself, the society's rotating exhibits entertain and inform while experts on the area's history share details on which structures in town to visit.

Salvino, who has lived in the area for more than 20 years, says local residents appreciate the unique vibe their village offers. "They are proud when they bring company into downtown," she says. "It's such a wonderful feel living here. You can walk to restaurants, walk to get coffee. It's just very charming to have these things here."

Published (and copyrighted) in Gloucester County: On the Move, Spring/Summer 2009.
For more info on Gloucester County: On the Move, please contact Marketing Through Publishing, PO Box 2838, Cherry Hill, NJ 08034, or call 856-983-5667 begin_of_the_skype_highlighting 856-983-5667 end_of_the_skype_highlighting begin_of_the_skype_highlighting 856-983-5667 end_of_the_skype_highlighting.
To advertise in Gloucester County: On the Move, please call 856-983-5667.