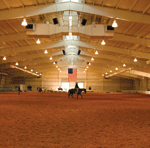 A Dream Come True
…From the pages of Gloucester County: On the Move…

The East Coast's premiere equestrian center draws horse lovers near and far to Gloucester County.

It was slated to become a dredge spoils site, just another unusable and unsightly parcel of land along the Delaware River. But on a sunny Saturday afternoon in April at the DREAM Park in Logan Township, there was no sign, not even the slightest hint, of the area's former fate.

Instead, just beyond the doors of a large covered arena, hundreds of spectators mingled on bleachers. Inside a dirt-floored ring, dozens of American quarter horses and their riders were actively at work. In one half of the ring, teams practiced dressage techniques; in the remaining half, others showcased their skills for a panel of judges. It was all part of a three-day equestrian event, one of the biggest shows in the Mid-Atlantic region.

Opened in June 2008, exactly two years to the day after construction began, the Delaware River Equestrian, Agriculture and Marine Park has defied expectations and garnered praise from equine enthusiasts as being one of the most modern equestrian centers on the East Coast, perhaps in the country.

"I'm in love with the park," says Ann Dorsett, a representative on the New Jersey Department of Agriculture's Equine Advisory Board and owner of Dorsett Farms, an Arabian horse breeding and boarding facility in Woolwich Township. "It's really going to be rejuvenating for the pleasure horse industry on this end of the state."

And for the local economy. The equine industry is one of the largest in the state, generating approximately $1.1 billion annually in total economic impact. The state animal is the horse, which also appears on the state seal. According to a 2007 study by the Rutgers Equine Science Center, 142,000 acres of state farmland are used to support horses and other equine-related activities, including more than 42,000 horses and 7,200 operations. Gloucester County alone has about 2,200 horses and approximately 480 equine facilities, ranking it in the top third in the state.

"This is a dream come true for many people," says State Senator and Gloucester County Freeholder Director Stephen M. Sweeney. "The DREAM Park not only creates an opportunity for people to come see and participate in equestrian events, but it also brings to our county a facility that doesn't exist anywhere else in South Jersey."

The 74-acre state-of-the-art complex features a 150x300-foot temperature-controlled indoor arena with bleacher seating for 600 spectators, a separate area for auctions and exhibits, a concession area and a Bose-equipped sound system. There are also two barns that can accommodate 238 horses and five outdoor rings, including a Grand Prix/carriage ring, a warm-up ring, a schooling ring and a lighted ring for nighttime events. Designated parking is available for trailers and RVs, while a 44-stable barn with paddocks offers private boarding opportunities.

And that's only phase one of the project. Beginning this year, the county will begin developing the adjacent 200 acres of DREAM Park, creating scenic riding trails and cross-country courses that will take riders along the river and creeks for breathtaking views.

Sweeney, who originally received criticism for championing the DREAM Park project, says that opponents of the park didn't understand what the park will bring to the area and were skeptical that it would be utilized.

"A significant amount of research went into creation of the DREAM Park," he says. "A lot of tourism dollars will come into the area because of the horse shows and other shows that are held here."

Visitors who come to the area are expected to patronize local restaurants, hotels, gas stations and other retail establishments.

And it's not just equine groups that are taking advantage of this new facility. While the DREAM Park will host its fair share of horse shows, competitions and even a horse auction, it's also the ideal size for canine agility trials -- and many weekends have been reserved by canine groups specifically for such activities.

Also expected to attract thousands of visitors at the park this June 13 is the Delaware Valley ICS Regional Chili Cook-Off, Concert and Festival, which previously was held at Gloucester County College. (See related article on page 16.) The American Red Cross has a large Welcome Home event for military reservists planned at the center at the end of August.

"There's always something going on here," says Dorsett. "It's a great place to bring the kids on a Saturday afternoon to get them out in the fresh air and away from the television."

In addition to the myriad public events, therapeutic riding sessions have also been operating in the park since its opening. Every Monday afternoon, children with physical and developmental disabilities receive supervised time on the horses, assisted by a team of volunteers.

"When the county built the park, we felt it was important that there were programs and opportunities available for the special-needs community," says Sweeney. "The horses and the children have a really special relationship that a lot of humans don't have with each other. These programs give the students a lot of confidence and teach them valuable skills that sometimes they don't get from any other place."

From its central location right off Interstate 295 in the shadow of the Commodore Barry Bridge, DREAM Park is primed to become one of the area's most popular destinations, one that can be used and appreciated by local citizens and tourists alike.

"We want people to come out and visit," says Sweeney. "It's a really beautiful location, and we know that once people see it, they'll appreciate the true beauty of the area."

When you go…

Gloucester County DREAM Park
400 U.S. Route 130 South / Logan Township
Phone: 856.241.1415 begin_of_the_skype_highlighting 856.241.1415 end_of_the_skype_highlighting / Fax: 856.241.1623
For more information about the Gloucester County DREAM Park, visit www.gcianj.com.

Published (and copyrighted) in Gloucester County: On the Move, Spring/Summer 2009.
For more info on Gloucester County: On the Move, please contact Marketing Through Publishing, PO Box 2838, Cherry Hill, NJ 08034, or call 856-983-5667.
To advertise in Gloucester County: On the Move, please call 856-983-5667.