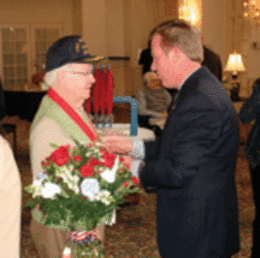 Community: Showing Their Medal
…From the pages of Burlington the Beautiful…

A county program honors Burlco veterans' service and sacrifice.

After two years in the U.S. Army, including a wartime stint in Vietnam, Southampton resident Lewis Powell lived the next three decades of his life without ever being thanked for his military service. Then, a few years ago, Powell received his first token of appreciation as a veteran: a medal from Burlington County. "It was the first time I got anything from anybody," says Powell, 62. "It was like somebody finally recognized you and gave you something for your service when you could have lost your life."

Powell now keeps the medal, which is silver with a red ribbon, hanging in his home office. Receiving it was especially poignant, he says, because his father was also awarded a medal for his World War II service at the same ceremony.

"I appreciate that the county did it. Before that, no one else welcomed us home," Powell says. "The medal was very nice—and I think it did a lot for every veteran that received one."

Launched by the Board of Chosen Freeholders in 2001, the Veterans Medal Program is an effort to show county veterans just how much they are appreciated, sometimes years or even decades after their military service, says Walt Tafe, director of Burlington County Veterans Services. The honor is especially meaningful for some former service members, he says, such as those who served in the Vietnam War, who were often met with disdain upon their return from battle. "The freeholders just wanted to say thank you to those county veterans who have served honorably in the military," says Tafe.

County veterans who were honorably discharged from the armed forces can apply for the medal at Veterans Services, located at 795 Woodlane Road in Westampton. Family members are also invited to apply for posthumous medals on behalf of a deceased veteran.

Medal applicants must bring the veteran's discharge papers and fill out an application form. Upon applying for the medal, veterans or their family members are given the option to be entered into the county veterans' database, which keeps them informed of benefits and programs they might be eligible for, such as disability or healthcare benefits and widows' pensions. Once accepted for the Medal Program, honorees and/or their families will receive an invitation to the annual medal award ceremony, which is typically held each year on Flag Day.

On the day of the ceremony, the county Human Services Facility buzzes with activity. Active military servicemen and women greet the veterans, holding doors and escorting the honorees to their seats.

As a military-themed slideshow flashes on-screen, patriotic music plays in the background for the honorees and a star-studded audience of state senators and assemblypersons. Today, however, it is the veterans that receive V.I.P. treatment. In addition to their medal, each honoree is given a keepsake program and an American flag.

When it is time for the medals to be awarded, veterans are called up to the podium and a county freeholder places a medal around the recipient's neck and the two pose for a photograph. Because some veterans are unable to attend the annual ceremony, the county also presents medals at nursing homes, state veterans' homes and even private residences. To date, the county has honored more than 9,000 service people. "I've seen folks with tears running down their face when they receive their medal," says Tafe. "For a lot of them, it's just long overdue."

Published (and copyrighted) in Burlington the Beautiful; County of Opportunities, Spring 2010.
For more info on Burlington the Beautiful; County of Opportunities, please contact Marketing Through Publishing, PO Box 2838, Cherry Hill, NJ 08034, or call 856-983-5667 begin_of_the_skype_highlighting 856-983-5667 end_of_the_skype_highlighting.
To advertise in Burlington the Beautiful; County of Opportunities, please call 856-983-5667.