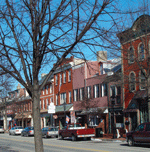 Putting Main Street on the Map
…From the pages of Burlington the Beautiful…

Burlington City, Maple Shade and Mount Holly are just three Burlco communities whose downtowns are hopping again.

Main Street, USA: Along with the Stars and Stripes, apple pie and baseball, perhaps nothing's as potent a symbol of Americana as that fabled small-town stretch of commerce and community. After all, it's no accident that another American icon, Walt Disney, anchored the entrances to his theme parks with idealized versions of old-time Main Street.

But somewhere between Disney's quaint thoroughfares and the mall culture of the late 20th century, Main Street morphed from bustling town hub to emptying town huh?, losing ground to chain-store sprawl and troubling municipal officials who knew that a town is only as strong as its center. After plenty of hard work from concerned parties to attract small business and foot traffic back to Burlington County's Main Streets, there's good news to report.

"Americans are coming back to downtowns in record numbers," says public-sector strategist Joe Getz, of the South Jersey-based JGSC Group, which has actively assisted in the revitalization of many a Main Street in Burlington County. "People are tired of spending time in their cars on Route 295," he says. "They want a healthier lifestyle than malls and fast food. Downtowns create a sense of place and importance."

Main Streets are certainly key to the concept of Smart Growth: the cultivation of "a place where people live, work, shop and play," explains Getz. Walkable downtowns also offer small businesses everything they need—affordable space, access to government offices, professional services and highways and the opportunity to expand without having to move to a different town.

What makes for a vital, vibrant Main Street? A tour of three distinct Burlington County downtown districts with dedicated revitalization organizations—that of Burlington City, Maple Shade and Mount Holly—highlights differences in character yet a single goal: to turn their towns into true destinations by offering community events, interesting small businesses, retail establishments and restaurants.

"All three towns have a very different feel to their communities," says Jef Buehler, coordinator of Main Street New Jersey (MSNJ), the 11-year-old program administered through the New Jersey Department of Community Affairs that uses a four-point "teach-a-man-to-fish methodology" to spur and support historic-downtown revitalization efforts. Burlington City, Maple Shade and Mount Holly—all of which are tended to by nonprofit Main Street groups that work to grow their downtown districts—have successfully passed the program's rigorous two-year application process and been accepted, at varying levels of participation, as MSNJ towns. "It's important to impart their local assets and character they can build on," Buehler continues. "That's what makes them unique."

Burlington City
''Burlington City's huge asset," says Buehler, "is public transit." Its version of Main Street, High Street, sits squarely on the RiverLINE light-rail network. The city's history also precedes itself: Founded in 1677, it predates the Revolutionary War and boasts an architecturally rich historic downtown district with 40-plus notable preserved sites (including America's oldest library and a handful of Underground Railroad stops). Chance VanSciver, a member of Main Street Burlington, agrees with Buehler: "The local colleges along the RiverLINE [including Burling-ton County College, Rutgers Camden, and in the future, Rowan University] are bringing more new residents downtown, which really helps the city become a destination community," he says.

Also helping is a recent effort to drive commercial occupancy up. Two notable recent boosts include the move of Francesco's popular pizzeria to the heart of downtown and the reopening of the renovated Lily Inn, which VanSciver deems "a big deal," as the "first functioning bed-and-breakfast in town." It's just two short blocks away from the tourist-traveled RiverLINE and a hop, skip and jump away from Café Gallery, one of Burlington's best restaurants. In addition, Burlington's 100 or so small businesses frequently band together to attract consumers by coordinating advertising and special promotions. It's a tack that gets results. "People are interested in shopping closer to home and supporting their communities," notes VanSciver. They're also drawn to Burlington City's gamut of events, including October's elaborate Scarecrow Contest and Parade around Halloween; and, come February, a large Mardi Gras Madness party, which, says VanSciver, "livens up [the] month."

Maple Shade
''Every new business that's created brings tax ratables down and creates jobs—and jobs keep people in town," says Sandy Nunes. As executive director of Main Street Maple Shade, Nunes actively pursues various avenues to attract new business to her hometown of Maple Shade, which she calls "a diamond in the rough."

Among Maple Shade's considerable assets, she says, is its prime location, on the much-traveled corridor between routes 73 and 38 between the Moorestown and Cherry Hill malls. Maple Shade events like the Holiday Festival and concerts by musician John Wesley Harding and progressive rock band Grey Eye Glances were also well attended. Strong local groups such as the Lions and Rotary Clubs abound, and the town has won the voting for the Courier Post's Readers' Choice Best Town Spirit Award for five years running.

In addition, unique downtown businesses like the Album Hunter record store attract lots of customers, while Oakwood Uniform and the drive-up Custard Stand lend old-fashioned charm to a town that is forging ahead. Maple Shade's award-winning business association is also in talks to turn a Main Street building slated for redevelopment into a performing arts center, and the town has drawn a warm weather farmers' market as well as no less a destination eatery than the recently opened Iron Hill Brewery & Restaurant. The eatery, Nunes says, "is not on Main Street [per se] but is always very busy. [It draws people to the town]."

Nunes' latest push is working with a subcommittee that has encouraged commercial landlords to lower their "already very reasonable rents" to lure new businesses—a "grass roots effort in which we take the hand of the [potential tenant] and walk him through the process, from the business proposal on. Realtors are [also] reporting that residential real estate is up 30 percent," she says. "It's all part of the way to bring new life to the street."

Mount Holly
If you're meandering around downtown Mount Holly and run across a pink lawn flamingo stuck where you wouldn't expect it, don't be alarmed; it's there to generate interest in becoming a supporter of Main Street Mount Holly, a volunteer nonprofit organization that's dedicated to promoting the borough's downtown area. The flamingoes are a visual reminder that people need to stick out their necks for their hometown's sake. "In our seventh year, we need to reeducate the public about who we are and why Main Street is important," says the organization's executive director, Lynn Scowcroft.

Scowcroft is always on the lookout for ways to bring new business opportunities to Mount Holly, the county seat, and its unique T-shaped downtown, wherein High Street, the main drag, meets Washington and Mill Streets. That key intersection is the entrance to the charming retail-rich Mill Race Village and home to the Robin's Nest, a Victorian restaurant renowned for its food, desserts and creek-side dining. Mount Holly is one of the biggest proponents of its business owners using Main Street New Jersey's Destination University, an online course that teaches small businesses survival skills. "If you have good retention, it's easier to recruit new business," Scowcroft says. Scowcroft's main agenda is to walk High Street once a day, so merchants can stop and chat with her about anything they might need in order to thrive.

One area of planning that is already a proven success is Mount Holly's calendar of public events, many of which pack in visitors from in and out of state and have been running for many years. There's January's Fire and Ice Festival, a combo chili cookoff/ice-sculpture competition; September's new BBQ and Blues in the Park chowdown concert; and December's Battle of Iron Works Hill reenactment of the Mount Holly events that led to Washington's victory over the Hessians at Trenton. The year round nature of the calendar (there are 11 events total) reflects Scowcroft's belief that "revitalization has to be ongoing or you become stagnant," she says. "You need those feet on the street."

You Can Always Go… Downtown
Though the following Burlco towns are not Main Street New Jersey-designated communities, they have vibrant downtown hubs that attract plenty of consumer activity.

Medford: The Victorian nature of Medford's Main Street—lined with antiques shops, the veddy English Mulberry Tea House and an interesting variety of other small businesses—is well suited for evocative events such as the annual Dickens Festival, when the street is transformed into a scene out of A Christmas Carol. www.discovermedford.com

Moorestown: Moorestown has been dubbed "the best place to live in America." No wonder entrepreneurs, professionals and restaurateurs alike are drawn to its historic Main Street. There, you'll find a plethora of fine footwear at Carl's Shoes, world-class cupcakes and pies at Pie Lady Café and artisan crafts and jewelry at Signature Designs. www.moorestown.com

Palmyra: Palmyra features a well-diversified business district that includes professional, retail, service and food establishments—making Main Street a great place to stroll and take in the sights. Visit by RiverLINE when the mood hits, for stunning views of the Delaware. www.boroughofpalmyra.com

Riverside: Riverside, a stop on the RiverLINE light rail, is marked by its landmark clock tower and its small-town Main Street charms. Its central downtown business district is beefing up its residential capacity by renovating several properties to incorporate apartments over the first-floor commercial establishments. www.riversidetwp.org

Find Out More
All three Main Street groups discussed in this article are volunteer organizations in need of support. If you'd like to get involved, learn more by logging on to: www.mainstreetburlington.org | www.mainstreetmapleshade.com www.mainstreetmountholly.com

Published (and copyrighted) in Burlington the Beautiful; County of Opportunities, Spring 2010.
For more info on Burlington the Beautiful; County of Opportunities, please contact Marketing Through Publishing, PO Box 2838, Cherry Hill, NJ 08034, or call 856-983-5667 begin_of_the_skype_highlighting 856-983-5667 end_of_the_skype_highlighting.
To advertise in Burlington the Beautiful; County of Opportunities, please call 856-983-5667.