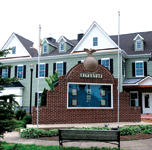 (Spotlight On) Riverton
…From the pages of Burlington the Beautiful…

This riverfront borough offers quaint character from years' past—as well as the prospect of a very bright future.

Nestled west of Route 130 and bordering Cinnaminson, Palmyra and the Delaware River, Riverton, which covers less than one square mile of land, is something of a local secret. Relatively isolated from busy thoroughfares, it's armed with a unique history and Victorian charm kept alive by residents who see to it that long-held traditions—like a 4th of July Children's Flag Parade dating back to 1897—remain active year after year. The Governor's Cup Regatta, held each June at the Riverton Yacht Club, is embarking on its 61st annual festivities.

"I want to live in this town," said Tim DeFreitas, a San Diego native, to his wife, Dolores, as the couple looked at a house for sale in Riverton. "Strangely enough, I'd grown up nearby, in Willingboro, but I didn't really know anything about Riverton," Dolores remembers. It's a sentiment shared by many South Jerseyans—although probably not for long.

With other popular events that include a weeklong array of festivities commemorating July 4, a Halloween parade shared with neighboring Palmyra, a Christmas tree lighting ceremony and a Christmastime house tour, the town easily won over the DeFreitas family, who have proudly called Riverton home now for 13 years.

"It really is a little oasis," Dolores says, adding that out-of-town friends are always astonished to learn that Riverton's public schoolchildren are allowed to go home each day for lunch. "As a stay-at-home mom for many years, I was able to see my kids in the middle of each school day." She now works as a Realtor at Riverline Real Estate, the first business in the area to adopt the name of the successful light rail system that has a stop in town.

Riverton's appeal comes as little surprise to anyone familiar with its pedigreed history. It was founded in 1851 as a summer retreat for a group of wealthy Philadelphians, with recognizable surnames including Clothier, Biddle and Wharton. The men commissioned prominent 19th-century architect Samuel Sloan to design their village. Above and beyond implementing necessities such as homes, a pier and a railroad station, the Riverton Yacht Club was organized, and it remains the oldest yacht club on the Delaware and one of the oldest in the country. And while the borough has a ban on additional waterfront building, there is certainly no shortage of development happening in the rest of the town.

In fact, Riverton was recently designated by the Delaware Valley Regional Planning Commission as one of the ten "Classic Towns" of the greater Philadelphia area—a marketing initiative that aims to bring support and attention to older communities. "We're proud to have been chosen as a Classic Town," says Riverton mayor Bob Martin. "We think the honor is a reflection of Riverton's character and history, and will hopefully introduce non-residents to all the great things we residents know to be true about the town."

One of those things is the convenience of the RiverLINE, a passenger train from Camden to Trenton, which opened a station in Riverton in 2004, easing commutes between Philadelphia and New York City and increasing foot traffic around the town's center. The following year, Nellie Bly's Olde Tyme Ice Cream Parlour debuted at the intersection of Broad and Main Streets. Just a stone's throw away are the Riverton Health and Fitness Center and Yogawood, a yoga studio that recently opened.

Lourdes Medical Associates, a family practice operating as part of the Lourdes Health System, opened its doors on Main Street. And Riverton resident Jim Brandenburger, a professional developer, is behind two recent projects: the Shoppes of Riverton, which includes a CVS, Tara's Café and Beneficial Bank, as well as Riverton Square, which houses offices and residential units. The developments were designed to complement Riverton's Victorian style as well as to provide desperately needed modern-day parking. Additionally, an influx of dining establishments has brought a renewed buzz to the borough's downtown.

"Ten years ago, Milanese Pizza was the only eating establishment in town," councilwoman Suzanne Cairns-Wells points out. "Now we have the ice cream parlor and three additional restaurants: Tony's Seafood Cafe, Zena's Patisserie, and Tara's Café."

Tara Lane, owner of Tara's Café, was aiming to buy a pre-existing local restaurant three years ago when she heard about the Shoppes of Riverton and saw the location's promise. Tara's Café has been up and running since 2007, and has twice been designated as the county's "best breakfast" by the Burlington County Times. "The town government seems to be doing a lot, little by little, to attract more patrons to this area," Lane says.

Ironically, one age-old building that originally fell victim to Riverton's recent development projects might soon play a role in the town's revitalization—the old post office, which has been vacant since its services were relocated to newer facilities. Councilwoman Cairns-Wells says that while nothing has been finalized, Jim Brandenburger and business partner Paul Grena have recently been before the zoning board with prospective plans for the building.

Cairns-Wells feels confident that even as retailers make their move to the area, the borough will have no problem finding a balance between honoring the past and moving towards an even brighter future. "Jim is a resident," says Cairns-Wells. "He respects the town. [The building] he's done here so far has been wonderful for us all."

When You Go
For more information about the borough, visit www.riverton-nj.com

Published (and copyrighted) in Burlington the Beautiful; County of Opportunities, Spring 2010.
For more info on Burlington the Beautiful; County of Opportunities, please contact Marketing Through Publishing, PO Box 2838, Cherry Hill, NJ 08034, or call 856-983-5667 begin_of_the_skype_highlighting 856-983-5667 end_of_the_skype_highlighting.
To advertise in Burlington the Beautiful; County of Opportunities, please call 856-983-5667.