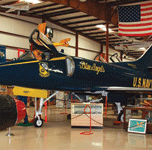 Sights to See: Air Victory Museum
…From the pages of Burlington the Beautiful…

Catch a glimpse into aviation's past, and let your curiosity take flight.

Captain Chesley "Sully" Sullenberger, who last year landed a large commercial jet on the Hudson River, reminded Americans everywhere about being a hero and the miracle of flight. But there are plenty of aviation-related heroes and miracles right in our own backyard, at the Air Victory Museum (AVM), located in a hangar at the South Jersey Regional Airport in Lumberton. The AVM devotes most of its space to a thrilling indoor-outdoor display of aircraft, including an E-2B Hawkeye and an RH-53D Sea Stallion helicopter. The museum also houses its own aviation library, with over 3,000 volumes of books and 1,000 tapes and videos to enjoy. Hands-on experiences at the Kids Port, an interactive area of games and toys, offer young visitors a deeper understanding of how planes are built.

In addition to showing the fun of flying, planes are also a great tool for teaching children about math, science, technology and engineering. There's something about stepping into the cockpit of a real-life P-80A jet aircraft that has a slight edge over a textbook and chalkboard, says Ernest Linneman, treasurer of the AVM and member of its Board of Directors.

"Every time we talk to children, we look them all in the eye—girls and boys," he says. "We point at them and say, 'You can be a pilot, you can be an aircraft engineer, you can do this, but you have to study.'"

Linneman, who himself is ex-Air Force, having served in Air Traffic Control for five years that extended into the Cuban Missile Crisis of 1962, can speak from firsthand experience when he explains to puzzled school kids why they need to know their math and physics in order to fly. "I think that kids have a perception that flying an airplane is like playing a computer game," he says. "But to play the game correctly you have to understand what you're doing. If you don't know what you're doing, you're either not going to be able to fly correctly or you're not going to know where you are. [So much] of flying is navigating—and that's where a lot of the math comes in."

Other exhibits to pique the interest of aviation buffs of all ages include an exact-sized replica of the Wright Brothers 1903 Flier. There is a large model of Charles Lindbergh's famous aircraft, the Spirit of St. Louis, and female aviator Amelia Earhart has a wall dedicated to her. A history of the infamous Hindenberg blimp, which exploded in 1937 in the town of Lakehurst, just 20 miles from the museum, is also showcased. "What we try to do is tweak the children's curiosity, give them names and tidbits," says Linneman. "Then maybe they'll go home and look it up on their computer."

One of the museum's most popular events is Living History Day. At this event, war veterans exhibit their own saved artifacts and ordnance such as vehicles, weapons, radios, binoculars and pamphlets.

While most of the planes displayed are former military aircraft, the wars they were used in is not something that the museum dwells on, choosing instead to focus on the incredible advances in technology and science over the past century. Nonetheless, Linneman says the most-often asked question by boys about the planes is, "What kind of guns does it have?" In the case of the E-2A Hawkeye—a large electronic aircraft carrier plane parked outside the museum that the kids can climb into—the answer is none; its only weapon is communication. Says Linneman, "That's another lesson to learn."

When You Go
Air Victory Museum
68 Stacy Haines Road
Lumberton
(609) 267-4488 begin_of_the_skype_highlighting (609) 267-4488 end_of_the_skype_highlighting

Starting in March and occurring every other month, AVM's Friday Family Night allows one $5 admission fee for the entire family. Discount coupons are downloadable on the AVM's Web site, www.airvictorymuseum.org.

Published (and copyrighted) in Burlington the Beautiful; County of Opportunities, Spring 2010.
For more info on Burlington the Beautiful; County of Opportunities, please contact Marketing Through Publishing, PO Box 2838, Cherry Hill, NJ 08034, or call 856-983-5667.
To advertise in Burlington the Beautiful; County of Opportunities, please call 856-983-5667.