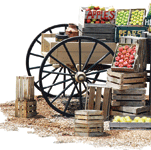 Columbus, Mansfield Township and Its Vicinity
(Spotlight On) Columbus, Mansfield Township and Its Vicinity

…From the pages of Burlington the Beautiful…

A farmers market brings not only produce, but also commerce and crowds to a small bedroom community.

Whether you're looking to buy fresh produce for less, feel the thrill of taking part in a live auction, or just want to enjoy some green open space amid surrounding farms, Columbus, Mansfield Township and its vicinity is the place for you.

"Columbus is a historic village that grew up around the railroad back in the mid-19th century, when it was the center of commerce and a lot of commercial activity," says Mark Remsa, director of the Burlington County Department of Economic Development and Regional Planning. "It still maintains a lot of its original buildings and architectural character."

Though once known for its farming industry, the area today serves as a bedroom community to the population of roughly 5,800 who work in surrounding towns. Mayor Arthur Puglia first moved to Mansfield Township as a farmer in 1978. He recalls visiting his aunt and uncle there when he was a child, and thinking it was an idyllic community. Like many of his neighbors, he finds the community to be the perfect place to raise kids and grandkids. "We have a very good school system, good recreation, parks, open space and the government is very conservative in trying to hold our end of the taxes down," he says.

On the border of Mansfield and Springfield Townships sits the Columbus Farmers Market. Situated on 200 acres, the market features hundreds of outdoor flea market items and over 60 inside retail stores. Shoppers flock from all over New Jersey and surrounding states to sift through antiques, collectibles and one-of-a-kind finds. People come to Columbus because it provides such variety of a shopping experience, points out Janice Ackerman, manager of the market. Whether you're looking for a one-of-a-kind gift, an eclectic knickknack, or fresh food for dinner, the market has something for everyone. "It's always a surprise when you come here," she says. "It's not predictable, there's always something different."

Established in 1929, the market is the oldest and largest in the Delaware Valley. It was originally a cattle auction, and though you won't be able to bid on livestock at today's market, there are plenty of other great items that will be sold to the highest bidder at the Columbus Auction Sales House.

Patrons can also visit vendors on Produce Row to buy fresh fruit and vegetables at "retail value but wholesale prices," says Ackerman, or visit Flower Row which sells seasonal plants and trees. Nestled among the many vendors are stands run by the Amish, offering homemade quilts, wooden products, baked goods and candy. J & L Crafts and Lawn Furniture offers 12,000 square feet of Amish furniture, sheds and children's outdoor play equipment. Other vendors sell a wide variety of wares, including food, medicine, clothing, perfume, music and books, to name just a few.

"A lot of people come to shop here because they get good deals, but others come as vendors because they can clean out their garage or basement, rent a space and make some extra cash," says Ackerman. "It works both ways, we get buyers and sellers." In recent years, the market has expanded to include Columbus Self Storage and the Columbus Antiques Collection, and there are plans to expand into eight more buildings in the foreseeable future. And that's not the only expansion taking place in town. Mansfield Township is completing plans to build a new town center to be built on some of the farmland that backs up to the village of Columbus. The legal steps involved to make this happen will take some time, but the county is hoping to have all the approvals in about a year.

According to Remsa, "The township, with the assistance of the county, is going to undertake a very innovative planning program called transfer of development rights. The idea is to transfer potential elements from the rural farmland into the new village center. The end product is creating a new village or town center while preserving the farmland."

Ultimately Columbus, Mansfield Township and the vicinity offers the tranquility of a rural community with big city shopping opportunities. To echo Mayor Puglia's sentiments, it sounds like the perfect community.

When You Go
Columbus Farmers Market
2919 Route 206 South
Columbus
(609) 267-0400 begin_of_the_skype_highlighting (609) 267-0400 end_of_the_skype_highlighting
The indoor market is open Thursdays and Saturdays from 8 a.m. to 8 p.m., Fridays from 10 a.m. to 8 p.m. and Sundays from 8 a.m. to 5 p.m. The outside flea market is open year round on Thursdays, Saturdays and Sundays from dawn until 1:30 p.m. Thursdays and Saturdays are the most popular days to attend. The Columbus Auction Sales House is open the first and third Wednesday of the month, between 4 p.m. and 10 p.m.
www.columbusfarmersmarket.com

Published (and copyrighted) in Burlington the Beautiful; County of Opportunities, Spring 2010.
For more info on Burlington the Beautiful; County of Opportunities, please contact Marketing Through Publishing, PO Box 2838, Cherry Hill, NJ 08034, or call 856-983-5667.
To advertise in Burlington the Beautiful; County of Opportunities, please call 856-983-5667.