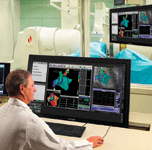 Bringing Healthcare Home
…From the pages of Burlington the Beautiful…

Burlington County has become a hub for the best that modern medical care has to offer.

Think you need to cross the bridge to Philadelphia or cruise up the Turnpike to New York City to get first-rate medical care? Think again. Burlington County has its own thriving healthcare industry.

Across the region, 1,193 healthcare and social-assistance centers contribute more than $3.1 billion to the local economy, and recent hospital expansions have resulted in an additional 25,000 jobs. Add to those numbers the thousands of patients who are flocking to the area because of its growing reputation for world-class medical care, and it's clear that Burlington County is putting its own landscape on the Garden State's healthcare map.

Take Bill*, a Cherry Hill resident, for instance. Late in 2009, when he recognized that he was frequently feeling short of breath, he went to see his personal doctor, who sent him for a cardiac work-up. Bill made an appointment at a large university hospital in Philadelphia, assuming this was his best choice. He quickly realized, however, that the red tape at this particular institution made him feel more like a number than a patient. "I was tired of getting the runaround," he said. "So I researched my options and found my best choice right here in Burlington County." That "best choice" was at Deborah Heart and Lung Center in Browns Mills, where Bill was impressed with the personal attention, thorough diagnostic testing and expert medical advice he received. In a very short time, he underwent a coronary valve replacement and had a smooth recovery.

Located in the heart of the Pinelands, Deborah is a nationally-ranked specialty hospital offering diagnostic, medical and surgical care for patients with lung, vascular and heart conditions. Throughout its 87-year history, Deborah has held to its founders' belief that "there shall be no price tag on life." No patient is billed for care beyond insurance coverage; the hospital's foundation raises funds to maintain this tradition.

While it has a venerable history, Deborah practices only the most current techniques and procedures throughout its clinical departments, an example of which is the area's first Stereotaxis Gentle Touch Magnetic System, which allows physicians to safely guide cardiac catheters with a robotic system. Another new addition to the Browns Mills outpost is a new Emergency Department (ED), opening in March, which will be operated by Lourdes Medical Center of Burlington County. "This technologically advanced ED will make the best possible emergency care available to thousands of New Jersey residents throughout the communities long served by Deborah," notes Deborah President and CEO John R. Ernst.

Adds Alexander J. Hatala, president and CEO of Lourdes Health System, "This partnership with Deborah… demonstrates how healthcare providers can work cooperatively to improve access to care without duplicating services."

In addition to the work it does with Deborah, Lourdes' main Willingboro campus can also lay claim to some world-class services of its own. Some of these include a multidisciplinary holistic approach to battling cancer at Lourdes Cancer Center; long-term hospital care at Lourdes Specialty Hospital of Southern New Jersey; and chronic wound care at the Lourdes Center for Hyperbaric Medicine. The Willingboro hospital also gives bariatric surgery patients a rare choice of lap-band, gastric bypass or duodenal-switch surgery for weight loss. And Lourdes Integrative Wellness Center, in Columbus, offers health-education programs and classes in massage, acupuncture and yoga.

But the county's medical riches don't end there. Virtua, the largest healthcare provider in South Jersey, offers extensive emergency, medical and state-of-the-art surgical services at two Burlington County hospitals: Virtua Marlton and Virtua Memorial in Mount Holly. In addition, Virtua facilities include outpatient centers, surgery centers, rehabilitation and long-term care facilities, as well as primary and specialty care practices.

"Virtua offers a full range of medical and wellness care," says Stephen J. Kolesk, M.D., vice president and COO of Virtua Memorial. "In fact, Virtua Memorial is the only full-service hospital in Burlington County. From our prenatal care and testing during pregnancy, through our partnership with Samaritan Hospice for in-patient, end-of-life care, we provide every service."

Several of Virtua's programs have earned recognition on the national scene. Its breast care program is the first in South Jersey to receive a full, three-year accreditation from the National Accreditation Program for Breast Centers of the American College of Surgeons. Virtua Memorial has been named a Primary Stroke Center by the New Jersey Department of Health and Senior Services and has received a Gold Performance Achievement Award from the American Stroke Association.

While the Cooper medical network so prominent in nearby Camden does not have a hospital facility in Burlington County, there are a number of Cooper University physician practices throughout the area. Practices in Marlton, Moorestown and now Willingboro cover a range of medical specialties including obstetrics and gynecology, cardiology and orthopedics. In addition, regional Cooper specialty centers include the Digestive Health Institute and the CyberKnife Center in Mount Laurel and the Cooper Cancer Institute office in Willingboro.

"By reaching farther into Burlington County, we allow residents to be treated closer to their home, which makes it more convenient for them to get the care they need," says Cooper spokesperson Lori Shaffer. That's the modus operandi of all the medical facilities situated here, and that means only good things for the health of the county.

School Success

As hospitals and outpatient centers grow and offer new services, there is a corresponding need for well-trained healthcare providers. Burlington County College (BCC) offers a number of course programs for medical fields, including diagnostic medical sonography, radiography and respiratory therapy. The two-year Nursing Program allows students to earn an Associate's degree in Applied Science with a major in Nursing. Students who maintain a minimum GPA of 2.5 can take part in BCC's Guaranteed Transfer Program to the nursing program at Drexel University, which leads to a Bachelor's of Science in nursing; B.S.N. graduates are then eligible to sit for the R.N. licensure examination. "Burlington County College takes its role in helping students transfer to four-year schools very seriously, because we realize we're dealing with people's lives," says Dr. Robert Ariosto, director of the BCC Transfer Center. "The College has diligently worked to create many transfer options for our students."

Published (and copyrighted) in Burlington the Beautiful; County of Opportunities, Spring 2010.
For more info on Burlington the Beautiful; County of Opportunities, please contact Marketing Through Publishing, PO Box 2838, Cherry Hill, NJ 08034, or call 856-983-5667 begin_of_the_skype_highlighting 856-983-5667 end_of_the_skype_highlighting.
To advertise in Burlington the Beautiful; County of Opportunities, please call 856-983-5667.