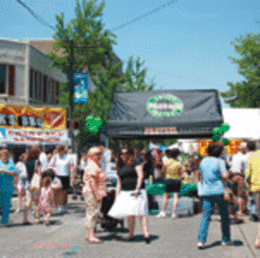 Spotlight on: Collingswood
…From the pages of Camden County Advantage…

Stop in where the focus is on fun.

In many municipalities, government is a serious place of business. In Collingswood, though, Mayor James Maley is proud to put a more lighthearted spin on running things. "We have brought this town together on the premise that people like to enjoy themselves. It's our guiding principle," he says of the small borough just off the Ben Franklin Bridge. The result is a town focused on entertainment and leisure, and a destination worthy of attention.

One of the town's most festive initiatives is its heavy calendar of events. "Events are good for the community and good for the business owners," says Cass Duffey, the town's director of communications. "People get to walk the downtown and get a real feel for what Collingswood is all about."

The main drag comes alive nearly every other weekend. The first Thursday of each month belongs to jazz as the Collingswood Community Center heats up with smooth tunes. On Second Saturdays, Haddon Avenue lights up with music, art and food vendors. And Cruise Night hits the avenue every month for an impromptu classic car show.

Small events cater to special interests, like the Collingswood Book Festival each October, or the Dog Days of Summer pup party in August. Larger celebrations drive even more people and energy to the main strip. Party on Powell—a themed dance party that raises money for charity, and the annual Crafts and Fine Arts Festival are sure to draw crowds. The colder months include a slew of holiday events, including the glittering Parade of Lights. Spring brings the May Fair, the town's largest celebration, in which musical acts, crafters, restaurateurs and family entertainment cover the 10-block downtown for a day of fun.

While the borough itself is a large contributor to these events, Duffey stresses that it's the residents and business owners that make them as special as they are. "They give their time and they really drive feet to the streets. It's the kind of place where you ask for 10 volunteers to rake the park and 50 people show up."

One of the area's biggest draws is Restaurant Week. Once a year, the cafes, bistros, and BYOBs welcome customers for a delicious deal of three courses for $30.

If you can't make it to Collingswood for the deal, head down any other day and make your own treat. A wide variety of cuisines are represented, and many restaurants have outdoor seating so patrons can soak in the small town charm.

"You could spend each weekend for two years here and go to a different restaurant each time," says Duffey of the array of eateries, reminding that Collingswood is a dry town. "You see people walking around with their wine carriers and it's just alive."

Blackbird dishes out New American options with touches of Asian and Italian inspiration. Casona, housed within a stunning white home with a wraparound porch, is alive with Cuban and other Latin flavors. And Nunzio's Ristorante Rustico is an Italian-food lover's dream, serving delicate pasta dishes and decadent desserts.

For something a little more casual, take the family to The Pop Shop diner, where thick milkshakes and a mile-long menu of grilled cheese sandwiches earned them a feature on The Food Network. Or duck into South Jersey favorite Bobby Chez for a few award-winning crab cakes. Night owls may want to stop at Grooveground Coffeebar & Music for dessert, espresso and an evening of live music.

Collingswood is also big on the arts, a sector that Duffey considers a major economic stimulator for the area. The Ballroom & Theater at Collingswood—also known as the Scottish Rite Theater—is a 75-year-old theater that plays host to community theater groups and musicians like Ben Folds and Al Jarreau. The Collingswood Ballroom, a popular reception venue, sets the stage for weddings and other formal events.

While in town, it would be difficult not to also enjoy the many shops and boutiques the area has to offer. Antoinette Gabrielle feeds the fashion-crazed with hip designer duds. Cheese Etc. not only sells its namesake, but also nuts, candies, oils and other gourmet nibbles that make perfect gifts. Or, get a little something sparkly for yourself from jeweler Aenigma.

"It's not just one store," says Duffey of the shopper's haven. "It's the fact that what you find in these stores you aren't going to find in the mall."

In fact, Duffey believes that it's Collingswood's diversity of attractions that makes it such a popular place. "It's hard to pinpoint what it is that makes it great," she says. "It's all those little bits together that make it what it is." There for the long haul."

When You Go

For more information, visit collingswood.com.

Published (and copyrighted) in Camden County Advantage, Summer 2009.
For more info on Camden County Advantage, please contact Marketing Through Publishing, PO Box 2838, Cherry Hill, NJ 08034, or call 856-983-5667 begin_of_the_skype_highlighting 856-983-5667 end_of_the_skype_highlighting begin_of_the_skype_highlighting 856-983-5667 end_of_the_skype_highlighting.
To advertise in Camden County Advantage, please call 856-983-5667.