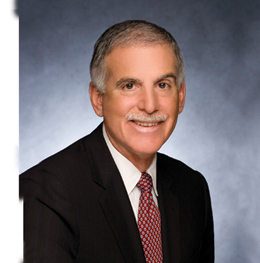 Corner Office: Richard Miller, CEO, Virtua
Virtua chief executive and president Richard Miller has hardly flown under the radar in the 12 years since he took the top post at the expansive health care system. He has guided Virtua through its inception, via the merger of Memorial Health Alliance with West Jersey Health System, and through its recent and ongoing expansions, including a health and wellness center in Washington Township, an outpatient center in Moorestown and a new hospital in Voorhees. And, he's changed the way the business of health care is handled, by pioneering the use of Six Sigma in a health care system, partnering with GE in technology adoption and, most recently, joining the Leadership Advisory Council of the Joint Commission Center for Transforming Healthcare, to raise standards of care across the country. We got Miller's take on management, technology and the art of the merger.
Management mantra: Pay attention to your people at all times. Keep listening, and you're going to hear a lot of good things. One of the things I've learned as a CEO is, people have great ideas, so listen and let them implement and let them grow. In too many cases, the CEO is doing too much of the talking. What I want to find out is what the employee who is caring for the patient is thinking about. It gives me the pulse of the organization, and what's happening at the patient level.
Merger lessons: In any merger, the biggest challenge is to make sure the organizations' cultures align. As well, typically in a merger there's one bigger player and one smaller player, so my job was to make sure Memorial, [the smaller hospital], felt like an equal partner moving forward. I think the biggest challenge, post-merger, was making sure that we raised the bar on all of our measurements.
Business read: Good to Great by Jim Collins. I use that for our team all the time, because it really speaks to getting the right people in your organization. Many of the great CEOs in our country are kind of unknown, but they develop great companies around value-driven performance. I think it's a must-read for anybody in management. I've read it at least twice, maybe three times.
Must-have gadget: I have an iPhone because it enables me to get my e-mail and messages, but I'm not a gadget person because I think managers need time to think. I get very disturbed when my management team is looking down at their iPhone or PalmPilot. I think dialogue is very important. People can always reach me by phone, and I like to interact face to face if that's possible.
Keys to innovation: What drives innovation is knowing what your customer wants and needs. Assess what the community need is, and then innovate it. If you're too far head of the technology curve you can get stung, and if you lag too far behind you're not going to compete.
Business role model: Jeff Immelt, the chairman of GE. I like his approach to getting value-driven people on his team. He told me, "Spend most of your time developing talent," and it does work. If you bring good people into the organization, good things happen. I've taken that framework and used it at Virtua, and been very successful with it.
Published (and copyrighted) in South Jersey Biz, Volume 1, Issue 1 (January, 2011).