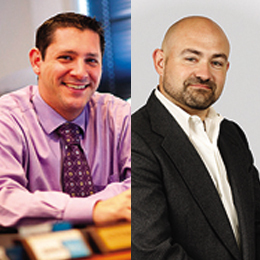 The Conference Room: Remote Control
Is e-commuting beneficial? We hear both sides.
Today, about 2 percent of U.S. employees say their primary office is at home, according to the Telework Research Network. Current technology makes remote work feasible—but is it right for your company? Two local businesspeople share their take.
"E-commuting's a virtual breakthrough."
- Robert Harrington (right), owner, Manna Design, Glassboro
"We had a lease that was end­ing this past July. At that time, we had been working about one day a week from our home offices. It had been working so well that we decided to look at it as a full-time option. The economy definitely was a factor, as a lot of clients were scaling back on advertising and marketing budgets. At the same time, new technology came out that made a virtual office a lot more feasible. We now have an online phone system that allows us to forward calls to our employees' cell phones. Voicemails come through as e-mail attachments, and faxes work the same way. We intentionally have not installed video-chat, because I don't care what people wear when they're working at their home desk. We have a virtual dry erase board and instant messaging, which is the equivalent of backing out your chair and yelling down the hall. It also lets us know if someone is logged out. My employees are saving on travel time, commuting expenses and dry cleaning costs. As a company, we save on rent. There are definitely cost savings."
"It prevents the team from growing together."
- Anthony Mongeluzo (left), president, Pro Computer Service, Marlton
"My 21 employees report to the office every day, and it would be a deal breaker if a new employee wanted to work from home. When you're home, there are too many distractions. From my 10 years in business, I think going to the office and having a structured environment sets the tone for work. The most important thing is social interaction with your team. Have you ever read an e-mail where someone wrote it one way and you read it another way? That happens when you work from home. Learning and job sharing are also important. If a team member is working on something difficult and no one else is in the office, there's no other brain to bounce that off. By having everyone at the office, not only do we learn and grow together, different people with different skill sets can provide on-the-spot learning and experience. And when a client comes in, I want him to meet the team."
Published (and copyrighted) in South Jersey Biz, Volume 1, Issue 1 (January, 2011).