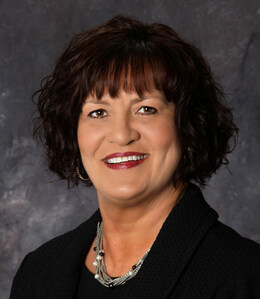 M. Susan Hardwick
President & CEO, American Water
When your career revolves around a basic human necessity, the stakes are higher, and the responsibility is greater. It's a reality that M. Susan Hardwick can attest to since American Water provides both drinkable water and wastewater services to more than 14 million people in 14 regulated states and 18 military installations across the nation.
And neither she nor her team take their obligations lightly.
"We hold ourselves to a very high standard. We believe we should be the best—from our focus on the science of water, treatment and delivery, efficiency and capital planning," Hardwick begins. "Second is our mission to deliver vital services in an affordable way. Coming from the electric industry, I did not fully appreciate the water industry until I joined American Water. … I quickly realized that the service we provide is critical to life."
Hardwick was appointed to her current leadership role in early 2022 after joining the utility in 2019. Her rapid upward trajectory mirrors her first experience in the industry, where she held seven roles in eight years.
Getting such an immersive, fully lived-in understanding of all the different roles and teams working together to meet a community's needs has helped Hardwick gain a deeper insight into what it takes to succeed together, and how that benefits everyone.
"The foundation of my career was built during my first experience in the utility industry: I joined an organization that placed a high value on development, career planning and mentorship. … Due to the company's culture of growth, I was able to take on these roles and further develop my skills," she recalls. "I have been fortunate to collaborate with and gain knowledge from several exceptional leaders—and when an environment is established where everyone striving for success can reap the rewards of those who have gone before them, we can pave the way for an equitable future for all."

American Water
Camden
AmWater.com