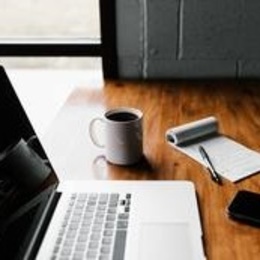 Office Space
Crunching Numbers, Breakdown, On the Move and Duly Noted.
Crunching Numbers
---
Five
The number of international outposts the economic-development nonprofit Choose New Jersey will have once its newly announced Asia-Pacific office opens in Taipei City, Taiwan, next year.
Two
The number of board-certified pediatricians practicing at Inspira Medical Group's first-ever pediatrics acquisition, which has officially been renamed Inspira Medical Group Pediatrics Salem.
$504+ million
The record-setting amount Atlantic City's casino industry paid in taxes and fees during the previous fiscal year, which will help fund programs supporting some of the most vulnerable residents in the state.
$6,700
The amount that The Cooper Foundation accepted as a donation from Dr. Angela Knestaut, which will support cancer research at MD Anderson Cancer Center at Cooper.
50th
Where New Jersey ranks among all U.S. states in the newest Tax Foundation's State Business Tax Climate Index. The Oct. 24 report shows "how well states structure their tax systems and provides a road map for improvement."
405
How many statewide locations will benefit from the New Jersey Board of Public Utilities' roughly $12.7 million in FY23 grant funding from three electric-vehicle and charging-infrastructure incentive programs.
$1 million
The amount recently invested in the Camden Waterfront South neighborhood's revitalization efforts, courtesy of several individuals, organizations and funding partners.
15
How many years of business the Gloucester County Habitat for Humanity's Pitman ReStore celebrated during an Oct. 14 onsite event.
100,000+
The number of users connecting to Burlington County's free public Wi-Fi service during the past year, available in 20 county buildings, all 15 of its library branches and member libraries, and nine parks.
Breakdown
---
The establishment of the state's Artificial Intelligence Task Force was formally announced last month.
What Happened: In addition to announcing efforts that will provide AI education to the state government's workforce, on Oct. 10, Gov. Phil Murphy also announced the creation of the AI task force, which will study the nascent field's emerging technologies. The to-be-appointed task force—which will include posts such as chief innovation and technology officers, a diversity director, and a labor and workforce commissioner—will additionally be responsible for analyzing AI's possible societal impacts and preparing recommendations for government actions that exemplify ethical usage of the technology.
What It Means: The task force aims to keep New Jersey at the forefront of a new chapter in discovery and innovation, keeping pace with the speed of technological advancement through responsible implementation. Given AI's potential to be a transformative force within both the public and private sectors, the task force's mission is to ensure that the state's utilization of AI remains fair, accessible and beneficial to all residents.
What's Next: Once appointed, the collective will consult with industry leaders, academic experts, consumer advocates and government innovators to build its recommendations. The coming months will also see the launch of the free government-employee educational initiative teaching them about the development, use, and risks of AI, a collaboration with the New Jersey Office of Innovation and InnovateUS.
On the Move
---
After serving in an interim capacity since June 1, it was announced last month that Michael J. Charlton has been named president and CEO of the AtlantiCare Health System. He has served on the health care system's board of directors for more than 14 years.
Early last month, Verizon announced that Chris Flood has been appointed senior vice president and market president of the Atlantic North market, which includes 12 states plus Washington, D.C.
The full-service title insurance and settlement agency National Integrity Title Agency has recently welcomed Natalie Madanick as its newest account executive.
Effective Oct. 16, Elissa Frank has joined the New Jersey Business & Industry Association as its vice president of government affairs.
On Oct. 10, Cooper University Health Care announced that it has welcomed four new military team members, who will be both stationed at and embedded within the health care system for three years as part of the Army Medical Department Military-Civilian Trauma Team Training (AMCT3) Program. The four new team members are: physician assistant Capt. John Maitha; trauma surgeon Maj. Robert DesPain, MD; emergency medicine physician Maj. Michael Lajeunesse, MD; and paramedic Sgt. 1st Class Kevin Hayen.
Daniel Copeland has been hired as director of business development for GREYHAWK in Mount Laurel. Copeland is not only a veteran of the industry but also a member of the American Bar Association Forum on Construction Law.
Duly Noted
---
Selected from a pool comprising dozens of nationwide nominees, Cooper University Health Care's advanced practice nurse Evelyn Robles-Rodriguez, DNP, APN, AOCN, has been named APP of the Year by National APP Week, an organization dedicated to both honoring and recognizing the contributions of advanced practice providers. Robles-Rodriguez, an oncology advanced practice nurse and director of Outreach, Prevention and Survivorship at MD Anderson Cancer Center at Cooper, has lead the system's life-saving programs for more than two decades.
On Oct. 5, Jefferson—which includes Thomas Jefferson University, Jefferson Health, and Jefferson Health Plans—announced six new appointments to its board of trustees: Lea Daniels Knight, CPA, MBA; John J. Fung, MD, PhD; Matthew S. Levitties, MA, MBA; Debra L. Ness, MS; Timothy P. O'Rourke, BS; and Melanie A. Penna, MPA.
Capehart Scatchard's commercial litigation department and school law department associate Stacey R. Gorin, Esq., had been chosen as a fellow of the New Jersey State Bar Association's 2023-2024 Leadership Academy. Gorin is among just 15 attorneys selected for the year-long program.
---
Click here to subscribe to the free digital editions of South Jersey Biz.
To read the digital edition of South Jersey Biz, click here.

Published (and copyrighted) in South Jersey Biz, Volume 13, Issue 11 (November 2023).

For more info on South Jersey Biz, click here.
To subscribe to South Jersey Biz, click here.
To advertise in South Jersey Biz, click here.