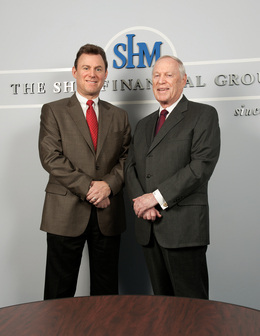 Your Guide to Financial Security
Throughout changes in the industry and amid the uncertainty of world events, SHM Financial has remained steadfast in its commitment to helping clients reach their goals.
When Stan Molotsky looks back on his start in the financial services industry in 1958 and reflects on the progress that has been made between then and now, he can't help but laugh at the drastic differences.
"It was like the Stone Age in comparison," he says. "When I tell people that there were no computers when I started, they can't believe it. We used to watch the stocks go by on a movie screen, and we'd have a pad and pencil and write down the prices. Now everything is at our fingertips, and we have more information than we need and that we could ever use."
What hasn't changed in Molotsky's 65 years in the business is the commitment that he and his team of retirement professionals at SHM Financial provide both individuals and businesses with sound financial advice, strategies and solutions, no matter what their goals are or what stage they're at in life. Molotsky serves as the president and CEO of the firm, with his son Lee on board as managing partner and his brother David as vice president and partner.
Offering services such as retirement strategy and risk, tax strategies, and business and succession planning, just to name a few, SHM's mission is to steer clients to a secure financial future while encouraging them to become willing participants in the process.
"I think the biggest problem people have to be confronted with is not to be complacent," Molotsky says. "You really have to take an active involvement in what you're doing. Our philosophy has always been to hope for the best, but to prepare for the worst—that way, you can adjust to whatever is going to happen as you move along. But if you sit back and do nothing, you get swept up with the tide and that's not a good thing, especially now with the uncertainty we are confronted with, from world events to the possibility of government shutdowns. You have to have contingency plans in place and constantly look to adjust what you are doing."
As the calendar flips to October and the end of the year is approaching, now is an ideal time to make a financial checklist and review retirement investments and education plans for children or grandchildren, while looking at ways to minimize tax losses. Even in a turbulent market, Molotsky stresses there are plenty of opportunities available, depending on the person's timeline for retirement and risk tolerance.
"If they're just looking for guarantees, money market accounts in brokerage firms are an entity that we use—they're paying almost 5% to have your money just sit there and do nothing, and there's nothing wrong with that," he says. "You can buy treasury bills that are guaranteed by the government for two years, and the rates are terrific, higher than they've been for years. Or you can take advantage of some of the beat-up stocks where … the long-term horizon is promising."
The goal is to strike a balance between short-term planning such as paying off a credit card or planning for a wedding, with long-term goals like retirement or satisfying a mortgage. Molotsky recommends all individuals secure a will, power of attorney and medical power of attorney no matter what their age, and to assess their risk tolerance as they inch their way to retirement.
"The risk tolerance that you have plays a big part," he says. "We like to divide money into what we call the red money and the green money: The red money is that which has risk, and the green money has no risk. What kind of balance do you want to have? What is your risk tolerance? And if you're married, you have two different people who may have totally different risk tolerances, as they normally do. Our job is to see where they are within that cycle and make the adjustments that are necessary, which to me, is the fun part of the business."
Molotsky still has a passion for the industry after six-plus decades, and he strives to educate both clients and the public at large on the importance of finance. He and his son have presented at countless high schools and universities, and have also written two books on retirement planning.
But most of all, he enjoys having a profound impact on people's financial wellness.
"I love the constant change, because every day is a new day," he says. "No one would have thought two years ago that we would be in the state we are now, with the war in Ukraine, the political mess here. You can't be complacent and let the world go by and hope it gets better. It might, but it might not. You have to stay on top of that, and our job is to keep the client up to date on the various options that are available."
SHM Financial
100 Richey Ave. | Collingswood
1010 Haddonfield-Berlin Road, Suite 305 | Voorhees
1 (800) 666-3974
---
Click here to subscribe to the free digital editions of South Jersey Biz.
To read the digital edition of South Jersey Biz, click here.

Published (and copyrighted) in South Jersey Biz, Volume 13, Issue 10 (October 2023).

For more info on South Jersey Biz, click here.
To subscribe to South Jersey Biz, click here.
To advertise in South Jersey Biz, click here.