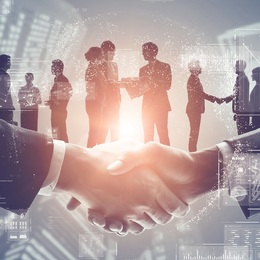 Close of Biz
Kevin Corbett, President & CEO, NJ TRANSIT
Being married to a trauma surgeon means Kevin Corbett knows how much hospitals and one of the county's largest mass transit systems have in common: "My wife tells med students that you do it for your own sense of satisfaction and dedication because no one's coming back to thank you for saving their lives—you just accept that they never want to see the inside of a hospital again. Transit can also be a very thankless business. Our riders and regular commuters have enough to deal with that it's easy to take transit for granted: You want it to be on time, you don't want to hear about a tree falling on the wires and delaying the train," observes Corbett, who's led NJ TRANSIT since 2018.
The once-underfunded transit agency has soared to new heights in recent years, with its industry peers recently giving it the American Public Transportation Association's Outstanding Transportation System Award—transportation's highest honor, a recognition Corbitt says is a testament to the agency's team.
Corbett recently chatted with South Jersey Biz, offering palpable enthusiasm for the exciting present and promising future of NJ TRANSIT, and some insights into the man behind his title.
What drew you to transportation?
My family was in the steamship business so I was always around ships, railroads for both the passenger and shipping companies, all the piers on the United States side. I just grew up in it, and then it evolved more into the rail side as my career evolved.
How validating was it for NJ TRANSIT to be recognized with this year's Outstanding Transportation System Award?
It means everything! This award is given by our peers—it's not something you can buy. … We have roughly 12,000 employees here and they're really great workers. People will tell us we've got great conductors or crews, or their bus driver's so sweet—there's a lot of nice stories but, generally, we don't get much praise, which sort of comes with territory.
When I got here, there were a lot of good people but they weren't given the resources, so when I accepted this position from Governor Murphy, the two things I said I need are the ability to hire professionals and the funding. … This agency was starved for years: We weren't allowed to hire, we weren't provided train engineers, railroad engineers. I think we have a great management team, some of them have been here for 20, 30 years, others we brought in.
We have a vision, and getting businesses and others behind it helps get us the resources to really give you a first-class transit system, as good as any other in the nation. You'll always have problems and bad days, but I think we're pretty good. Post-pandemic, people realized how essential a service we really were. … I think we now have the highest return ridership in the country, we're up to almost 90% of pre-COVID [ridership] on our buses, we're in the mid-70s and climbing on rail, we've done a lot on the equipment side. … After five, six years of steady investment, good solid leadership and hiring a lot of people, Forbes has named us one of the best places to work. It's an exciting time to be here.
What role does sustainability play in the future NJ TRANSIT is working toward?
You've got to combine both sustainability and resilience. We're rebuilding a number of our bus depots for electrification, and we're putting a lot into our rail facilities to make sure we elevate them to adjust for climate change. The transportation sector is one of the largest causes of greenhouse gas emissions. … We're in the process of converting over the next decade, and we already have a couple of bus garages we're operating electric buses out of. The best way to reduce greenhouse gas emissions on a per-capita basis is by public transit—when you've got 60, 100 people on one bus instead of individual cars, that's a much smaller footprint: Taking people out of their cars allows remaining traffic to move better on less-congested roads.
What are some distinct differences in what South Jersey needs from its public transportation versus the rest of the state?
Some communities want to keep their rural nature and don't want more transit, others are saying, "Hey, our community is changing, we do want more." In South Jersey, we look more in the short- to mid-term, more towards where we can expand bus service, how do we use micro-mobility, working with Ubers and Lyfts—a lot of other transit systems, they do feel like those are their competitors, but we see them as complementary: Uber and Lyft are bringing people to transit nodes, so we're working with them and a few others to see how can we make that seamless. A lot of people are more concerned with the cost than who the provider is, whether it's us, PATCO, Amtrak, whoever—they just want to go from A to B and they know they have a couple different options. You see a lot of that in South Jersey.
It's also where we've put our newest fleet of buses so we have the youngest average fleet of all our bus depots in South Jersey. Our first bus electrification is in a new bus garage in Camden, and that's where we're currently running a batch of EV [electric vehicle] buses. We're getting experience from that to see how best to roll out what kind of loads we have when the buses operate in the winter with the heat on and the summer with the air on.
And the big one in Camden is our Walter Rand Transportation Center. We're really working with a local community to put in a quarter of a billion dollars that the governor is committed to to really rebuild, working with the businesses and the hospitals on a project that's going to last for the next century. We're going to rebuild the entire facility and put in a new transit center there, and I think that'll really serve as a transit hub between light rail, bus, all our services from there, and also serve the Philly market.
What's your vision for NJ TRANSIT, and what will it take to get there?
For South Jersey, we want smart growth and to facilitate that with transit-oriented development to really get the best mix of bus, light rail, rapid transit, expanding light rail and commuter rail where it's applicable. That certainly goes out to the Atlantic City line, which serves Atlantic City but also more and more, we see commuters coming from the Atlantic City area, going into the Philly market. We're looking to expand with EV buses where possible and long-distance buses, which are more likely to be hydrogen instead of diesel. Expanding the bus network and really getting better coordination using technology to maximize micro-transit providing smooth, seamless, user-friendly technology on your app to get you from A to B much quicker, with greater frequency as South Jersey grows and expands—and obviously the same for the rest of the state.
We want to be accountable and transparent. We're always looking to improve efficiency when we make capital investments and show what's the pay-back. Transit systems don't make money by definition … but it needs a significant operation budget to be efficient and meet the need. More than 10,000 of our employees are frontline: bus drivers, train operators, mechanics—meaning we have a relatively small staff at headquarters.
How did you come to be fluent in Mandarin Chinese?
I was supposed to spend one year in Hong Kong and ended up living in China for six years, which was a great experience that gave me time to learn the language. The grammar is actually very simple, it's really more memory, learning to write the characters—you just learn so many characters it's like putting a jigsaw puzzle together. I don't think I would have learned it if I was trying to study it back here, but it's different when you're immersed in it and living with it.

---
Click here to subscribe to the free digital editions of South Jersey Biz.
To read the digital edition of South Jersey Biz, click here.

Published (and copyrighted) in South Jersey Biz, Volume 13, Issue 10 (October 2023).

For more info on South Jersey Biz, click here.
To subscribe to South Jersey Biz, click here.
To advertise in South Jersey Biz, click here.