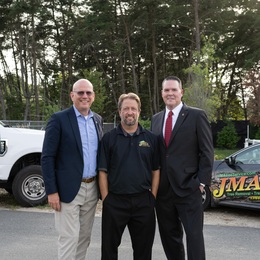 Republic Bank & JMA Landscaping LLC
Small Business Profile
Republic Bank has been a champion of small business in South Jersey for decades.
They recognize that small businesses are the lifeblood of communities and integral to their customer base. Their top-notch lending team remains steadfast in their unique approach—delivering funding locally, creatively and quickly.
It's helped local business owners like Jim Chicano, owner of JMA Landscaping LLC, find solutions to a number of financial hurdles and finance their business expansion.
"Since we've been with Republic Bank, we've purchased four new companies—JMA Tree Service, American Lawn Irrigation, Popes' Garden Center and Beyond Good Lawn Care. They've funded all of those companies, allowing us to grow pretty substantially," says Chicano. "Without the bank funding and help, we wouldn't have been able to do it and we've gone from probably around 35 employees four years ago to almost 90 employees today."
Republic Bank also empowered Chicano to forego renting a property and purchase JMA its own site, which allowed them to expand and grow significantly more than they would have previously been able to.
"Having that relationship with the bank allows us to be able to expand as the bank understands our financial position and our future growth plans," continues Chicano. "It's very comforting to know that they support our financial success."
With a dedicated small business lending team and esteemed SBA Group based in Pennington, N.J. Republic Bank has solidified its position as a driving force in this market. The bank's SBA group consistently ranks among the top-tier SBA lenders in the region, a testament to its unwavering commitment.
"We are privileged to be part of the journey of South Jersey's small businesses," says Arnold Horvath, EVP and director of SBA at Republic Bank. "What truly sets Republic Bank apart is its tailored approach. In a market demanding increasing sophistication, the bank offers cost-effective, customized treasury management services that cater to the unique needs of small businesses."
As South Jersey's small business landscape thrives, Republic Bank remains a cornerstone within the communities it proudly serves across 33 locations throughout Southeastern Pennsylvania, South Jersey and New York City.
It's no wonder why Republic Bank continues to be the preferred choice for small business owners like Chicano.
"We have banks coming into our office all the time with their cards and asking, 'Hey, what can we do for you?' because they want our business," says Chicano. "We just tell them we have no interest in moving banks."
Republic Bank
Multiple locations
(888) 875-2265
MyRepublicBank.com