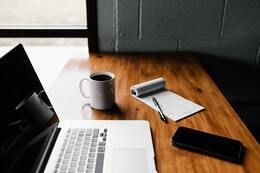 Office Space
Crunching Numbers, Breakdown, On the Move and Duly Noted.
Crunching Numbers
---
$1M
The total amount of grants awarded to 23 organizations by The American Water Charitable Foundation as part of its Keep Communities Flowing Program.
65
The amount of commercial and residential properties that recently went up for auction in Atlantic City.
Zero
The number of states besides N.J. where it's now illegal to pump your own gas. Oregon lifted its 72-year-old ban on self-service gas stations in early August.
1,065
The number of residential units that developers are looking to get approved as part of Woolwich Township's Kings Landing Redevelopment Project. Included in the full plan are mixed-use properties and commercial developments along Route 322.
40
The number of businesses that have been warned to settle liabilities for worker wages, penalties and fees. If they fail to do so, they will be added to the state's new Workplace Accountability in Labor List (WALL), which will contain the names of employers who are barred from public contracting with municipal, local and state government agencies.
$2 billion
The amount being invested by TD Bank through 2025 as part of the Community Reinvestment Act Agreement with the Housing & Community Development Network of New Jersey and New Jersey Citizen Action. The money will be used to help underserved communities by increasing access to affordable mortgages, lending and other critical services.
$460,000
The amount of a grant from the New Jersey Office of the Secretary of Higher Education that will help Stockton University expand its mental health program.
177,000
The country's increase in jobs for the month of August according to ADP's National Employment Report.
Breakdown
---
NJEDA launches $10 million food desert relief tax credit auction
What Happened: The New Jersey Economic Development Authority is set to auction up to $10 million in corporate and insurance premiums tax credits. The Food Desert Relief Tax Credit Auction applications will begin on Sept. 18 at 10 a.m. and close on Oct. 18 at 5 p.m.
What It Means: Eligible businesses—those who are New Jersey Corporation Business Tax or Insurance Premiums Tax filers—can bid on discounted tax credits up to 15%. The money raised will fund various programs designed to fight food insecurity throughout the state's 50 designated food desert communities.
What They're Saying: "The NJEDA is committed to fighting food insecurity and this tax credit auction will help raise funds for programs that will help ensure fresh, healthy, and affordable food is accessible and available in every community across the state," said NJEDA CEO Tim Sullivan. "Every New Jerseyan deserves access to high-quality food options, no matter their zip code. Gov. Phil Murphy and the Legislature have long been committed to combatting food insecurity, while uplifting families and neighborhoods."
On the Move
---
After a career of working with New Jersey community development organizations and nonprofits, Jorge Cruz was announced as New Jersey community development market manager for Citizens Financial Group, Inc.
David Weinstein has been hired by Rowan University as its VP for government relations and chief government relations officer. Weinstein will depart from Rutgers University and in his new role, he'll be responsible for working with officials and agencies on both the state and federal level.
Duly Noted
---
Capehart Scatchard recently announced that four of its attorneys have been included in 2024's edition of the peer-selected Best Lawyers in America listings: Joseph F. Betley, education law; John H. Geaney, workers' compensation-employers; Betsy G. Ramos, litigation-insurance; and William G. Wright, bankruptcy and creditor debtor rights/insolvency and reorganization law. Additionally, two up-and-coming Capehart Scatchard attorneys were named to the Best Lawyers: Ones to Watch in America list for the second consecutive year, Sanmathi (Sanu) Dev, education law, and Stacey R. Gorin, commercial litigation.
The Mount Laurel-headquartered law firm Parker McCay announced last month that three of its attorneys were recognized in The Best Lawyers in America for 2023-24. John C. Gillespie was recognized for his work in municipal law, while Carolyn R. Sleeper and Thomas M. Walsh were nominated to the medical malpractice law–defendants and personal injury litigation-defendants categories, respectively.
Keith Meslin, MD, a colorectal surgeon at Virtua Health, recently performed his 1,000th robotic surgical procedure. The milestone places him nationally among the top 1%, or in the 99th percentile, for the number of these advanced, robotic-assisted colorectal surgeries performed.
Dr. John Bermingham has been named the new director of pulmonary rehabilitation at Cambridge Rehabilitation & Healthcare Center in Moorestown. Bermingham is board-certified in internal medicine, pulmonary disease and critical care medicine, and is part of the team at Pulmonary and Sleep Associates of South Jersey.
The New Jersey Society of Certified Public Accountants has named Aiysha Johnson its next CEO and executive director. The organization also named Edward G. O'Connell, CPA, CGMA, CFF, CFE, as its newest president.
Zallie Family Markets—which operates 11 ShopRite locations, largely concentrated among Burlington, Camden and Gloucester counties—recently announced three changes to its executive team amid the organization's 50th anniversary. Longtime employees Anthony Massoni and George Veit have been promoted to president and vice president of operations and merchandising, respectively, while Anika Parker has been hired as the new director of human resources, overseeing the HR policies for the company's more than 2,400 employees.
Nonprofit economic development organization Choose New Jersey announced that Tim Crouch will serve as their new chief strategy officer. Crouch has experience in leadership roles across the United States, Canada and the UK with specialties in economic development, investment and digital/media industries.
Michael Dinneen was appointed the role of president and CEO of First Harvest Credit Union in Deptford, one of the largest credit unions in New Jersey, after serving as senior vice president of marketing and business development for American Heritage Credit Union.
John W. Kennedy, PhD. was awarded with the 2023 Career and Technical Education Leadership Award for his manufacturing industry and workforce development leadership, following his recent retirement as president of the New Jersey Manufacturing Extension Program.