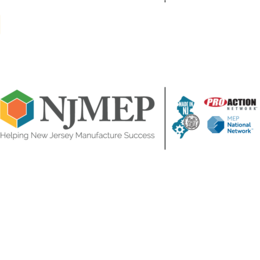 Manufacturing a Stronger South Jersey
NJMEP continues to strengthen the state's multifaceted manufacturing industry as it focuses its attention on serving South Jersey by connecting those residents with meaningful work and skill development.
At 89 days into his tenure as CEO of the New Jersey Manufacturing Extension Program, (NJMEP), Peter Connolly has a promise for his southern neighbors: "We're going to grow South Jersey."
The comparatively new NJMEP office in Bellmawr was just the beginning of the consulting and advocacy organization's renewed dedication to helping South Jersey residents of all ages and backgrounds find meaningful work in the manufacturing industry—where, as NJMEP's marketing and communications manager Michael Womack is quick to point out, the average full-time employee's salary is $97,000 a year and more than 11,000 companies are always looking to hire promising new talent.
Everyone from veterans to students can benefit from the educational opportunities, professional development, diverse partnerships and bright futures NJMEP and the manufacturing industry has to offer. And as the organization works with the Department of Defense, Chamber of Commerce Southern New Jersey, Economic Development Administration (EDA) and Rowan College of South Jersey, just to name a few, the connections it makes between workers and employers are truly wide-ranging and mutually beneficial.
"It's not just helping out families and communities with job placements and career opportunities, the manufacturers are also dying for talent so they can continue to stay in business and support the Department of Defense," explains Larry Banks, manager of NJMEP's Pro-Action Education Network & Workforce Development. "When it comes to the Department of Defense, there are a ton of different contracts and a ton of different needs they have."
Tapping into the diverse skills that veterans bring to civilian life as they transition out of their military careers is one way that NJMEP helps broaden the local talent pool. In fact, military outreach is a significant area of focus for the team, since, as Sr. Project Manager, Veterans & Community Recruitment Lance Lopez notes, South Jersey boasts quite the veteran population: Ocean County is home to approximately 34,308 individuals with a military background; Burlington County has 26,615; Camden County, 22,500; Gloucester County, 15,503; Atlantic County, 11,470; Cumberland County, 6,100; and Cape May has 6,732.
"We want to be able to touch as many of those veterans and as much of the service-member population as possible," Lopez affirms. "There's a huge population that's down in South Jersey. Joint Base [McGuire-Dix-Lakehurst] is down there with residents that live in each one of those counties who are commuting every day. ... We train them, we help them prepare their resumes to reflect that the jobs they did inside those military barriers reflect the jobs they'd be doing in the civilian world."
But it's not just about helping veterans secure promising, meaningful work in their next chapter: NJMEP also works with students to help them work toward the future that best suits them. While the organization has myriad ways to build up established workers' professional toolkits by approaching their previous careers as strong developmental foundations, proactively positioning students for success through outreach and informational sessions can help them get an advantageous early start while introducing them to a field they might not even have known was an option.
"When we go to these high schools, a lot of these students don't even realize what manufacturing is or what supply-chain logistics look like," says Banks. "If you're a manufacturer and you have to create a product, you need somebody who can design it, somebody who can sell it, somebody who can get it from Point A to Point B, you need somebody who can make sure it's safe, you need a law group, you need a CPA, you need everything. One small product that probably costs the consumer 75 cents can create seven different jobs."
To expand its student reach, NJMEP is about two months from launching its educational RVs, mobilized classrooms that will visit middle and high schools across 21 counties to continually foster early excitement about the manufacturing industry in the workforce of tomorrow.
"The RV can fit about eight students so we can come to a high school without them having to find the space for us," says Connolly. "Sometimes, it's a little late to inform high schoolers about a career in manufacturing, so we'll start going to middle schools and ring that bell with them. We're also working with the Chamber of Commerce of South Jersey and the African American Chamber [of Commerce of New Jersey] to look at going into middle schools and showing up with the RV."
All of these efforts, Connolly adds, will help NJMEP support and ultimately grow the South Jersey manufacturing industry into a thriving economic segment.
"Next year, we're going to buy another RV so we have one for the north and one for the south, we're increasing account managers and trainers down in South Jersey, and we'll also take some space with Rowan University at the technology park, since we're working with them on offshore wind, renewable energy and photonics," he says. "Everything is tied into what we're trying to do with South Jersey."
New Jersey Manufacturing Extension Program
South Jersey: 211 Benigno Blvd., Suite D, Bellmawr
North Jersey: 2 Ridgedale Ave, Suite 305, Cedar Knolls
(973) 998-9801
NJMEP.org