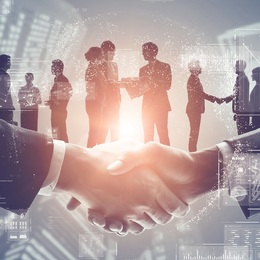 Close of Biz: Thomas Bracken, President and CEO, New Jersey Chamber of Commerce
A discussion with New Jersey Chamber of Commerce President and CEO Thomas Bracken about the future of New Jersey.
After more than 40 successful years in banking, Thomas Bracken made the transition from being a longtime member and chairman of the New Jersey Chamber of Commerce to becoming its president and CEO in February 2011, right as the statewide business advocacy organization was celebrating its centennial.
Since then, Bracken has been a staunch advocate for business in the Garden State, supporting government policies that encourage job growth, affordability and prosperity, as well as the people driving the state of business. He recently spoke to South Jersey Biz about his long-term vision, the optimism his grandchildren inspire and what he loves most about this state.
What drew you to the New Jersey Chamber of Commerce?
Several board members approached me about taking over the leadership of the chamber and I just thought it was the right time in my life to take on that challenge. I believed in New Jersey, I believed in the business community, and I believed in the chamber, so all that prompted my decision.
Why is it important to curate meetings and events appealing to people wherever they are industry- or career-wise?
New Jersey is a networking state. We are small in size but very densely populated, people-wise and business-wise, and nothing beats interacting face-to-face to make connections and see if there are possibilities to grow together. Our events do exactly that, and they are very popular so the result is an opportunity to meet a lot more people and hopefully make more connections.
Because we bring people together from all over the state, one thing we do is introduce people to the other regions: The more you can cross-pollinate from one region to another, we become a more unified state, the better off we are economically and we start to tap resources in different parts of the state that maybe some companies hadn't been familiar with. It's a big benefit to everybody but the only way you can really do it is by bringing people together.
What is your ideal vision for New Jersey a decade from now?
My ideal vision is that in 10 years, we have identified all the great assets we have and leveraged them for significant business growth, making our economy that much better and providing the funds to pay for the social programs created in recent years. And we'll have a budget that's positive and a place where people can live and work more affordably. If we hit all those benchmarks, we can retain and support the people and businesses already here while we're also attracting visitors to the state. If we can get to that point in 10 years, I'd be thrilled.
What's it like seeing the world through your grandchildren's eyes?
I have four, ages 10, 6, 4 and 3, and it's very interesting to watch them. They so easily navigate this electronic age, it's like a fish to water. I'm not sure where it's all going for them because things are accelerating in every context, but there will also be huge opportunities for them. My hope is they stay grounded, they learn, and they take advantage of what's available to them and maximize what they want to do with their lives.
There's hope and optimism embedded in that: I think they're capable of doing some great things and optimizing what is available to them if they stay focused. These young people can find a way to get things done as long as they stay focused and understand what is important and what isn't important.
Is there a talent or little-known hobby that people are surprised to find out about you?
It's probably that for every significant family event, I write a poem to whomever in our family is benefiting from that. My grandfather wrote poems: I don't know if that's where it came from or not, but I've always found it very comforting to write poems. You can express your feelings well and celebrate with them, you can combine seriousness and humor.
What do you love best about New Jersey?
The absolute diversity. We have diversity in gender, ethnicity, cultures, regions, climates. Diversity plays out very strongly in our state and allows us to access things that people in less-diverse states cannot.
What kind of advice do you have to help others stay motivated in challenging times?
There's enormous opportunity out there. Don't sell yourself short: If there's something you want to do, find a way to do it. There's a lot of resources available if you don't know who to ask. Don't be afraid to take risks, and don't be afraid of failure. Failure lets you grow and it educates you.