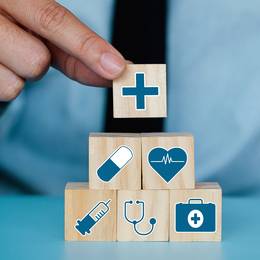 Health Care Round Up
Health care news in our region.
The medical-surgical practice Reconstructive Orthopedics and its 300-plus employees are, as of last month, now a part of Virtua Health's Virtua Medical Group, as of last month, and is now known as Virtua Reconstructive Orthopedics—officially putting Virtua Medical Group's staff at more than 90 orthopedic clinicians.
Toward the end of last month, it was announced that Virtua was the recipient of two New Jersey Hospital Association awards. One went to Robert "Bob" Segin, CPA, Virtua's executive vice president and chief financial officer, who received a Distinguished Service Award for his decades of dedication to advancing the state's health care industry; the other, the Connect Award for Outstanding Communication, honored Virtua for its "Class of '93" colon cancer awareness campaign, which generated a 68% increase in colonoscopy leads.
AtlantiCare Regional Medical Center (ARMC) recently announced that it earned two American Heart Association Mission: Lifeline quality achievement awards, demonstrating the provider's dedication to treating heart disease and stroke patients. The ARMC Mainland Campus was recognized for providing rapid, research-based care to patients experiencing ST elevation myocardial infarctions, which are more severe and dangerous than other heart attacks.
Additionally, ARMC Emergency Medical Services was honored for the care it gives patients with high-risk, time-sensitive disease states through collaboration and contributions of both prehospital and hospital providers.
Within the span of a year, Inspira Health orthopedic surgeon Mark Ayzenberg, M.D., has twice performed a surgery most of his peers rarely do: repairing a latissimus tendon tear, which impacts the "lats," some of the body's largest muscles that help move the arms and support the shoulders. Dr. Ayzenberg first performed the surgery on a Monroe Township police officer—and then on a patient who flew nearly 6,000 miles for the operation.
Cooper University Health Care announced last month that its Digestive Health Institute has expanded to include Atlantic Gastroenterology Associates of Egg Harbor Township, which will now be known as Cooper University Health Care, Gastroenterology at Fire Road—indicating the location where all of the newly acquired practice's physicians and advanced care providers will continue to see patients.
Additionally, on July 17, Cooper began offering its EMT training program, offered in cooperation with numerous community organizations to provide low-cost, comprehensive training for entry-level emergency medical services roles.
When Gov. Phil Murphy signed S-3864 into law last month, it laid the groundwork for the New Jersey Maternal and Infant Health Innovation Authority, which will oversee Trenton's forthcoming New Jersey Maternal and Infant Health Innovation Center. The 15-member governing board, among other duties, will adopt recommendations intended to reduce maternal mortality, morbidity and disparities from the New Jersey Maternal Care Quality Collaborative.
Consensus Health, a physician-owned and -governed medical group based in Marlton, announced late last month that its network has expanded to include five independent medical practices spanning eight physicians and six locations across the state—putting the Consensus Health Medical Group at 53 practices and more than 150 independent providers.