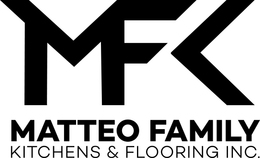 Where the Heart Is
No matter what modern trends clients are gravitating to, the second generation of Matteo Family Kitchens knows that quality work and impeccable customer service never go out of style.
Since 1995, the team at Matteo Family Kitchens has endeavored to be the one-stop shop helping their neighbors find the hardware, flooring, tile and more that bring a dream bathroom or kitchen to life.
Founded by Everett and Elaine Matteo, the company remains family-owned and operated, with their sons Tom and Steve serving as the co-owners upholding their father's high standards for workmanship, customer service and material quality.
And while Steve says that things are mostly back to normal since COVID wrought havoc on the supply chain and resulted in unheard-of construction delays and shortages, the occasional delay does still crop up from time to time.
"Availability of materials is much, much better," he confirms. "I would love to say we're back to normal—and we probably would be if it wasn't for some of the shipping issues. What we were used to getting in three to four weeks may now take four to five weeks."
Fortunately, those who trust Matteo with their kitchen and bathroom remodeling projects know that the end result is more than worth the wait, as a show-stopping project has always required a bit of a time investment.
"It's giving us the time to do our measurements and design so that we know exactly what we're working with, it's them making the time to get into our showroom to pick out materials," explains Steve. "We've been dealing with this [delay] long enough that people know to start the remodeling process now so everything's picked out, everybody understands the pricing, and the client knows when this project will happen, whether it's six weeks or six months down the line, depending on what they're doing."
The Matteo Process ensures that a main bath remodel, one of the more expensive and involved home projects, sticks to a client's vision, even if that vision needs to be tweaked as they start seeing the pieces come together.
"We're going to measure the room—what's the specific size, where's the window, where's the toilet, how high are the ceilings," Steve begins. "Then we basically create a wish list: What do you want out of this? Do you want a nice, simple update, or are we looking to take out that big corner tub no one ever uses and do a nice walk-in shower with a seated bench? Then we come back, we draw it up, we do a computerized rendering of what the room is, and then we're back and forth with the customer through email so they can make changes that fit their needs—they haven't even had to come out of their home to do anything yet and we've already pretty much designed their room. From there, we want to get them into the showroom."
With HGTV and Amazon driving so many of today's trends, it's important for customers to remember that what dazzles in one house won't always yield the same result in another space. Welcoming clients into the Woodstown showroom allows them to get a hands-on, real-life look at the items and colors they're considering for their home project.
"The role of a showroom is that this is what you see and it's what you're going to get," Steve says. "They get to touch and feel, they get to see that not every shade of white or gray is the same, and they can start putting pieces together—and we're very big on letting people borrow some samples to see how they look with the lighting in your house, or how those colors look in the morning or at night, so the customer can make a better decision."
White and gray remain stalwart color constants, though Steve does note that "we're really starting to see the blending in of some softer, warmer wood tones again, like white cabinets with the white and gray quartz-style countertops, but now we're going to put in a light wood floor or maybe the island will be two-toned with a warmer tone of wood so that it softens the space."
And while tastes change and trends come and go, happy clients have been Matteo's goal for nearly three decades.
"The best compliment we can get is when someone calls us and says, 'You just did our friends' home and they said to call you because you'll do as good of a job for us and you did for them,'" says Steve. "You can't get any better than a good referral."
Matteo Family Kitchens
Showroom: 20 Old Salem Road, Woodstown
(856) 769-2490
MatteoKitchens.com
Click here to subscribe to the free digital editions of South Jersey Biz.
To read the digital edition of South Jersey Biz, click here.

Published (and copyrighted) in South Jersey Biz, Volume 13, Issue 7 (July 2023).

For more info on South Jersey Biz, click here.
To subscribe to South Jersey Biz, click here.
To advertise in South Jersey Biz, click here.