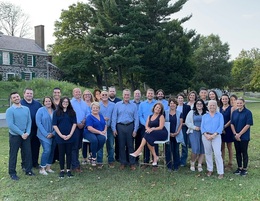 Bellia Interiors Group | Bellia Print & Design
Family-owned business Bellia continues to innovate and plans to celebrate 50 years in business.
After 50 years, three generations and two divisions, one thing has remained the same at Bellia.
"We're constantly innovating," says Anthony Bellia, owner of the Bellia family of businesses, which includes Bellia Interiors Group and Bellia Print & Design. "Even though we inherited this company, we're not resting on our laurels: We still have to be entrepreneurial in spirit."
Anthony's cousins and business partners Andrew and Michael Bellia oversee Bellia Print & Design and finances and operations, respectively. Clients love working with everyone on the Bellia team, whether it's "to create a unique work environment" with handpicked office fixtures giving workspaces a bespoke feel or to benefit from "the latest and greatest in in creative marketing" that ensures clients stay on the cutting edge of a marketing game completely changed by COVID.
"We create experiences that strengthen company brands," Antony explains.
With Bellia's 50th anniversary rapidly approaching, there's a celebratory bash planned for October "to thank those who helped us throughout the years and pay tribute to the generations before us"—as well as the Woodbury headquarters currently undergoing "the largest renovation in company history."
"We're not only creating a hospitality space to invite our clients into a unique, fun space, but we're converting the back, which is about 8,000 square feet, into where our print operation is primarily going to be," says Anthony.
While it's too soon to tell if the youngsters comprising Bellia's fourth generation will join the family company, Anthony expects nothing but great things from the future.
"This is a fun time!" he says. "We're still young, we're still growing, we're nimble. We love being in a position to help our clients in a way that is so different from how others are approaching the marketplace."

Bellia Interiors Group | Bellia Print & Design
1047 N. Broad Street, Woodbury
(856) 845-2234
Bellia.net | BelliaPrinting.com
Click here to subscribe to the free digital editions of South Jersey Biz.
To read the digital edition of South Jersey Biz, click here.

Published (and copyrighted) in South Jersey Biz, Volume 13, Issue 7 (July 2023).

For more info on South Jersey Biz, click here.
To subscribe to South Jersey Biz, click here.
To advertise in South Jersey Biz, click here.