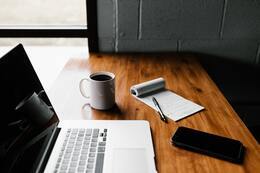 Office Space
Crunching Numbers, Breakdown, On the Move and Duly Noted.
Crunching Numbers
$40,000
The amount Voorhees Animal Orphanage is set to receive as a grant investment from the national nonprofit Petco Love in support of its lifesaving work for South Jersey's animals.
Six
The number of New Jersey charitable organizations that will benefit from TD Charitable Foundation's 17th annual Housing for Everyone program. Those grants, totaling $1,075,000, support nonprofits offering rental assistance, rehabilitating affordable rental properties and addressing long-term resident sustainability.
126
The number of last month's graduates from the year-long Governor's STEM Scholars program, which provides a 360° view of the state's STEM economy through conferences, lab tours and research.
No. 1
Cooper Medical School of Rowan University's ranking among its New Jersey peers in last month's 2023-2024 Best Medical Schools: Primary Care report from U.S. News & World Report. The school also ranked No. 2 in the Delaware Valley and No. 50 nationally.
13
The number of years the Gloucester County Habitat for Humanity has hosted its golf outing, the nonprofit affiliate's biggest fundraiser of the year in support of its Affordable Homeownership Program. For the past five years, longtime community partner First Harvest Credit Union has presented the event.
3.5%
New Jersey's reported unemployment rate for April, reflecting the highest labor-force participation rate The Garden State has seen since April 2013. Job numbers throughout the state increased overall by 15,800 in the past month, and more than 99,000 jobs have been added over the past year.
14th
The ranking Camden-based American Water Works received on Fortune's Modern Board 25, which recognizes the most innovative boards of directors among S&P 500 companies.
Breakdown
The proposed Atlantic Shores Offshore Wind South Project recently reached a crucial milestone in its federal review process.
What Happened: In the latter half of May, the U.S. Bureau of Ocean Energy Management (BOEM) announced the release of the Draft Environmental Impact Statement (DEIS) for the proposed Atlantic Shores South project, marking a critical phase of the project's federal review that reflects the past year's technical evaluations and coordination among numerous agencies.
What It Means: Atlantic Shores South, an important component of New Jersey's nascent offshore wind industry, is positioned to be a crucial contributor to the state's goal of 100% clean energy by 2035, and expected to generate enough clean energy to power 637,000 homes while creating 3,100 jobs and $1.9 billion for the state economy.
What's Next: The state will review the DEIS while working with both the BOEM and Atlantic Shores as the project progresses at the federal level. Additionally, the notice of availability published May 19 opened a 45-day public comment period, which ends July 3 and includes two in-person public meetings and two virtual ones, allowing the public to both learn more from and pose questions to subject-matter experts.
On the Move
Rutgers University–Camden has announced that Charles A. "Chuck" Wright III accepted the roles of vice president for development and vice chancellor for advancement, positions he began May 15 by joining the Rutgers University Foundation.
Mount Laurel-based RetireeFirst has welcomed Michael Yoo as its chief information officer. In his role, Yoo will lead the retirement-benefits provider's efforts to expand and improve its portfolio of services.
Donald M. Chervenak, MD, FACOG, was recently installed as the Medical Society of New Jersey's 231st president. Dr. Chervenak joined the society in 1984 and has been on its board of trustees since 2018.
Duly Noted
Cooper University Health Care recently recognized more than two dozen Nursing Excellence Awards winners, including Kelly Campbell, BSN, RN, a Mullica Hill resident who received the William A. Schwartz, Jr. Nurse of the Year Award. Campbell also received The Charlotte Tobiason Memorial Award for excellence in obstetrical nursing.
Last month, Parker McCay announced that Stephanie Shreibman, a South Jersey native and counsel with the firm's medical malpractice team, was voted into the advisory board for Volunteer UP Legal Clinic, a charity dedicated to providing high-quality pro bono legal services to Camden and neighboring residents.
On May 16, Emma Martin received the 24th annual Blaine E. Capehart Legal Writing Award, sponsored by Capehart Scatchard. The law firm also presented Martin, a graduating Rutgers law student, with a $2,500 prize in recognition of her exemplary legal writing and research abilities.
Bowman & Company LLP recently awarded two accounting students with memorial scholarships. Rowan University's Kira Nevshehirlian received the Lisa A. Donahue Scholarship while William Paterson University's Reno Schwind was the recipient of the John F. Dailey Scholarship.
The New Jersey State Senate confirmed Parker McCay attorney Linda Galella as a New Jersey Superior Court judge late last month, following her unanimous approval from the New Jersey Senate Judiciary Committee. Effective upon taking oath of office, Galella will be assigned to the Superior Court, Family Division, Cumberland County (Vicinage 15).