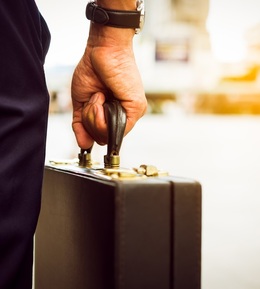 Close of Biz
Business news from around South Jersey.
Lori Herndon, MBA, BSN, RN
President and CEO, AtlantiCare
Lori Herndon's announcement that she would be retiring at the end of June came after not only 40 accomplished, exemplary years with AtlantiCare but also an even longer clinician career punctuated by two crucial constants: caring for her community and always considering herself a nurse first, a role that shaped how she approached leading her team through the evolution and challenges of healthcare.
Herndon spoke to
South Jersey Biz
as her next chapter draws closer, reflecting on the lessons she's learned, her admiration of and pride in AtlantiCare's team, and her plans for the future—which, perhaps unsurprisingly, include expressing her love for her neighbors through the volunteer work that indulges her passion for healthcare.
As you reflect on your career, what are you most grateful for?
I've been here at AtlantiCare for 40 years. I think what I'm most grateful for is being a member of the healthcare delivery team for AtlantiCare and the difference that we've made in so many people's lives with the work we do to promote health and healing one person at a time through caring and trusting relationships.
What does it mean to truly serve this community?
I sum it up as "friends and family taking care of friends and family" … Everything that I do, that we do as an organization, is connected to what we do to serve our region.
How do you recommend that healthcare and other organizations build trust in their communities?
Be engaged and involved, and be an active participant and listener. That's been a hallmark of AtlantiCare's commitment to our community, as well as my personal commitment. I live in this community and I'm involved—whether it's volunteering or raising money, whether it's giving blood or doing the American Heart Association's Heart Walk®—at every juncture, I invite and graciously receive feedback on how we are doing and how we can constantly improve.
I'm blessed to have lived at the Jersey Shore all of these years. I raised my children here, they went to the local schools, and my husband has had a career here, as well. I'm in the grocery stores, I'm on the boardwalk, I'm in Atlantic City. So we were always all in.
What does it take to be successful personally and professionally? How have you helped others do so inside and outside of AtlantiCare?
I really enjoy talking about healthcare careers to high school students, college students and people interested in a career change. Educating about and explaining the wide variety of opportunities that we offer in this field is very meaningful to me. It's been a joy to be able to connect people to healthcare opportunities. Recently, I had the privilege of meeting students at Cedar Creek and Absegami high schools through AtlantiCare's MEDTalk series. These juniors and seniors who are aspiring to have healthcare careers were so engaged and eager to better understand how to prepare for a career in healthcare.
Education is foundational. Listening, continuously learning and being committed and doing the work are key. In addition, if you have the passion for what you do, the rest just comes. I guess it appears a little bit more mysterious than that, but it isn't—there's no substitute for hard work, dedication and passion. I've appreciated, so much, the personal commitment of the thousands of AtlantiCare members of our team: Everyone, every day, comes in ready to do their best work.
Throughout the years, you have touted and thanked your team—and more broadly, those in the statewide and national healthcare industry—including through chairing the New Jersey Hospital Association in 2022. Why is teamwork so critical, and what have you learned about building successful teams?
The reality is that you can't take care of a single individual without being on a team. Healthcare is the ultimate team sport. There is not a single person we touch who doesn't require a team involved in their care. I've been so fortunate to be part of this field that has given me the opportunity to collaborate with colleagues throughout the state. Being on successful teams also means recognizing, as well as thanking, those individuals for their efforts.
How important is lifelong learning?
In healthcare, that's our responsibility, to always be curious and push for answers. It's an amazing profession where, every day, people all around the world are trying to figure things out, solve tremendously difficult problems and develop treatment plans. I've always been fascinated by how constant and rapid change is—except for caring, that has never changed.
AtlantiCare just earned the American Nurses Credentialing Center's Magnet Recognition Program designation for the fifth consecutive time, which distinguishes healthcare organizations that meet rigorous standards for nursing excellence. How has your role as a nurse impacted your career journey and the care AtlantiCare provides?
Being recognized with our fifth Magnet designation—nursing's highest honor—entails what I would call the best practices or best principles of creating an environment for nurses to do their best work. I and our senior executive team at AtlantiCare embrace the Magnet journey and we are a better organization because of it.
Nurses are involved in every aspect of healthcare … My knowledge and passion for the profession of nursing has been a hallmark of who I am, and I see the beauty and the impact that a professional nurse has on a person, their family and the community. It's a serious but rewarding profession, and impactful.
What have you enjoyed most about leading AtlantiCare, both as a CEO and throughout your career?
Being side by side with so many experienced, dedicated professionals, and watching people grow and develop have been my greatest joys. I have been inspired by our team's steadfast commitment to, and success in developing, enhancing and bringing new clinical programs and services to ensure people can access the quality, compassionate care they need and deserve in their own community.
What experiences stick out to you as your most memorable ones?
[COVID] was an experience of a lifetime. And I'm incredibly proud that, despite how busy we were with being on the frontlines dealing with the pandemic, we stepped up and ran the Atlantic County Vaccination Megasite here in Atlantic City—I am overwhelmed with how important and meaningful that was to our community. As a nurse, I participated as somebody who was giving the vaccine: That was something that I will never forget … That immediate gratification of being able to vaccinate community members in the midst of the pandemic was really fulfilling. That's the best part about being a nurse—as a nurse you can make a difference every day in someone's life.
What surprising discoveries have you made or valuable lessons have you learned that shaped you professionally and personally?
Having the courage to speak up. Knowing how to listen and understand what's going on so you can be an informed advocate. Knowing just how critically important caring is. Caring about another human being and helping them in their time of need is an incredible responsibility. I care deeply for this region and our organization—it's always been personal for me.
Is there something people would be surprised to know about you?
I have done the Brigantine Triathlon more than 20 times, and I'm hoping to participate in August of this year.
What are you most looking forward to in retirement?
Having time to really refocus on some of the things I am passionate about and volunteering my time. I'm very interested in supporting organ donation [and] helping individuals understand what career opportunities there are in a healthcare profession. I'm excited about being on Brigantine beach … My granddaughter is 18 months old, so I'm looking forward to that chapter. And I'm going to travel!
Is there one thing you're most grateful for or proud of?
I'm incredibly proud of the role of AtlantiCare in this community and the impact that we have had and will continue to have as an organization, and clearly that includes being one of the largest employers in the region. The other thing that I really enjoy and I've loved as a clinician, as a human, as a professional and as an executive is the diversity here. That comes with the diversity of the people we serve who are patients and clients of AtlantiCare, and also the diversity of our workforce.