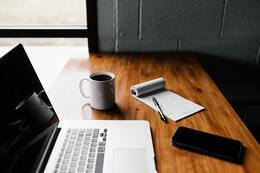 Office Space
Crunching Numbers, Breakdown, On the Move and Duly Noted.
Crunching Numbers
1,315
The number of individuals the Alice Paul Institute was able to engage with its March programming alone, thanks to donor support making those programs possible.
$5 million
The amount The Cooper Foundation received as a pledge from The Bernard and Shirley Brown Charitable Foundation and The Brown Foundation, representing its largest-ever endowed gift, which will establishe Cooper's first endowed chief.
One-third
The estimated number of New Jersey adults who have used cannabis products since last year's legalization of adult-use recreational marijuana, according to a Stockton University poll released late last month.
Fifth
Where New Jersey places in a recent WalletHub study ranking the best states in the country for working from home.
51%
The percentage of the 68 New Jersey hospitals rated in The Leapfrog Group's Spring 2023 Hospital Safety Grades that received an "A," putting the state at No. 1 for highest percentage of A-grade hospitals.
18.2
Atlantic City's sea-level rise in inches since 1911, according to newly released information in "State of the Climate: New Jersey 2022" by Rutgers University researchers and the Office of the New Jersey State Climatologist.
$47.9 billion
The amount of state revenue New Jersey's tourism industry is anticipated to generate this year, as Secretary of State Tahesha Way announced to Senate lawmakers late last month.
Breakdown
The state recently launched a process to certify LGBTQ+-owned businesses.
What Happened: After last year's Executive Order 295 established a state-backed certification for LGBTQ+-owned businesses, New Jersey's Department of the Treasury officially opened up that certification portal to begin accepting registrations. The executive order was signed nearly 11 months prior to the official launch.
What It Means: That certification is intended to assist in ensuring that LGBTQ+-owned businesses not only grow but also thrive by opening the doors to pursue contract-work opportunities at federal, state and local levels, as well as in the private sector. Among other qualifications, the organization must be at least 51% owned, operated and controlled by LGBTQ+ individuals, as well as prove that it has sufficient resources to continue operating indefinitely by normal industry standards.
What's Next: Advocates and allies alike consider the program a step in the right direction for an equitable business landscape. "[W]e are another step closer to lived equality with the opening of the certification portal for LGBTQ+ businesses," notes Christian Fuscarino, executive director of Garden State Equality. "This process will ensure that LGBTQ+ people who have been historically overlooked for opportunities because of discrimination and exclusionary practices will have a fair shot in running a thriving business."

On the Move
Last month, GZA GeoEnvironmental Inc. announced three principal-level additions to its New Jersey leadership team.
Following the firm's recent acquisition of Equity Environmental Engineering LLC, GZA has formally welcomed Peter Jaran as principal, as well as Robert Jackson and Kevin Williams as associate principals, all of whom bring decades of experience to the firm.
Michael J. Charlton was recently selected by AtlantiCare's board of trustees to serve as the health system's interim president and CEO. He will work closely with outgoing president and CEO Lori Herndon, who is retiring at the end of June.
Public Service Enterprise Group (PSEG) announced last month that Charles "Chaz" McFeaters, senior vice president nuclear operations, will become PSEG Nuclear president and chief nuclear officer after Eric Carr exits the position May 19.
Joseph's House of Camden, a South Jersey shelter for people experiencing homelessness, announced last month that Colandra Coleman has been named its executive director.
Brian Adams has been appointed as Tabula Rasa HealthCare's president and chief executive officer, as well as a Class I director for its board of directors, effective immediately. The company has also welcomed Richard W. Rew II as chief legal officer and corporate secretary.
Swedesboro-based Thomas Scientific recently announced that Stan Haas has been appointed to president and chief executive officer. Haas, who joined the company in 2017, served on the board of directors first and then on the executive team as chief operating officer.
Early this month, it was announced that Aiysha (AJ) Johnson has been named CEO and executive director of the New Jersey Society of Certified Public Accountants, following Ralph Albert Thomas' June 30 retirement.
Scott Rudder, founder and first president of the New Jersey CannaBusiness Association, will serve as the association's interim president following Edmund DeVeaux's recent departure after announcing his return to local government.
Duly Noted
After 11 years of leading New Jersey Manufacturing Extension Program (NJMEP), John W. Kennedy is set to retire from his role as the organization's CEO, effective May 31. Current NJMEP COO Peter Connolly will take over as both CEO and center director.
Last month, NAI Global announced that a number of its team members were honored in the global real estate organization's annual recognition program as top producers. Those individuals are: Scott Mertz, SIOR, president; Fred Meyer, SIOR, EVP corporate services; Jonathan Klear, SVP; the team of Jeffrey Licht, SIOR, EVP and managing director Philly Metro; and Jared Licht, director, commercial real estate.
Inspira Health Network's board of trustees announced early last month that board member Elizabeth A. Ryan, Esq., will serve as the new board chair. Additionally, existing trustees assuming other leadership positions include Dawn Flitcraft serving as vice chair, Bob Hickock as secretary and Toni Pergolin as treasurer. Karen Albanese, David Krishna and Donna Perez are new board appointees.
At its April 26 meeting, the Rowan University board of trustees unanimously voted to extend President Ali Houshmand's contract for an additional three years, to 2029. Dr. Houshmand started serving as the university's seventh president 10 years ago.
Late last month, the Alice Paul Institute announced that it has welcomed civil rights attorney and activist Ting Ting Cheng to its board of directors.
Dr. Paul Alexander, who currently serves as RWJBarnabas Health's executive vice president, chief health equity and transformation officer, has been named to the board of directors at New Jersey Community Capital, the largest community development financial institution in the state.