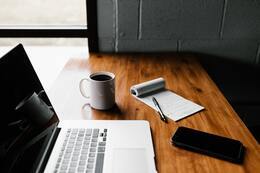 Office Space
On the Move and Duly Noted
Crunching Numbers
100
The number of Heart Mate 3 left-ventricular assist devices Deborah Heart and Lung Center has implanted in critically ill heart-failure patients, a milestone the health system announced last month.
$200,000+
The total funds raised at Samaritan's Celebration of Life Gala, which the hospice and palliative-care provider hosted earlier this year. The annual fundraiser helps support Samaritan's comprehensive service programs.
10th
Where a WalletHub study released last month ranks New Jersey among the country's most innovative states. The report also places The Garden State as 13th nationwide in its share of STEM professionals and 12th in projected STEM-job demand by 2030.
55%
Approximately how much of Virtua Health's senior executive team roles are held by women, handily eclipsing the Forbes-reported industry average of 25%.
$2.7 billion
The price tag on a proposed development to rehabilitate a former airport in Atlantic City into a Formula 1 racetrack, condominiums and retail storefronts, which was unanimously approved with one abstention last month.
Five
How many organizations received NJ BRIDGE Initiative grants from the state's Green Jobs Council, including Rowan Pathways to Green Jobs. The $100,000 monetary award will help create wind turbine course certifications and degree programs.
410
According to last month's New Jersey Department of Labor and Workforce Development announcement, the number of future apprentices the second round of grant funding for the Pre-Apprenticeship in Career Education (PACE) training program will support.
$175.7 million
The amount that PREIT, Cherry Hill and Moorestown malls' parent company, reported in losses last year. The company hopes promising developments at the two properties can help turn the tide, especially with the development of Cooper University's Moorestown Mall medical facility.
Breakdown
In recognition of the skills they acquired during their service, veterans will have an easier time securing civilian careers as licensed practical nurses (LPNs).
What Happened: Bill A-2722, signed into law by Gov. Phil Murphy earlier last month, makes it so honorably discharged veterans who completed the Army Practical Nurse Program or the Air Force BMTCP-4N051 with a 5 skill level or their equivalents will no longer need to obtain a diploma from an accredited practical nursing school to apply for licensure.
What It Means: The law not only recognizes the qualifications of those veterans with medical training and makes it easier for them to obtain civilian employment after their military careers have ended, but also expands the pool of practicing LPNs throughout New Jersey.
What's Next: According to Sen. Jon Bramnick, one of the bipartisan bill's sponsors, A-2722 presents an elegant solution to two issues, the ongoing nursing shortage and hurdles thwarting service members' transition to civilian life: "New Jersey desperately needs more nurses. We can fill some of the void with trained, capable veterans who can quickly be educated, certified and prepared to step in to help. This new law offers a perfect solution, fortifying the state's health care industry that has been hard-hit by the exodus of crucial workers since the pandemic while providing an attractive career path for qualified veterans."
On the Move
Last month, Inspira Health announced that William (Bill) Pelino, CPA, MBA, has been appointed as the health system's senior vice president and chief financial officer.
The law firm Hyland Levin Shapiro LLP recently welcomed Zachary C. Friedman as an associate whose practice will focus on business operations and counseling, and transactional real estate and finance.
Stephen Adamo was recently appointed as president of the residential and consumer lending divisions at OceanFirst Bank.
Malamut & Associates announced last month that Sandra Guage, Esq. has joined the firm, where the attorney will focus her practice on matters related to workers' compensation.
Samaritan announced late last month that it has added two executives to its leadership team. Robert Curatola, of Hammonton, has been named chief financial officer while Blackwood resident Mark Biancaniello of Blackwood is its new senior vice president of human resources.
Duly Noted
Last month, the New Jersey Emergency Nurses Association honored Virtua Voorhees Hospital's emergency department (ED) nurses with a crisis-response award. The association recognized the nurses' outstanding efforts since October 2021 to protect medically fragile COVID-19 patients and keep them out of the hospital by assembling a team to work—after their full shifts—in the nearby ED infusion center to deliver more than 4,600 treatments of monoclonal antibody infusions diminishing the severity of COVID infections in compromised patients.
Mission Critical Magazine, a nationally distributed trade publication serving the data-center industry, has named Kathy Gaw-Betz among its Top Women in Technology for 2023. Gaw-Betz is president of Gaw Technology, which is based in Cherry Hill.
Early in March, Gov. Phil Murphy announced that he was appointing Terence O'Toole as New Jersey Economic Development Authority's chairman. O'Toole replaces Kevin Quinn, who is taking a senior role in the Biden administration's CHIPS Program Office within the Department of Commerce.
Mavis Asiedu-Frimpong, director of Rutgers University–Camden's applied research and public service center Senator Walter Rand Institute for Public Affairs, was recently appointed to Gov. Murphy's Opioid Recovery and Remediation Advisory Council. The 10-person council is tasked with providing recommendations on how N.J. can best allocate roughly $300 million to remediate the effects of the opioid crisis.