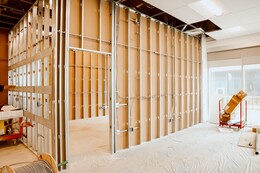 Made With Pride
The companies and individuals literally changing the local landscape highlight their newest and upcoming work. 
Despite ongoing industry challenges, South Jersey's construction, engineering, landscaping and architectural professionals still have plenty of projects keeping them busy throughout the region, bringing their diligent efforts to the schools and companies in need of new facilities, embarking on commercial construction of all kinds, and creating thoughtfully designed spaces.
We touched base with a few of those businesses to learn more about some of the newly completed and in-progress projects they have been especially proud to be a part of and are excited to introduce to the local community.

NEW ROAD Construction Management
NEW ROAD is providing construction management services for Gloucester County Institute of Technology's new state-of-the-art Advanced Manufacturing and Applied Science (AMAS) Building.
The two-story, 26,760-square-foot building is funded by a grant made possible by the passage of the 2018 Securing Our Children's Future Bond Act; the AMAS Building represents the first construction project to take place under this Act. Preconstruction began November 2021 with a beam-signing held Oct. 19, 2022, and completion is expected this September.
Vineland Construction
Vineland Construction will soon being work on a newly approved flex building at 100 Woodcrest Ave. in Cherry Hill. The 25,000-square-foot versatile hybrid of both industrial and office space will be taking shape at the highly accessible corner of Burnt Mill and Woodcrest roads.
But an appealing location isn't the only perk: The building will be aesthetically appointed, too, with an attractive brick and masonry façade and glass storefronts. Delivery is currently scheduled for the first quarter of 2024.
GZA Geotechnical Engineering
GZA is involved in the facilities upgrade and enhancement program at the historic Philadelphia Navy Yard, working as the geotechnical engineer on several design-build projects procured by The Naval Facilities Engineering Command-Mid-Atlantic, Naval Foundry Propeller Center. The work involves installing new turning and forge equipment; GZA provided geotechnical recommendations and construction support for foundation construction at 11 sites within three Navy Yard buildings.
RYEBREAD Architects
Lindenwold Public Schools' BOE envisioned an Early Childhood Center that will create not only a responsive learning environment for young students, but also space to accommodate districtwide exploding enrollment. Some highlights of this two-story, 90,000 square-foot building include 45 classrooms to house pre-K through first-grade students, a technology literacy center, art and music rooms and much more.
RYEBREAD is currently completing architectural/engineering documentation and permitting. Bidding and groundbreaking will be later this year, with occupancy planned for 2025.
DeSimone Construction
DeSimone works alongside Auto Lenders as its preferred corporate construction management partner, completing large-scale projects throughout New Jersey and Pennsylvania, and will expand that building relationship to Florida in the second quarter of 2023. As Auto Lenders' growth required a unified corporate office, the company sought property in Cherry Hill and hired DeSimone to renovate the 30,000-square-foot space to fit its needs, which debuted at the end of 2022.
Click here to subscribe to the free digital editions of South Jersey Biz.
To read the digital edition of South Jersey Biz, click here.

Published (and copyrighted) in South Jersey Biz, Volume 13, Issue 4 (April 2023).

For more info on South Jersey Biz, click here.
To subscribe to South Jersey Biz, click here.
To advertise in South Jersey Biz, click here.