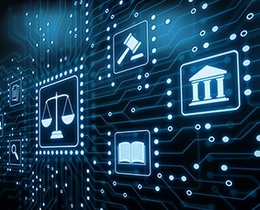 Staying Ahead of the Curve
Business attorneys stress the importance of being proactive to help companies avoid big headaches down the road.
In today's ever-evolving legal world, business attorneys are tasked with not only doing their best to serve their clients' best interests, but also staying on top of modern developments and shifting expectations. With heightened regulations, new industries taking shape, the necessity of carefully planned policies and other crucial legal needs, company decision-makers have become increasingly reliant on counsel to help guide the way.
Ralph R. Smith III, the co-chair of Capehart Scatchard's employment and labor practice, says a good portion of his days are spent offering preventative counseling to help clients avoid common mistakes that may lead to lawsuits. That could include everything from advising on how to deal with a problematic employee or providing insight on various policy matters.
"I think nowadays clients are more willing to see the value in preventative practices. By that, I mean no one wants to pick up the phone and call a lawyer, because it costs money. But businesses know they are better off doing it right from the onset as opposed to finding out later that they did it wrong and you're in the midst of finding yourself in a lawsuit," he says.
As companies contend with risk management, this type of proactive thinking can be an effective strategy, especially when it comes to contending with unforeseen circumstances.
"I look at it a few ways," says Lloyd Birnbaum, partner with Lauletta Birnbaum. "One, you have to be prepared and have the financial wherewithal to protect your position. And two, to the extent that you can, you should invest wisely in buying the appropriate insurance before things happen."
To get some more advice, we asked both Birnbaum and Smith a few questions about the current legal landscape and how they would advise businesses to proceed on certain issues.
How has the growing use of mediation been an effective tool in helping to resolve cases?
"I see a lot of cases now resolved through mediation. I think each side understands that if you are going to resolve the case, it's better to do it early on as opposed to waiting until you are years into litigation, because those cases are harder to resolve," says Smith. "Early mediation, progressively taking a shot at resolving cases, is something that I know has been successful in [my experiences]. It's a practice that the courts are pushing. Especially now, there's a premium to litigate a case because those dockets are so backlogged because of COVID. They would love to try to do anything they can to help move their cases along."
Technological advancements are changing the way business gets done these days, but are they also making things more challenging?
"Yes and no. When clients start thinking every process can be automated, they start thinking every legal process can be automated and that artificial intelligence can do the job of a lawyer. That is not only problematic from a business perspective, but it creates holes. AI can't give you the benefit of 25 or 30 years of experience," Birnbaum says. "On the other hand, the technology is advancing at such a rapid speed, we are able to have instantaneous access. … But because the information is available so quickly and that AI exists, some people feel you should be able to create contracts that don't require much thought. That is a falsehood. I've seen too many instances where AI-drawn contracts are not good."
"One big issue I've been dealing with is how employers incorporate artificial intelligence into their operations. I know there are some clients of mine who are using AI tools to help select potential candidates for employment. The EEOC has come out with some preliminary guidelines making sure employers are cognizant of how they are using AI in the selection process and how those screening techniques impact groups that are protected under EOE law," adds Smith.
What is a common mistake you see companies falling victim to these days, especially those that may be unintentional?
"The biggest thing is cyber fraud; the crooks are smarter than ever. It's so easy for businesses to fall prey to phishing scams. There's a lot of education that needs to take place so employees don't click on the wrong link. Make sure you know who your sender is and that it is legitimate communication. If it looks too good, odds are it isn't real. You better kick the tires," says Birnbaum.
Click here to subscribe to the free digital editions of South Jersey Biz.
To read the digital edition of South Jersey Biz, click here.

Published (and copyrighted) in South Jersey Biz, Volume 13, Issue 4 (April 2023).

For more info on South Jersey Biz, click here.
To subscribe to South Jersey Biz, click here.
To advertise in South Jersey Biz, click here.