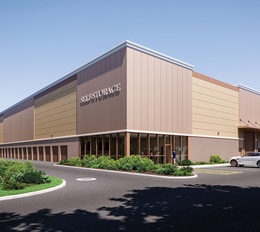 Leading With Integrity
While consulting and construction management company Coordinated Project Solutions draws from the talent and expertise of a dedicated team, it is owner Richard St. Maur's determination to be the rising tide that raises all ships that's defined the company since 2008.
Richard St. Maur credits his business philosophies to a lifetime of converging influences, like amateur ice hockey, a strong sense of civic duty and "two great parents."
And none have resonated as much as something his father pointed out to him when he was just a boy—both for the importance of the insight and for the significance of his hero noticing a personal asset he didn't even know he'd been cultivating.
'"One day, he says to me, 'You know what I like about you? You don't insist on making your own mistakes: You learn from other people's mistakes,"" recalls the managing partner of Coordinated Project Solutions. "And what a wonderful seed that planted!"
As St. Maur reflected on that early wisdom, it gave him the confidence to "make many mistakes in life, but rarely more than once." After all, learning what works and what doesn't through firsthand experience is how he fine-tuned the sound judgment and unshakable integrity that make for even stronger organizations—and passes along some of his hard-earned lessons to others like his father always did for him.
"I think other people can learn from your mistakes, too," St. Maur notes. "And they learn from how you react to your mistakes."
Since 2008, that dedication to the far-ranging benefits of working together to go farther together has been at the core of CPS, grounding the commercial construction consultant and management company in the integrity that St. Maur values above all other principles.
That integrity manifests in any number of ways, from holding himself accountable to his word to "a lot of free consulting" to the courtesy of clear and constant communication, all tailored to whomever St. Maur and CPS are working with to bring a construction project to completion on time, within budget and to the best of a talented team's ability. It starts, he says, with leaving one's ego at the door.
"It's not that we're that great, we just shine by comparison!", he notes with a laugh, explaining how he's benefited from making himself available to potential clients before contracts are even a consideration, transparently explaining that he just wants a chance to advantageously position CPS before the project gets off the ground.
As St. Maur has learned from both his professional and personal experience, a truly effective team is an adaptable, proactive one that shifts to become even greater than the sum of its parts. The value of assembling a team based not on individual merit but prioritizing their willingness to achieve something great together was one that St. Maur saw in action during his ice hockey days and is one that still yields top-notch results 14 years into Coordinated Project Solutions' story.
"We're consulting for, and representing owners and developers, who have the money but don't have the expert staff in all of the necessary disciplines," he explains. "The advantage we bring to the table is that we're not just experienced in design and construction: We're experienced in all the development right from the start, from finding the right piece of ground and then doing a market study, all those things that have to be done preliminarily before you even think about design. … I understand all the ins and outs, and we save our clients a lot of time and money because that's just the right thing to do. I found out that I'm not necessarily supposed to be building churches or senior care facilities; I am supposed to be using what I know to give back."
After all, a favorite quote of St. Maur's perfectly illustrates just how much he values leading with character above all else: "When you lose your money, you lose nothing; when you lose your health, you lose something; when you lose your integrity, you lose everything."
And making a habit of integrity, as well as all the other values that St. Maur wants to become synonymous with his company, is truly the secret to his success.
"We are all creatures of habit," St. Maur begins. "We're either proactively building good habits or allowing bad habits to form. When a plane flies from San Francisco to Hawaii, it's off-course 97% of the time—just a little bit, with wind shifts and things like that—but it has a program to bring it back on track. You will not stay on track. Don't worry about that; instead, build in the habits, the systems, that will allow you to get back on track quickly."
Coordinated Project Solutions
316 Harvard Ave., Stratford
CoordinatedProjectSolutions.com