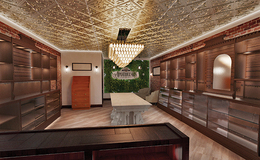 A History of Serving Camden
Thanks to some innovative thinking, Bell Pharmacy is well-positioned to soon begin providing its loyal customers the medical cannabis they need—just like it did almost 90 years ago.
Anthony Minniti, RPh, comes from a long line of pharmacists, getting that first taste of the profession he'd eventually call his own by working in his grandfather's pharmacy as a boy.
He doesn't just bring a lifetime of professional experience to Bell Pharmacy, though: Minniti also brings lived-in, firsthand knowledge of the community's needs to his role, having spent the entirety of his working life in pharmaceutical service to the residents of Camden.
"I started working in Camden in 1984 when I was 14 years old, and I've never stopped working in Camden," he says.
So when Minniti purchased the city's oldest continually operating independent pharmacy in 1997, he was already deeply invested in Camden, the people who call it home, and providing his neighbors with what they need by meeting them where they are.
"What it really comes down to is that you have to have strong bonds with the community," he explains. "That sort of relationship, that sort of trust is what helped us convince a largely vaccine-hesitant community to actually get vaccinated [against COVID]. The African-American community has a very long—and very recent—history of negative experiences with vaccination. For the community to come to us, be open to having a face-to-face conversation about the issue and be confident in the advice we provided? It demonstrates the importance of that historic relationship."
That treasured, long-running relationship is also why Minniti is quick to point out that while he and his sister Marian K. Morton, RPh, might be co-owners of the 92-year-old business, Bell Pharmacy isn't really theirs.
"Bell Pharmacy belongs to Camden," Minniti insists. "While we are the current stewards of Bell Pharmacy, it's our mission to see that legacy continues through to future generations."
It's that community-first mindset that has shaped not only Minniti's career but also Bell Pharmacy's reputation in Camden. As the pharmacy has shifted to meet modern medicine's and a modern society's evolving care standards and expectations, it's only logical that it offers cannabis, too.
Even though medical marijuana has been legal in New Jersey since 2010, there have been numerous challenges in dispensing it like the medication it is—a hardship that Minniti has tried to overcome by being the first and so far only pharmacy to apply for state licensure. Once approved, Bell Pharmacy will begin selling marijuana just like it did in its earliest days.
Fortunately, a bit of zoning happenstance is on Bell Pharmacy's side, with an old property-line division allowing it to operate Camden Apothecary right next door as a separate entity but adjoining storefront.
"With our model, we're integrating a medical component to our recreational model," he explains, adding that the goal is to establish an elegant solution that preserves access for bona-fide medical patients, an innovation he hopes others can follow. "The reason is that a lot of prescribers really want to use cannabis as a treatment but they don't like the idea of just giving a card to somebody and sending them on their way. They want more of a traditional patient-pharmacy-prescriber relationship that's working and managing medication—and we will be able to offer that because of the pharmacy and the dispensary essentially being under one roof."
While the final approval is still pending, being the first pharmacy with an attached recreational dispensary will be a fitting full-circle moment for the nearly century-old business.
"When I bought the pharmacy in '97, I found that old bottle, that tincture of cannabis, and thought to myself 'Wow, look at this, cannabis used to be dispensed out of this pharmacy,'" Minniti recalls. "So when New Jersey started to make the move toward medical cannabis, from the very beginning, I had the position that why wouldn't pharmacies be dispensing cannabis? … It's a medicine, that's the definition of what we do!"
And it's certainly not the only way that Bell Pharmacy embraces the best of what the past has to offer.
"What made pharmacies so special—and it's a model from a bygone era—is the concept that the pharmacist that you see every day is also the owner, which is so rare today," says Minniti. "When you go into a chain, you could see a difference pharmacist every day. Seeing a familiar face when people come into a pharmacy, that's where the level of comfort comes from, which is what people get when they come into Bell Pharmacy—and that's going to translate to the dispensary."
Because in its 92-year history, one thing that's never changed about Bell is its team's pride in the community that trusts it with their pharmaceutical needs and its respect for both the city of Camden and its people.
"We can't wait to get started," he says. "We're giving a really high-end, boutique kind of experience that mirrors our classic 1940s/'50s apothecary branding of the pharmacy. We promised that we were going to make Camden proud, and I think we're well on our way to doing so."
Camden Apothecary
at Bell Pharmacy
1201-05 Haddon Ave., Camden
Bell Pharmacy: (856) 963-4742
BellPharmacyCamden.com
Camden Apothecary: (856) 931-6310
CamdenApothecary.com