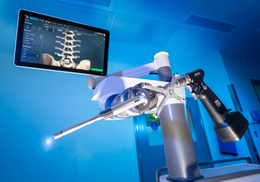 Innovations in Health Care
The newest in treatments and technology delivering improved outcomes and increased support for South Jersey's patients 
As the urgency of peak COVID optimistically recedes into the past, the region's hospitals are able to refocus on meeting the everyday, emergency and even emotional needs of the regional community. They've embraced cutting-edge technology, built state-of-the-art facilities and reached some incredible, life-saving milestones to ensure that South Jersey remains at the forefront of a medical field that is constantly innovating for patients' benefit.
Enhancement of Overall Care
AtlantiCare
Medical Arts Pavilion
AtlantiCare opened its new Medical Arts Pavilion in Atlantic City in November. The $38.3 million facility is all-new construction the regional healthcare system specifically developed to enhance access to quality care for the Atlantic City community.
Through the facility, AtlantiCare will continue to address healthcare disparities, social determinants of health and the national physician shortage. It will also expand its maternal fetal medicine, family planning and safe beginnings programs aimed at giving mothers, babies and families healthy starts to life, as well as its federally qualified health center (FQHC) pediatrics and family medicine teaching clinics. Earlier this year, AtlantiCare introduced its new safe beginnings vehicle to the community, which is uses to bring care to mothers and babies in their homes.
The pavilion is also the new home base of AtlantiCare's medical education program. It includes a state-of-the-art simulation center with four simulation labs and an auditorium with 148 seats. AtlantiCare's FQHC will open a dental clinic in the pavilion in 2023. AtlantiCare's joint-venture dialysis center with Fresenius Kidney Care and its outpatient neurosurgery clinic will relocate to the pavilion in 2023.
Heart Disease Treatment
Cooper
MitraClip Milestone
While the MitraClip has been available at Cooper since 2019, the Cardiac Partners Structural Heart team recently celebrated its 100th successful implantation of the lifesaving device for high-risk heart patients with a severe form of the leaky mitral valve disorder mitral regurgitation. The team has performed the most Mitral Clip procedures in the region.
A medical team including Janah Aji, MD, FACC, Sajjad A. Sabir, MD, both members of Cardiac Partners at Cooper and Inspira, and Georges I. Kaddissi, MD, FACC, member of the medical staffs at both Cooper and Inspira, performed the first commercial-use procedures using the MitraClip—and now the 100th.
"We are very fortunate to be able to offer this treatment to patients," said Dr. Aji. "Following this procedure, patients who have severe heart failure symptoms due to this condition will experience significant improvement in shortness of breath and fatigue."
Cooper was instrumental in clinical trials for the MitraClip and was one of 75 leading heart centers in the United States that participated in the COAPT trial that lead to the FDA approval of this device for patients with functional mitral regurgitation.
The MitraClip device is a small clip that is attached to a patient's mitral valve. It treats mitral regurgitation by allowing the valve to close more completely, helping to restore normal blood flow through the heart.
Treatment for Lung Disease
Deborah Heart & Lung Center
The Monarch Platform
On Nov. 17, pulmonologist Zeeshan Khan, DO, performed Deborah's first robotic bronchoscopy for lung cancer detection, making him among the first in the region to utilize Monarch technology.
A joint venture between the cardiothoracic and pulmonary teams, the Monarch system offers patients the most comprehensive and thorough diagnostic tool available, able to detect even the smallest of lesions in the lungs. It is a key component in Deborah's growing multidisciplinary oncology clinic practice.
"When we suspect a lesion in the lungs, perhaps because we've seen a small nodule in repeated CT scans, we need to go in and take a thorough look. Regular bronchoscopy only goes so far into the lungs. This new robotic device can navigate into the smallest spaces in the farthest reaches of the lungs, and with its navigation light, it allows us to directly examine any masses we find," says Joseph Costic, DO, director of thoracic surgery.
Dr. Khan adds: "The companion tower monitor provides top-quality images transmitted from the robotic scope."
"We will also be able to take a biopsy at the same time if we see something," continues Dr. Costic. "This allows for a much earlier diagnosis which in the case of lung cancer means we can move that much quicker into treatment."
"With lung cancer, the sooner we begin treatment, the better the outcome." says Dr. Khan.
Spine Stabilization
Inspira Health
ExcelsiusGPS
In August, Inspira Medical Center Mullica Hill debuted a robotic navigation platform offering increased precision and efficiency to common spine-stabilization procedures, making it the first in South Jersey to implement the ExcelsiusGPS system. The technology also reduces radiation exposure for surgeons and OR staff.
ExcelsiusGPS combines robotic and navigation technology into a single platform providing real-time visualization of the surgical area prior to and during surgery. This technology is used for minimally invasive procedures, typically resulting in faster recovery. By providing better access and visualization, surgeons can more efficiently perform stabilization procedures requiring screw placement. These procedures include spinal fusion, discectomies and even scoliosis correction.
"We are committed to providing the highest quality of care for our patients and staff," says neurosurgeon R.J. Meagher, M.D. "This new technology allows Inspira's surgeons to more accurately plan and execute minimally invasive procedures with greater accuracy and, in return, optimize patient care. Inspira places an emphasis on being a leading innovator in the South Jersey region and the use of this new technology will allow our organization to further enhance the care our patients receive."
"Inspira Health strives to continuously incorporate the latest innovations and technologies to elevate patient care and provide an exceptional experience for our patients," adds orthopedic surgeon Robert J. Ames, M.D. "Robotic-assisted surgery provides tremendous benefits to patients, and by adding the ExcelsiusGPS to Inspira's robotic surgery program, our community can now benefit from this advanced technology close to home."
Multiple Sclerosis Care
Jefferson Health – New Jersey
Maressa Center for MS Wellness
The Maressa Center offers free in-person and online sessions to enhance the quality of life for those living with multiple sclerosis (MS). Founded in 2019, the Maressa Center was relaunched in fall 2022 at a new location in Voorhees.
It has united area MS patients for support, wellness programming and camaraderie, while also increasing mobility, improving their well-being, and reducing pain with services including acupuncture, art therapy, cooking demos, group mental health sessions and massage therapy. South Jersey resident Gia Nescio says the program has been "the support I needed when my life changed unexpectedly—suddenly I didn't feel so alone in my experience. I could talk to other people, along with doctors, counselors, and therapists. The Maressa Center is a beautiful gift for the MS community. "
The center is the brainchild of JH-NJ Board Member Joseph Maressa, Jr., Esq., whose younger brother, Dr. Julian Maressa, was diagnosed with MS more than 20 years ago. As Joseph explains, "a big part of our upbringing was to recognize our blessings and the obligation to give back to those less fortunate." Establishing the center is a way to "make a difference by providing a place where those with this debilitating disease and their caregivers can receive a myriad of 'feel good' services they may not otherwise be able to obtain on their own." Joseph presented a $75,000 check at the center's October opening event to support its growth and programs.
Cancer Treatment Facility
Virtua
Penn Medicine |Virtua Health Proton Therapy Center
The two health systems' $45 million facility not only will deliver the most advanced form of radiation treatment but also is the first proton therapy center in South Jersey—and among fewer than 50 in the country.
The technology can seem like science fiction with the acceleration of sub-atomic, cancer-eliminating particles to about 450 million miles per hour. In reality, though, this leading-edge facility will bring a new pathway to care for the region's cancer patients.
"Proton therapy offers new hope for people with complex or recurring cancers, and we are thrilled to bring this world-class care to our community," said Stephanie Fendrick, FACHE, MBA, executive vice president and chief strategy officer at Virtua Health.
The 8,600-square-foot center, which started construction in June 2020, is expected to open to patients by early 2023.
"This is also a major milestone in Virtua's longtime partnership with Penn Medicine, which is a global leader in proton therapy," added Fendrick.
"We're very proud to partner with Virtua to deliver this revolutionary treatment to South Jersey residents," said James Metz, MD, chair of Radiation Oncology at Penn Medicine. "As an international leader in cancer care, we've trained more than 70% of the clinicians using proton therapy around the world."