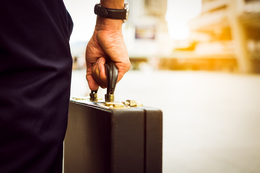 Biz in brief
Business news from around South Jersey.
WSFS Bank has partnered with Sharing Excess and the Sunday Breakfast Mission to launch its annual fall food drive to benefit those experiencing food insecurity in the tristate region. Through Dec. 31, the community is encouraged to donate nonperishable food items at any of WSFS's banking locations throughout New Jersey, Pennsylvania and Delaware.
The Glassboro-Camden light rail project, which would bring 14 new stations to an 18-mile route through South Jersey, entered a new phase last month. Project officials announced that two firms—the Dallas-based infrastructure consultant AECOM and Manhattan-based STV—will oversee the preliminary engineering and design work and project management.
Accounting and management consultants Bowman & Company has announced that, as of Nov. 1, Ragone Lacatena Fairchild & Beppel, PC has joined the organization. This addition will not only expand Bowman's commercial-services capabilities, but also will include a new Haddonfield location.
Rowan University is offering a new defense-industry program for students interested in pursuing the combat systems engineering certificate of graduate study available through the Henry M. Rowan College of Engineering and the Rohrer College of Business. The certificate program satisfies elective credits in the MBA curriculum and is exclusively licensed from Lockheed Martin.
As part of the settlement resolving federal authorities' civil rights suit, five northeast corridor NJ Transit stations—Trenton, Princeton Junction, New Brunswick, MetroPark and Newark Penn—will be modified within the next three years to improve accessibility for riders with disabilities.
The Manasquan School District and Manasquan borough celebrated the Oct. 18 opening of the Field House, a 32,000-square-foot multipurpose high school facility for which NEW ROAD Construction Management provided project management services during construction.
NEW ROAD is also part of the team bringing the Gloucester County Institute of Technology's new Academy of Advanced Manufacturing and Applied Science to life. The two-story, state-of-the-art building is estimated to be a year from opening.