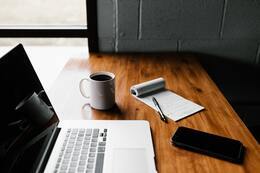 Office Space
November 2022
Crunching Numbers
Six
The number of community organizations to which WSFS CARES Foundation recently provided grants. Among them are the Food Bank of South New Jersey and The Camden Coalition of Healthcare Providers, which will receive $25,000 annually over three years.
20
The number of recreational dispensaries now operating in the state after Bordentown's Curaleaf location began offering adult-use cannabis sales at the beginning of November.
2,500+
How many premature, low-birth-weight and critically ill babies Inspira Medical Center Vineland's Deborah F. Sager Neonatal Intensive Care Unit has provided advanced care for in the decade since it opened.
$10 million
The cumulative amount of pollution fines that paid for the electric bus fleet NJ Transit debuted early last month. In total, eight buses will undergo real-world testing throughout Camden in the next year.
50th
Where the Tax Foundation's 2023 State Business Tax Climate Index ranked NJ's tax system. The recent report marks the sixth straight year New Jersey came in last place for encouraging business and economic growth.
140,000
As of a late-October report from the New Jersey Hospital Association, the number of COVID-19 patients who have been dispatched from the state's hospitals since the pandemic's onset.
28
How many national health systems were listed on the 2022 American Medical Association Joy in Medicine Health System Recognition for their demonstrated commitment to prioritizing team members' well-being—including Cooper University Health Care.
239
The acreage of the former Fort Monmouth U.S. Army base mega-parcel for which Netflix placed the winning bid last month. If the streaming giant is the chosen bidder, it plans to build a film production facility on the decommissioned site.
Breakdown
Last month, the Internal Revenue Service (IRS) announced tax-year 2023 annual inflation adjustments for more than 60 tax provisions, affecting things like individual tax brackets, estate-tax exemptions and standard deductions.
What Happened: The IRS adjusts its rates according to Consumer Price Index (CPI) fluctuations, but this year's skyrocketing inflation—which reached a staggering 8.2% this past September—would place a number of Americans into higher tax brackets that didn't accurately reflect their standard of living or true income position. The exacerbated financial crunch that many households would have felt was further verified by the U.S. Bureau of Labor Statistics' October announcement that inflation-adjusted weekly earnings were down almost 4% from September 2021.
What It Means: As salaries failed to keep pace with inflation, residents' diminished buying power has reverberated through a local economy that depends on their patronage and support, creating a sort of "trickle-up" effect. These provisions for the 2023 tax year are intended to ease the pains that inflation's steep hike has created.
What's Next: While these changes won't be felt until 2024 tax filings, businesses and citizens alike are encouraged to familiarize themselves with all the provisional changes that could yield reduced 2023 federal tax bills.
On the Move
Last month, Capehart Scatchard announced the addition of five new associates to its Mount Laurel office: Martie Campbell Baggett; Amanda J. McNelly; Joseph Ragsdale; Saikrishna Srikanth; and Nicholas D. Stephens. They all have joined the law firm's workers' compensation department.
Litigator and municipal law attorney Scott Miccio has joined Malamut & Associates, where he will focus his practice on government and regulatory affairs.
Serena DiMaso, former assemblywoman for New Jersey's 13th Legislative District, has joined Florio Perrucci Steinhardt Cappelli Tipton & Taylor.
Parker McCay recently announced the addition of seven new attorneys: Frank Conroy; Alena Hyatt; Zachary A. Klein; Sara Kulp; Diane Magram; Ashley Varghese; and Eli Zaghi.
Early this month, healthcare technology company Tabula Rasa HealthCare announced that April D. Gill has been appointed to the newly created role of chief commercial officer.
Duly Noted
Meggan Ciaccia of Ciaccia CPA has been honored with a 2022 Women of Achievement award from the Gloucester County Commission for Women. Ciaccia, the immediate past president of National Association of Women Business Owners, was nominated for her leadership roles and for her mentoring program Girls Power.
National magazine Modern Healthcare has included Virtua Health President and CEO Dennis W. Pullin, FACHE, on its 25 Top Diversity Leaders in Healthcare for 2022 in recognition of Virtua's demonstrated implementation of inclusion, diversity and equity practices.
Dennis DeSimone, founder of DeSimone Construction, recently received the Delaware Valley University Alumni Association's Science Achievement Award. DeSimone launched his company not too long after his 1972 graduation, which is approaching 50 years of custom construction service.
Last month, Cooper University Health Care announced that Gerard Carroll, MD, FAAEM, EMT-P, received the 2022 Nicholas Rosecrans Award for developing and launching the country's first EMS-administered buprenorphine program, providing quick relief from the withdrawal symptoms overdose-reversing drugs can cause in patients.
In October, Joris Veldhoven was appointed by the board of directors for Atlantic Shores Offshore Wind—a 50/50 partnership between Shell New Energies US and EDF Renewables North America—as its first CEO.
The principals of industrial hygiene consulting company Indoor Environmental Concepts have added new certifications to their credentials. Founder Michael P. Menz, CIH, CHMM, is now an EPA Asbestos Project Designer and Council-Certified Indoor Environmental Consultant, and Vice President Robert J. DeMalo, M.Sc., has been certified as a New Jersey Asbestos Safety Technician and New Jersey Lead Inspector/Risk Assessor.