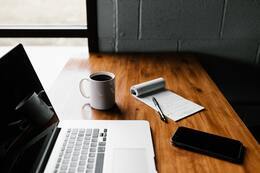 Office Space
October 2022
Crunching Numbers
100,000+
How many jobs the cannabis industry is expected to create in New Jersey, New York and Connecticut by 2025, according to CannabizTeam's first-ever Tri-State 2022 Cannabis Industry Salary Guide.
$315,000
The estimated amount Rowan University will receive in grants through the Bipartisan Infrastructure Law's funding of projects preventing pollution.
22%
How much of New Jersey's 16-and-older workforce was working from home in 2021, an increase from census data reporting 5% in 2019. Its share of remote workers is greater than that of 43 other states.
Three
The number of new buildings to be built as part of Cooper University Health Care's $2 billion, multiyear Camden expansion project, which was announced last month.
One million
How many meals the Community FoodBank of New Jersey is set to receive from a New Jersey Bankers Association donation campaign over the next five years.
11,000 megawatts
What New Jersey's new offshore wind goal for 2040 was increased to with last month's Executive Order No. 307. The order also has the state Board of Public Utilities examining the feasibility of another target increase.
8th
New Jersey's ranking in a September study from document-management company SmallPDF that rates the best states for tech-industry employment based on salary and job availability.
69%
The percentage of New Jerseyans who admit they've faked being sick to get a day off, according to recently released data from receptionist service Moneypenny.
Breakdown
Since the New Jersey Economic Development Authority (NJEDA) launched its Small Business Improvement Grant (SBIG) earlier this year, the program has approved funding for more than 500 small businesses.
What Happened: Nearly $13 million has been awarded to the state's nonprofits and small businesses, thanks to SBIG, which was created under the Economic Recovery Act of 2020 back in February and funded by a $15 million allocation from NJEDA's Main Street Recovery Finance Program.
What It Means: Through the program, qualified organizations can be reimbursed for up to 50% of eligible costs related to capital improvements and purchases of new office furniture, fixtures and/or equipment, with a maximum reimbursement of $50,000. Eligible projects must meet several criteria, including a cost of at least $5,000 and having commenced after March 9, 2020.
Of the $15 million earmarked for SBIG, 40%, or $6 million, has been set aside for small businesses and nonprofits within Opportunity Zone-designated areas.
What's Next: Until funding is depleted, SBIG applications are still being accepted on a rolling basis. NJEDA advises small businesses and nonprofits that have already submitted theirs to be patient as it reviews the "significant number of applications" already received.
Duly Noted
Stacy Asbell, a partner at Hyland Levin Shapiro, was recently appointed board president of the Samost Jewish Family & Children's Service of Southern New Jersey ("JFCS"). Asbell has served on the organization's board since 2012.
Nuo Jiang Esq., litigation department associate at Capehart Scatchard, has been named September's Volunteer of the Month by Volunteer Lawyers for Justice in recognition of his pro bono work.
Last month, law firm Genova Burns announced that partner Harris Freier will expand his practice and chair its privacy and cybersecurity practice.
Indoor Environmental Concepts' founder and principal Michael P. Menz, CIH, CHMM, was recently appointed as the American Industrial Hygiene Association's primary representative to the ASTM International Consensus Standard.
JLL announced last month that Danilo Lucii has relocated from its Singapore office to serve as the tristate region's design director in the Project & Development Services division.