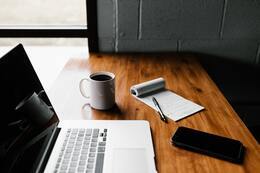 Office Space
September 2022
Crunching Numbers
200
The number of diesel buses the NJ Transit mechanical staff plans to rebuild as part of a two-year, $27-million program intended to save the agency millions of dollars in lieu of purchasing new buses.
$13 million
The amount that new owners of the former The Hotel ML and Coco Key Water Resort paid for the Mount Laurel property, the hotel portion of which recently reopened in a limited capacity.
$5 million
The amount of funding that the New Jersey Department of Banking and Insurance made available so local organizations can help residents sign up for health insurance during Get Covered New Jersey's open enrollment period.
1975
The year North Jersey's Horseless Carriage Carriers was founded, which Burlington-based transportation-logistics company McCollister's Global Services purchased earlier this month.
1,184
How many students will receive critical learning materials with Subaru of America's early September announcement that it would "adopt" all 88 of Camden City School District's middle school classrooms.
20 years
How much younger Roy McIntosh says he feels after receiving a kidney from Texas resident Heather Schaefer, who he'd never met prior to his transplant surgery at Virtua Our Lady of Lourdes Hospital in Camden.
250
Since July 1, the approximate miles of at-risk facilities South Jersey Gas has already identified and begun replacing as part of the five-year, $200-million Infrastructure Investment Program.
Breakdown
The Inflation Reduction Act of 2022, the spending bill that's a scaled-down version of the Build Back Better bill, was signed into law Aug. 16 to mixed reactions.
What Happened: Democrats argue the 755-page bill will fight inflation while supporting working families; Republicans counter its impacts will do the opposite; studies by nonpartisan entities like the Penn Wharton Budget Model and Congressional Budget Office (CBO) suggest the bill's effect on inflation will be "negligible."
What It Means: The Joint Committee on Taxation, also nonpartisan, notes that nearly 50% of the bill's new tax burden will be shouldered by manufacturers—and the National Association of Manufacturers adds that in 2023 alone, that could result in 218,108 fewer jobs, reduce real GDP by $68.45 billion and decrease total wages by $17.11 billion.
However, despite the CBO's lukewarm response regarding short-term effects, it does estimate that the bill will decrease the federal deficit by more than $100 billion by 2032.
What's Next: New Jerseyans can expect to see local impacts like eligible households receiving tax credits to purchase qualified "clean" vehicles, lower drug costs for Medicare beneficiaries and increased neighborhood investments, especially for communities located near industrial sites.
Duly Noted
The Best Lawyers in America 2023 edition includes four Capehart Scatchard attorneys. Two were recognized by their peers: John H. Geaney for workers' compensation–employers and Betsy G. Ramos for litigation–insurance. Two more were named Ones to Watch: Sanmathi (Sanu) Dev for education law and Stacey R. Gorin for commercial litigation.
On Sept. 1, New Jersey Hospital Association (NJHA) announced it will add Christine Stearns to its leadership team. Stearns will serve as chief government relations officer, a newly created role intended to develop and advance NJHA's legislative agenda.
Last month, WCRE announced it hired Maria Russ as director of property management. With more than 18 years of commercial- and industrial-property experience, Russ will continue the firm's growth in local markets.
Mark Giannantonio, the president and CEO of Resorts Casino Hotel in Atlantic City, was recently named president of the Casino Association of New Jersey, the industry's trade organization.