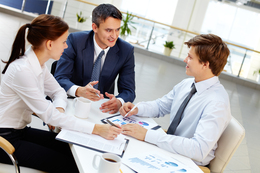 The Tools to Succeed
Through education, hands-on experience and more, the next generation of workers are being given crucial career preparation.
Even before the pandemic, the need for businesses to evolve played a vital part in their growth and overall success. And so as the times change and companies alter their mindset, one key area to achieving that success has been the ability to prepare and train the next generation of workers. And the best ones have a keen awareness of just how important this area of professional development is and so they are constantly adapting their approach to better fit the modern-day workplace.
Helping to prepare these prospective employees are the various educational initiatives and partnerships that exist nowadays. Various high school partnerships with trade programs act as a pipeline to skilled laborer positions while area colleges have been working alongside new industries to formulate the education students will need to succeed along the various stages of their career. What's more, work-study programs are providing invaluable hands-on experience while postgraduate programs are helping to solve problems like a dearth of specialized medical professionals.
For several years, Rowan University has aligned with various industry leaders to develop curricula that meet their exact needs and regularly hire industry experts to teach its students. As a result, they've formed meaningful partnerships with some of South Jersey's largest employers. For example, the school has worked closely over the years with Lockheed Martin, which often hires Rowan's promising engineering students.
Now, the school is looking to make a noticeable impact in the health care sector, according to President Dr. Ali Houshmand.
"Earlier this year, we greatly expanded our partnership with Virtua Health. Decision-makers from both institutions are working closely to create a new college of medicine and health sciences that will help meet our region's need for more doctors, more nurses and more allied health professionals," he says.
Houshmand often hears from employers who say they are looking for self-motivated problem-solvers, especially those with multidisciplinary skills. And that having high character is nearly as important as having the tools to perform the job. That's why the school works with various industry leaders to create in-demand credentialing systems as a means of enhanced workforce education that can benefit undergrads as well as those already in the workforce.
"We want to give students, no matter where they are in life, the flexibility to earn a degree. Stackable credentials are one way returning students can develop their careers and build momentum toward their next degree. Every university should make this a priority," Houshmand states.
In some cases, these seeds are being planted much sooner as not everyone is destined to obtain a four-year degree. William McGrath, who started South Jersey Elevator in 2013, has spoken to kids as young as those in the fourth grade about his industry and the opportunities that exist beyond the classroom.
McGrath serves as chair of the Associated Building Contractors of New Jersey as well as on the education and safety committee of the National Association of Elevator Contractors. Together with the organizations, he is trying to dispel the myths surrounding being a tradesperson.
"I call it 'work boot syndrome.' Some people think that because I wear work boots that I don't make a good living. That whole stigma, I don't know how it got put out there. What we are trying to do now is get to these schools and have these kids realize that they have options," says McGrath.
The hopes are that by reaching the kids at such a young age, by the time they are ready to leave high school there will be plenty eager to step into any number of positions. But McGrath cautions that those who think pursuing a trade career means they can skip out on hitting the books and start earning a hefty paycheck are sorely mistaken. That's because his new hires must complete a four-year apprenticeship program to obtain their proper certifications.
"We say you train animals, but you educate humans," McGrath quips. "I have a high schooler that just graduated and is with us now. And I told him, what I am offering you is a career, not a job. … If you're not interested in doing the educational component, we are not interested in you being part of the team."
Name a Future (NAF) is a national network of education, business and community leaders who collaborate efforts to connect high schoolers with the working world through career-relevant curriculum and a series of work-based learning activities. This allows students to learn about careers through job shadows, mock interviews, paid internships and more.
"For many businesses, partnership with NAF helps to fulfill workforce development and community engagement goals," says Dr. Keisha Stevenson Taylor, senior director of postsecondary and alumni engagement. "NAF's design provides employers with multiple ways to expose students to specific industries and develop their future workforce pipeline with the talent that reflects the communities these companies serve."
By allowing students to gain exposure to careers and develop the knowledge and skills needed to make critical decisions about their career paths, they are able to gain a deeper understanding of what it takes to be successful in different industries. Once students graduate from a NAF academy, they are connected with an alumni network that provides mentorship and further guidance.
"NAF students can develop and enhance the skills that corporate partners want to see in their employees. By focusing on meaningful relationships, transferable work skills and goal setting, we will help our students be more future ready," Stevenson Taylor says.
Back at the higher education level, Houshmand says the hands-on education students are receiving these days allows them to take advantage of a wealth of opportunities.
"By the time they graduate, many have research experience and real-world skills that give them an edge in the hiring process or when applying for competitive graduate programs," he says.
No matter how the next generation of workers is being developed professionally, it's evident to all those involved that proper training and preparation is essential to the future success of our economy.