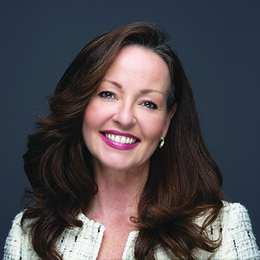 Close of Biz
Dana Lancellotti President/CEO, New Jersey Restaurant & Hospitality Association (NJR&HA)
Dana Lancellotti
President/CEO, New Jersey Restaurant & Hospitality Association (NJR&HA)
Dana Lancellotti joined the NJR&HA one year into the pandemic, at a time when strong leadership was critical for the hospitality industry. Fortunately, Lancellotti's background offered a constellation of experiences that helped her empower association members: regional director of sales for Hotels Unlimited, leadership roles promoting Ocean County's tourism—and even co-founding the Ocean County Military Support Committee, inspired by her volunteer work and civic advisory position at the then-newly merged Joint Base McGuire-Dix-Lakehurst.
Even though she was days away from an NJR&HA event, Lancellotti took the time to chat with South Jersey Biz about her earliest jobs' impact on her work ethic, why she loves raising her children at the Shore and why supporting the military is a mission close to her heart.
What was the first thing you remember wanting to be?
When I was a little girl, I loved film and Broadway. I thought I would be a great casting director!
What previous professional experiences were the biggest assets in your early days of becoming NJR&HA president?
I had all these jobs that culminated into the background needed for this role. … But I also worked in restaurants for 10 years—my first job was as a busgirl at 15. Then I worked as a hostess, a waitress, a bartender, everything. That taught me how to deal with the public, how to be outgoing, how to present myself professionally, how to make conversation, how to enthusiastically sell a product. And you learn work ethic: You learn that after a long day, you get to reap the rewards—with restaurants, it's your tips; with sales, it's your commission—of going above and beyond.
What was something about growing up at the Shore you wanted your own children to experience?
Being a resident at the Shore, there's this beauty and all the different seasons of the shoreline you get to experience. … I always wanted my kids to enjoy the smell of the ocean and the feel of the boardwalks when there aren't people there. That's a beautiful time to be enjoying it. There's a privilege to being at the Shore in the fall, winter and spring and seeing its different personalities.
What are some traits you think every good leader embraces?
It's important for a leader to empower people to explore what their greatest strengths are, what their passions are and to try to help bring all those things to fruition. Another thing I learned over the years is that it's important to let people have the spotlight when they accomplished or contributed something great—everybody should have a chance to be in the spotlight, as long as they want it. I also think you should try to keep a positive outlook and help your team see the future, like, "Hey, it might be tough today, but keep your eye on where we're going and where we're going to be."
What's a secret interest of yours that not many people know about?
I grew up on a pond, so as soon I could walk, I was on those double-blade ice skates. I learned a little bit of figure skating on the side so I'd be better at it: I used to love skating around, pretending I was Dorothy Hamill. I also love horseback riding and used to ride a little bit, the English equestrian kind of stuff. I have secret plans to get back to that again.
What makes New Jersey's dining scene such a good one?
It's exciting because it's eclectic and it's diverse. We have a tremendous amount of cultural diversity here in New Jersey and that translates into culinary diversity. We're in a wonderful spot between New York City and Philly, we have access to tremendous chefs—plus, there's the agricultural offerings of our Jersey Fresh foods and our seafood. And, I don't want to insult anybody but, honestly, we have the best pizza here, too.
How do you get over a hurdle, hiccup or just a less-than-great day at work?
A fabulous meal where I can decompress, enjoy the atmosphere, enjoy great service and explore great foods I've never tried before. That's a great way to get your mind off a tough day: Go out to eat with family and friends and just enjoy the company you're with and that experience together. It's important to refocus your energy on something enjoyable!
What inspired you to devote so much of your time and energy to supporting veterans and military families?
Back in 2008, when the economy was tanking, I worked for some Toms River hotels and needed to put heads in beds. There was business coming in from Joint Base McGuire-Dix-Lakehurst: pilots and Department of Defense contractors. I started asking market questions, and a whole world opened up when the contractors introduced me to base leadership and I learned more about the military—which needs support and community relationships. There were many people in Ocean County, particularly at the Chamber of Commerce, who were also feeling [the need for better community engagement with the base]. That's when we created the Ocean County Military Support Committee, which actually expanded to become the Military Support Alliance of New Jersey because we cover the whole state. It's the least we can do!
What's some advice you have for recent grads who are just beginning their professional journeys?
This is such a new and uncharted landscape with COVID. But I can't stress enough how important it is to establish connections and network face-to-face whenever possible. You can't beat eye contact and in-person connections. You have to go beyond the virtual engagement: Let people feel your energy, see your eyes and have a conversation.