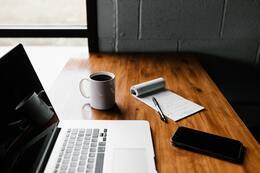 Office Space
August 2022
Crunching Numbers
Eight
The number of nonprofits that received Franklin Parker Community Conservation grants from the New Jersey Conservation Foundation, including South Jersey's Appel Farm Arts and Music Center.
200
The estimated number of golfers who participated in The Cooper Foundation's June 27th Cooper Cup Golf Outing, raising more than $265,000 to support Cooper University Health Care's mission.
$500 million
The amount of money generated by 34 movies and 69 television shows produced in New Jersey last year. The revenue was a record for the state's TV and film industry.
150
The approximate number of Stockton University students participating in the new Live, Work and Learn pilot program, where they're working at a dozen Atlantic City businesses while gaining college credits and employment experience.
4th
Where New Jersey ranks in Out Leadership's 2022 LGBTQ+ Business Climate Index, which indicates how well a state offers its LGBTQIA+ residents legal, political, emotional, health and business support.
9,500
The estimated number of jobs that the Applied Economics Clinic predicts will come from New Jersey's offshore wind development sector by 2045, according to reports it released earlier this summer.
$16 million+
The amount of funding that Burlington County Institute of Technology received in the second round of Career and Technical Education expansion grants, which will help update and expand programs at its Medford and Westampton campuses.
Four
The gigawatt threshold of solar power the state recently surpassed, according to the New Jersey Board of Public Utilities. That's enough to provide electricity to more than 500,000 households annually.
Breakdown
Camden will receive $180 million from next year's state budget and another $24 million from 2022's transitional aid funds for capital projects.
What Happened: Now that the 2022-'23 state budget is approved, record-high community investments are on the table for South Jersey's biggest city, which Gov. Murphy referred to as "a city on the rise."
What It Means: Lt. Gov. Sheila Oliver added that the budget allocation "doubles down on our holistic effort to make Camden a place where people can work, learn, raise a family and live a good quality of life."
While some of those investments will extend beyond city limits and into Camden County—like those intended for park and trail improvement—most will focus on Camden. Road rehabilitation, facility upgrades, vacant-structure demolition, increased pedestrian safety, and supporting the efforts of the Camden Housing Fund Initiative, Camden Works and Joseph's House of Camden are all among the budget's Camden-specific investments.
What's Next: When Murphy visited Camden on July 26, he noted that "these investments will go towards refurbishing stores and streets, making them more attractive and inviting with fresh paint and repaired brickwork, and new windows and signage, while also bringing in some much-needed upgrades for safety and security."
On the Move
Law firm Florio Perrucci Steinhardt Cappelli Tipton & Taylor LLC has welcomed Lauren Lefevre to its education law and municipal law practice groups.
William H. Dungey III, Esq., had joined law firm Hyland Levin Shapiro LLP as an associate. Dungey's focus is on succession planning, trusts and estates litigation, and real property taxation.
Surety Family of Companies recently announced that Robert "Bob" Souder has been promoted to senior vice president, sales.
Tony S. Reed, M.D. has officially become Inspira Health's senior vice president, chief quality and safety officer.
Effective Sept. 6, Joseph G. Cacchione, M.D., will serve as the new CEO of Thomas Jefferson University, according to an announcement from Jefferson Health's board of trustees.
Wolf Commercial Real Estate (WCRE) recently announced that it hired Erin Warwick, who will lead the firm's growth in the Pennsylvania and New Jersey markets. To further assist in the firm's market expansion, WCRE also hired Chemmie Sokolic as its due diligence and development consultant.
Duly Noted
Nick Souder celebrated his one-year anniversary at Surety Family of Companies with two milestone announcements: launching the Souder Team of title-industry specialists to expand the company's reach in Central Jersey, and the opening of the team's Red Bank office.
Capehart Scatchard's Litigation Department Associate Paige A. Joffe, Esq., was sworn in as the Young Lawyer Trustee of the Camden County Bar Association on June 23.
Robert Schumin and Katelyn Stein were named principals at Friedman LLPs' Marlton office when the firm recently promoted more than 200 individuals across its U.S. and China locations.
Diane D'Amico has retired as Stockton University's director of news and media relations, a position she held for the past five years.
Firm partners Brian Budic and Jennifer Vorhies have been named co-chairs of the family law group at Florio Perrucci Steinhardt Cappelli Tipton & Taylor.
Parker McCay recently announced that four of its attorneys were promoted from associate to counsel: Scott T. Miccio, local government law; John Neckonchuk, business and commercial disputes; Patrick J. Wesner, mortgage default servicing litigation; and Andrew S. Winegar, medical malpractice and general liability defense.
After 25 years with Samaritan—22 of which she served as president and CEO—Mary Ann Boccolini has announced her retirement, effective Dec. 31. Samaritan's Board of Trustees Chair Phillip W. Heath received a unanimous vote from the board to succeed Boccolini.
Late last month, Stark & Stark announced that Brian Kasper has been elected as a law firm shareholder. Kasper joined the firm in 2014.