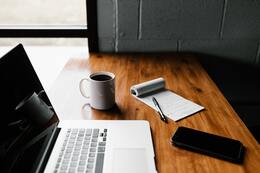 Office Space
June 2022
Numbers
30
The number of New Jersey hospitals that earned an "A" in national watchdog organization Leapfrog's spring 2022 safety report, indicating that 43.5% of the state's 70 hospitals received the highest mark.
24.2%
The year-to-date growth in wins from April 2021 to April 2022 for NJ's nine casino hotels, according to the Division of Gaming Enforcement. That equates to about $848 million more in players' pockets.
$222M
The amount that Pennsauken's J&J Snack Foods announced it will pay to purchase frozen Dippin' Dots, a frozen dessert company based in Kentucky. The deal is expected to be finalized in late June.
4%
How many N.J. businesses are veteran-owned, according to a recent report from service-provider marketplace Hire a Helper that uses data from two U.S. Census Bureau 2020 surveys. That percentage equates to 7,461 businesses.
$574,503
The amount that the state's Department of Health awarded Jefferson Health – New Jersey for a grant establishing a COVID education, vaccination and outreach program.
Two
The number of days Pete Buttigieg spent in New Jersey during last month's infrastructure tour.
$1,059,500
The amount of money the New Jersey Board of Public Utilities recently approved in grants to install 223 electric vehicle chargers and charging sites at 67 multi-unit residences across 41 municipalities.
17
The number of consecutive months of job growth New Jersey has seen as of April 2022. The year's employment growth so far has averaged to about 18,700 jobs a month.
Breakdown

ADULT-USE CANNABIS SALES
What Happened: In the first month of legalized adult-use marijuana, the state's 12 recreational dispensaries raked in a total of $24,201,875.38 in both cannabis and related products, according to the Cannabis Regulatory Commission (CRC). That total represents 212,433 sales transactions.
What It Means: According to CRC Executive Director Jeff Brown, those numbers are just the beginning, signaling not only how in-demand recreational marijuana is but also how much room for growth and "tremendous amount of opportunity" can be found in the nascent marijuana market. Meanwhile, Gov. Phil Murphy's still-under-review $48.9 million budget projected that the state would collect $19.1 million in the fiscal year beginning July 1 from the budding industry's 6.625% sales tax—and the first month of sales indicates that projection is right on target.
What's Next: Five more dispensaries have been approved, in addition to the Edgewater Park location that belatedly opened May 25, bringing NJ's total to 18; that same day, Atlantic City's city council voted 8-1 to pass six cannabis ordinances, including a resolution supporting what could become the city's first approved recreational weed seller. On May 24, the CRC approved 46 conditional licenses for smaller cultivators and manufacturers to grow crops and expand their facilities, adding to the 102 it had approved in the two months prior—but it could take up to a year for those 148 operations to begin recreational sales.
On the Move
Penelope Caamaño Esq., recently joined Capehart Scatchard's workers' compensation department as a shareholder in its Mount Laurel office.
Parker McCay has welcomed Alicia D'Anella to the firm where she'll join the Mount Laurel office and serve as counsel in its public schools and education department.
The law offices of Florio Perrucci Steinhardt Cappelli Tipton & Taylor have announced that Wade Dickey as its newest associate attorney practicing out of its Cherry Hill office. Dickey's focus will be on personal injury litigation as well as education law.
Duly Noted
Cherry Hill resident Jason Wolf, managing principal and founder of Wolf Commercial Real Estate, has been named to the board of trustees for Samaritan, a grief-support nonprofit organization.
Opeyemi (Yemi) Akinde, an attorney with Hyland Levin Shapiro LLP, was appointed as a New Lawyer Trustee for the Gloucester County Bar Association. She will serve on its board for the 2022-2023 term.
Burlington Stores announced late last month that Kristin Wolfe will replace outgoing chief financial officer John Crimmins effective Aug. 1.
On May 31, Animal Welfare Association announced that it named Laura Houston its new executive director, reporting to the Voorhees animal rescue's board of directors and overseeing all shelter and clinic operations.
Kathleen F. Powers has been chosen as the new president of the New Jersey Society of Certified Public Accountants.