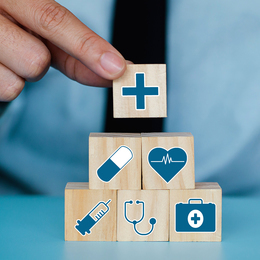 Health Care Roundup
Health care news in our region - June
Deborah Heart and Lung Center celebrated its 100th anniversary May 18. The hospital received milestone recognitions from numerous elected officials: a letter from Gov. Phil Murphy; a joint New Jersey Senate/Assembly resolution signed by Senate President Nicholas P. Scutari and Speaker of the General Assembly Craig J. Coughlin; a Burlington County Board of Commissioners' proclamation; and a letter from Sen. Robert Menendez, Sen. Cory Booker and Congressman Andy Kim.
In Humanizing Brand Experience—a nationwide brand report from the American Hospital Association, the Society for Health Care Strategy & Market Development and Monigle—Virtua Health was not only rated among the country's top 50 health-system brands but also the highest-ranking health system across the Philadelphia and South Jersey region.
Retired CEO and president of Inspira Health John DiAngelo was recognized during the spring graduation ceremonies at Saint Joseph's University last month, when his alma mater presented him with an honorary Doctor of Humane Letters for a career filled with remarkable accomplishments and a commitment to Inspira's patients.
Cranford-based Bennabis Health recently announced its contractual partnership with South Jersey's Botanist dispensaries to offer medical-cannabis patients access to the Bennabis Health membership program, the next step in lowering patients' out-of-pocket costs and making medical marijuana more affordable.
Rothkoff Law Group, a Cherry Hill firm specializing in elder care law, recently launched AgeTech Coordination. Its goal is to address aging adults' technological needs, particularly in terms of helping them utilize aging-in-place options to increase their quality of life while reducing their cost of care.
Axia Women's Health recently opened its newest clinic in Sewell. The AccessNow clinic will provide women's health services at the walk-in, same-day facility, which offers weekend and evening care for a range of OB/GYN needs.
After Virtua Health's dedicated search for a buyer, Tryko Partners announced June 3 that it had purchased two Virtua facilities, which will be renamed Berlin Rehabilitation & Healthcare Center and Mount Holly Rehabilitation & Healthcare Center.
When the J.D. Power 2022 U.S. Commercial Member Health Plan Study was released last month, Horizon Blue Cross Blue Shield of New Jersey took the state's No. 1 spot for highest member satisfaction among commercial health plans, as well in the key factors of cost and coverage and benefits.
The nation's largest network of eating-disorder treatment facilities has moved its Mount Laurel location to a newer, bigger facility, which reopened June 13. The Renfrew Center of Southern New Jersey provides both in-person and remote outpatient treatment options specializing in anorexia, bulimia, binge eating and other eating disorders.
On June 1, Rutgers University President Jonathan Holloway announced the university's Tobacco-Free by 2023 initiative, which will ban tobacco products from all the school's campuses, effective Jan. 1, 2023. The new policy is guided by the Rutgers Center for Tobacco Studies and applies to students, employees and visitors.
Cooper University Health Care had launched an investigation late last year revealing an employee email account had been accessed without authorization in November, which led to a review of the email account's contents. Last month, Cooper learned that some individuals' protected information may have been contained in the account, and has contacted all those who may have been affected; however, Cooper has no evidence that the incident led to the information in question being accessed, disclosed, or misused.