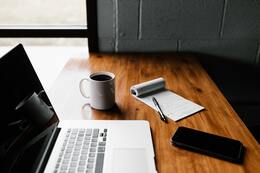 On the Move
May 2022
Numbers
$2.1 million
The amount New Jersey will spend to fight climate change, the Department of Environmental Protection announced last month, with $6 million helping communities buy electric trucks and $15 million funding nature-based infrastructure projects.
12,438
The number of recreational cannabis customers the state's 12 participating dispensaries sold to on New Jersey's first day of legalized adult use. The total in gross sales for April 21 was about $1.9 million.
3,660
How many feet of aging water main New Jersey American Water began replacing in Haddonfield at the end of April as part of its $732,000 investment in upgrading cast iron pipes laid in the 1790s.
$75,000
The total grant money that Atlantic City Electric is offering local municipalities for their open-space preservation, park improvement, recreation resource and environmental conservation projects.
On the Move
Last month, WCRE announced that Brian Goren joined the firm's retail team, and will also work closely with WCRE Property Management across the New Jersey and Pennsylvania markets.
Theodore "Ted" J. Baker recently joined the family law firm Weinberg, Kaplan & Smith, P.A., as Of Counsel.
Area law firm Capehart Scatchard recently welcomed three new associates—Marie Michel, Esq., Rachael J. Newcomb, Esq., and Lester Xu, Esq.—to its Mount Laurel office.
Florio Perrucci Steinhardt Cappelli Tipton & Taylor LLC announced that Craig Novak joined its litigation practice group last month.
Duly Noted
On April 29, the Rowan College Foundation and Rowan College of South Jersey named Amy Mansue, president and CEO of Inspira Health, its Person of the Year. Mansue was honored for Inspira's dedication to strengthening partnerships between South Jersey's medical community and schools.
Kris Kolluri, current CEO of Camden County Partnership, has been named CEO of the Gateway Development Commission.